Sara Davis is a University graduate student pursuing her doctorate in Computer Science. Davis is a recipient of the Intel Society of Women Engineers Graduate Student Scholarship. Her research is mainly in reducing bias in computer AI systems.
"Sara works on increasing transparency in machine learning systems in an effort to reduce bias. She is a non-traditional CSE student in that she received her B.S. in neuroscience and a Masters in secondary education," Davis's advisor, Assistant Professor Emily Hand said. "Her background uniquely positions her to do novel and interesting work in the bias and fairness in machine learning space. She is a very hard worker, and she has a lot of self-discipline. The Intel Scholarship was only awarded to 20 people across the US."
Sara Davis speaks on her experience and research work at the University and what receiving this prestigious scholarship means to her.
How did you get interested in CSE and reducing bias in machine learning systems?
I started taking courses in CSE for two reasons. First, my friends and boyfriend were all programmers, and they would start discussing things about coding and I would feel completely lost, which I hated. Second, as a teacher, you're required to take continuing education courses in order to recertify your license every five years, and intro Computer Science courses count as engineering courses which fell under my license endorsement area. So I was like, "Great! I can kill two birds with one stone." After I took one course, I was hooked. There was something addicting about automating all of this teaching stuff that I had been doing by hand, so that was what originally hooked me on CS.
Once I realized that I couldn't see myself teaching for the next 30 years of my life, I realized that I could see myself working in CS for that long. I had taken a couple cyber courses at TMCC at that point and was vaguely interested in that, but the research going on in cybersecurity at UNR didn't really grab my attention. With my background in Neuroscience in undergrad and Education in my first masters, it made the most sense for me to look at research in machine learning.
I got really lucky in landing Dr. Hand as my advisor. When we started I wasn't really sure exactly what I wanted to do. I just knew I wanted to do something in machine learning and I wanted it to have some sort of real world application and I wanted to help people. I mean, that's why I became a teacher in the first place and those were all things Dr. Hand was on board with. She let me try lots of stuff and read lots of things, and eventually all of the things that I had done had one common underlying theme which was identifying and reducing social and machine learning bias.
Could you please explain your research in this subject and what that particular project was all about?
My research in this area is pretty varied because it's a broad subject. I've worked in computer vision, natural language processing, educational applications and even a bit of evolutionary computing. There are three major projects that have really become the core of my research at this point in time.
The first is identifying gender bias in political news articles, where the basic approach is to use machine learning models and natural language processing techniques to try identify if, when, and how news outlets from a variety of political leanings treat male and female political candidates differently by analyzing the word choice, sentence structure, and the entire news article after removing all gendered information and personal information. This allows us to analyze how gender bias is embodied by a particular news site and allows us to determine how a machine learning model would likely encode that bias.
The second is a math application meant to guide students through solving a math problem by prompting them with tips based off of what they did incorrectly, rather than just supplying them with an answer; the ultimate goal would be to provide a tool that helps achieve educational equity, since there's a lot of research that shows that early intervention in math leads to greater success/graduation in high school, and a high school diploma leads to greater socioeconomic stability.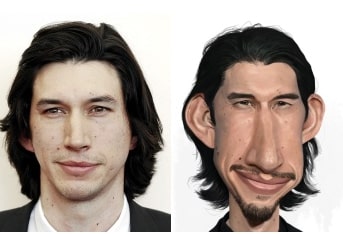 The third project that I'm working on is what we've nicknamed "the caricatures project", where the basic idea is that gives bunch of images of faces, we try to identify what's unique about that person's face; after identifying those unique characteristics, we try to compare real images and caricature images of the same people and different people so that we can perform image verification, with the ultimate idea being that a caricature tends to highlight the most prominent features of person's face. For me, the goal would be to create an assistive technology to describe faces or facial expressions.
What does it mean to you to win this scholarship?
Winning this scholarship is pretty exciting. It means that all of the hard work that I've put in feels validated, and I get to really focus on my research.
What are your plans in CSE for the future?
My plans for the future are sort of up in the air with the job market the way it is. I think most likely I will end up with a job in industry, rather than academia, but as long as I can pursue interesting research in areas that help people, I don't particularly care if I work at some big name companies.