Among hundreds of high-tech, modern and ultra-sleek designs entries, graphic designer Monica Maccaux came home a two-time winner. Assistant Professor of Art and Director of the Graphic Design program for the College of Liberal Arts, Maccaux recently attended the German Design Awards 2020 in Frankfurt, Germany, where she was presented with two trophies for her competitive designs in branding and typography. The annual international awards ceremony hosts skilled professionals from many design areas including branding, product design, architecture, advertising and more. The competition is fierce, the designs are amazing and Maccaux is no novice.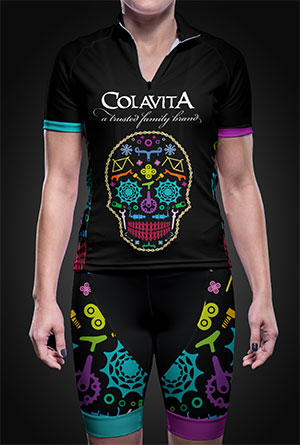 She hadn't even planned to submit a design for judging when she was contacted directly by the German Design Awards 2020 and asked to submit two entries. The first entry was a cycling kit design that won the "excellent communications design" award in the brand category. The cycling apparel was made for the Las Vegas Women's Cycling team and displays a colorful skull deconstructed from bike parts on a black background. Maccaux said the main objective was to get the women to really stand out when they're racing.

"So many team cycling kits are bathed in sponsorship logos and colored stripes and they look terrible. I tried to make them stand out and [the group] gets a lot of compliments on their kit," Maccaux said.
As a prior triathlon athlete, Maccaux started working with the Las Vegas Women's Cycling team when she trained and competed with them. Now she designs their bike apparel.
The second award Maccaux won was the "excellent communications design" in the typography category for her Motorix typeface. She actually designed the typeface several years ago, which uses alternate letterforms. There are four different letterforms for every single letter – uppercase, lowercase, punctuation and numerals.
The name Motorix is a pseudo-feminized variant of the German word 'motorik,' which refers to both electronic music and human motor skills.
The Motorix typeface has been applied to a bike shop t-shirt in Verona, Italy. It has also been used in the design of a bicycle in Italy.
Maccaux seeks out the un-ordinary. She is a fan of quirky and odd ideas and draws on this for inspiration for her designs. Whether she sees something like a branding iron in a shop window downtown that catches her eye or different engravings while on her travels overseas, Maccaux snaps pictures and gets to work designing unique typefaces as a passion project.
"It's just fun to design it and get it out there and to see if anyone uses it or how they would use it."
Maccaux said she might enter the bike with her Motorix typeface on it for a future design award. However, she plans to focus her attention on quantity and producing more creative work for the time being.