"Not all heroes wear capes." It is a popular and stingingly accurate tagline these days.
Recognizing the courage, commitment and compassion of those working so hard to keep our communities safe is a tall order. As just one small way to honor our care providers, we asked Wolf Pack alumni to share their stories from the front lines.
"A 'regular' shift now starts with getting to work early to be screened. My temperature is taken, and I'm asked the same series of questions about symptoms daily. I get a report about my patients. Some are awaiting [COVID-19 test] results, some are positive. Each time we enter these rooms, I go through a process of donning gloves, gown, a N95 or PAPR (powered air purifying respirator), and throw on an extra pair of gloves for good measure," explains Emily Carr '17 (nursing), a registered nurse at Saint Mary's Regional Medical Center.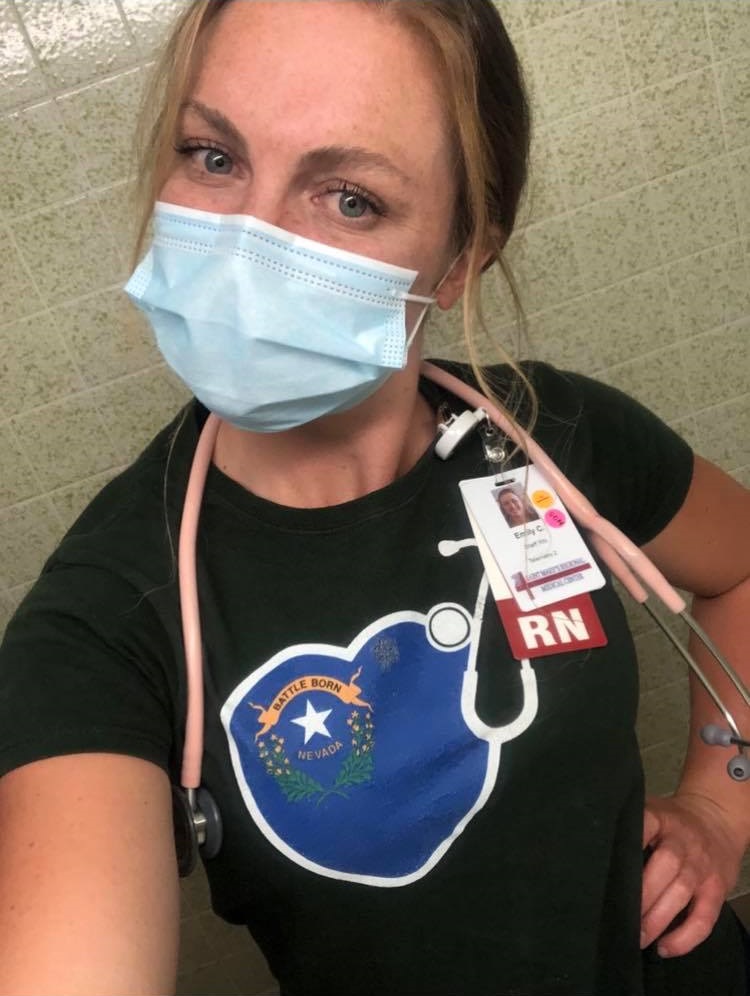 It's a similar story from Kevin Lemus Vargas '14 (nursing). "Well, I wouldn't call it regular," the Saint Mary's registered nurse explains. "As an emergency department nurse, I have to change into hospital-provided scrubs, and before I even walk into my unit, I need to put on my respirator mask. Then, we go to the unit and determine if we are working the regular emergency side or the respiratory emergency department. They are completely separate, and we have tent walls splitting the units apart. This means we work with about half our normal staff on each side, and we have to take on more roles as the need continues."

Then, his 12-hour shift begins.

Wrapping up a daily shift is no longer an easy task either. It involves an hour-long decontamination routine of changing and disinfecting clothes, taking extra showers and leaving shoes on the front porch to protect families.
Keeping up with constant changes in care is another piece of the puzzle. "I quickly realized this virus spreads and affects people in very unique ways. This means we are continuously adapting each step of the way. I'm so proud of my team for coming together and learning about something so big and so scary and so unpredictable. We have new policies it seems every 30 minutes, so we check our emails multiple times a day," says Emily. "Sadly, I can barely communicate with these patients while I'm at their bedside, because all my gear gets in the way of speaking and listening. We are limiting the amount of people going in and out of rooms. So, patients often only see their nurse and much more sparsely to limit exposure risk. My heart hurts for them."
But as we've always seen, out of tragedy and challenge come new forms of triumph and collaboration.
"One of the most positive, unexpected observations I have made is the incredible outpouring of love and support from our community," says Amber Maraccini '13 M.A. (psychology), '16 Ph.D. who serves as director of service excellence at Renown Health. "This experience has reminded me just how fortunate I am to be a part of the amazing Reno community! We have had meals donated, community-crafted PPE created, art installations donated to our campus, parades and letters of support for our care teams … just wow!"
For some, hearing these tales may beg the question, "Is this why you went into medicine, or is it more than you bargained for?"
"Personally, I think when you make the choice to enter a career, you know what it does and does not entail. When I became a nurse, I knew it would be my role to take care of patients when they are sick," says Jessica Lamb '12 (community health sciences), a registered nurse at Renown Children's Hospital. "It is an honor to be able to help my patients when they need it the most, and I am proud to be a nurse."
"I feel it's a bit more than I bargained for but as a health care professional, there's always the possibility of an unexpected situation occurring so it comes with the territory," Kevin says. "It will never stop me from trying to save someone's life. I'll keep working and helping our community until I know longer can because I love what I do."
And for that, we say thank you to each and every one of you – today and every day.