Although their classes have gone virtual, that hasn't stopped University of Nevada, Reno School of Medicine (UNR Med) medical and PA students from showing up for northern Nevada's health care workforce. Approximately 70 UNR Med students are volunteering their time and clinical knowledge to join the fight against COVID-19 and help address the influx of patient care.
The students are assisting with COVID-19 health screenings, conducting COVID-19 drive-through testing and staffing COVID-19 hotline call centers, as well as offering free childcare, elderly check-ins, grocery shopping, pet care and other services to School of Medicine and University Health's clinical employees.
Lisa Calvo, M.D., interim associate dean for medical education, is coordinating student volunteer efforts for UNR Med. "It's incredibly inspiring. We have a number of students who said, 'Let me know what I can do.' And they're working side-by-side with our community health care partners and making huge contributions to help northern Nevada flatten the curve against the coronavirus."
COVID-19 drive-through testing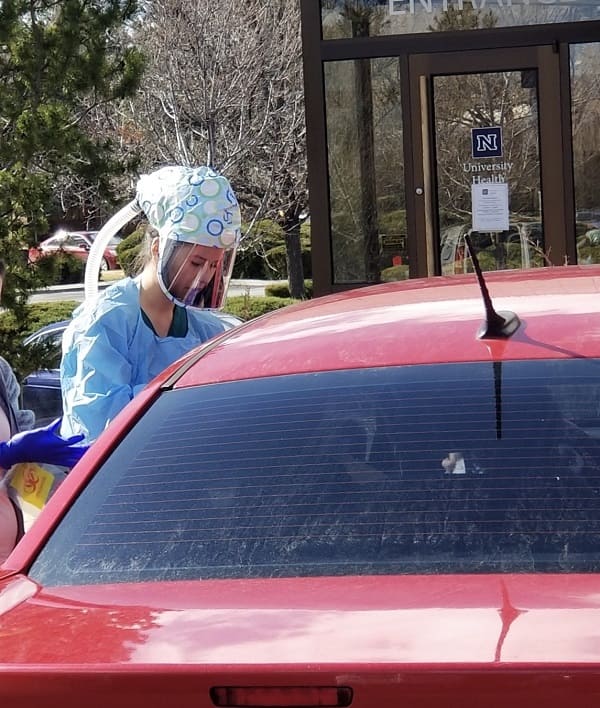 UNR Med students on the front lines are assisting patients with drive-through COVID-19 testing at University Health Internal Medicine and the Washoe County Health District (WCHD). At the testing sites, patients are tested by appointment only. SAVE volunteers direct cars, filtered in one at a time, while a medical student swabs each patient and sends the test to UNR Med's Nevada State Public Health Laboratory for processing.

Lauran Evans, UNR Med fourth-year medical student, is assisting at both sites, conducting around 60 patient tests per day.

"It's been an amazing opportunity to volunteer and be able to make a difference in the lives of patients, but also to help relieve other health care workers who are working hard—to get them more rest and more time with their families," said Evans.
Washoe County School District
The Washoe County School District (WCSD) Food and Nutrition Team distributes meals to WCSD students each week. When WCSD team members arrive for their early morning shifts, they're greeted by UNR Med student volunteers. The students conduct employee screenings—taking temperatures and asking questions about COVID-19 symptoms or possible exposure.
"Clinical and classroom experiences prepared me to talk to employees being screened and solicit, synthesize and analyze information to help the WCSD make informed decisions to keep employees and the community safe," said Lydia Morrison, UNR Med second-year physician assistant studies student.
"Some of the members of our food and nutrition team are in the age group where they are vulnerable to COVID-19," said Margaret Allen, director of WCSD Student Health Services. "It helps this team of under-appreciated workers feel good that students are willing to get up early and be there for them."
COVID-19 hotlines
While they are practicing social distancing from home—sometimes far from northern Nevada—UNR Med medical students and physician assistant students are staffing the Washoe County/REMSA COVID-19 Community Triage Line and Elko County COVID-19 Hotline. Students field questions and concerns about COVID-19 and help those with symptoms with next steps.
Amber English, environmental health specialist supervisor with WCHD, says the students are enhancing their ability to operate in an emergency situation with adaptability, flexibility and accountability.
"I found the majority of my time on calls was spent calming fears of patients and helping the community to better understand the current situation," said Ryan Hood, UNR Med fourth-year medical student who is assisting with WCHD/REMSA phone triage. "UNR Med does a great job training compassionate physicians, and despite the limitations of a phone call, I feel I am still able to establish a deep connection and good rapport with my patients."
Clinton Kolseth, UNR Med fourth-year medical student, has been staffing the Elko County COVID-19 Hotline to increase the volume of calls being accepted. If a caller's symptoms are deemed mild, they are advised to self-isolate, contact their health care provider and review educational resources from the state of Nevada and the Centers for Disease Control. If a caller presents concerning symptoms, is over the age of 60 or has chronic health problems, they are referred to Elko County providers serving patients with respiratory issues.
"I have learned that simple education on preventing COVID-19 infection has brought many patients peace of mind, and I plan to emphasize prevention in my [future] career in internal medicine," said Kolseth.
"I will always remember the importance of human connection through this experience," said Jenna Rassuschine, UNR Med fourth-year medical student assisting with the WCHD/REMSA COVID-19 hotline. "We may be alone in our homes while we socially distance, but we are always together in community. Nothing will ever break that."
The Washoe County/REMSA COVID-19 Community Triage Line is available 24-hours a day, 7-days a week by calling (775) 328-2427 or completing an online form. The Elko County COVID-19 Hotline is available Monday to Friday from 7 a.m. to 7 p.m. by calling (775) 777-2507.