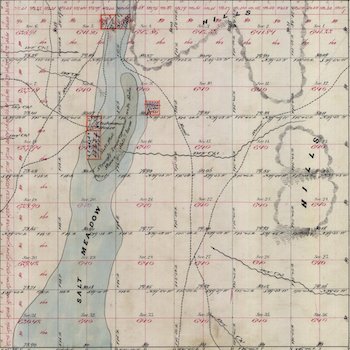 The University Libraries has recently added close to 3,000 plat maps from the State Land Office to the digital archive. These maps date from 1870 to 1988, with the bulk having been created before 1930. They feature the work of surveyors tasked with documenting land divisions in the state. The surveyors drafted and colored the maps by hand, making them unique artifacts that document the mapmaking craft, as well as the history of Nevada. As part of this project, the Libraries' Metadata and Cataloging and Digital Services units enhanced the data used to describe the maps, allowing users to filter searches by township, range, surveyor, and notable locations.
University students, faculty, and staff can access these records at the University of Nevada, Reno Libraries' Digital Archive, in the State Land Office maps collection. Users interested in viewing other digital collections of unique materials, can browse them on the Libraries' Digital Archive.
University Libraries
The University Libraries embrace intellectual inquiry and innovation, nurture the production of new knowledge, and foster excellence in learning, teaching and research. During each academic year, the Libraries welcomes more than 1.2 million visitors across its network of three branch libraries: the Mathewson-IGT Knowledge Center, the DeLaMare Science and Engineering Library and the Savitt Medical Library. Visitors checked-out more than 90,000 items and completed more than 2 million database searches.