The University Libraries at the University of Nevada, Reno is pleased to announce that John Schleicher has joined the Special Collections and University Archives Department as the Community and University Archivist. Schleicher joined the Libraries in February 2020.
Schleicher is responsible for the appraisal of materials in all formats and will provide leadership and expertise in the Libraries' efforts to document and preserve the history, activities, and impact of significant topical areas and regional communities. Schleicher will work with a wide range of faculty and staff, as well as campus and community partners to develop and promote the collections and the archives in support of teaching, research, and learning at the University.
"As a historian, I am delighted to join the University Libraries team," Schleicher said. "I look forward to building new relationships to help collect the history of the community and University. I look forward to working with undergraduates, grad students, researchers and collectors across campus and the community."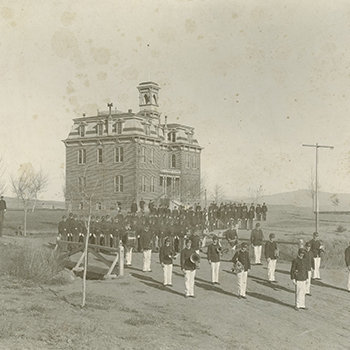 Schleicher will also participate in national and regional theoretical, conceptual, and practical developments in the field of archival studies, while working to identify the external impact of the role in the form of service to the profession and original research.

"The University Libraries are very lucky to have found John," Director of Special Collections and University Archives Kim Anderson said. "Since the previous University Archivist retired in January of 2018, we haven't had someone who could devote their full attention to the university archives program, so John is walking into quite a bit of work.
"Additionally, the position has been reimagined and retitled "Community and University Archivist" to align with the University's growing commitment to increase community engagement," Anderson said. "As such, the re-envisioned university archives program will focus on the nexus of where the campus joins its communities – in terms of partnership, representation, impact, and physical environment. John brings with him decades of varied community-focused and university archives experience, an innate curiosity, an unflappable and easy-going demeanor, and an earnest desire to serve the University community. He is well-equipped to lead us into the next stage of our university archives program."
Schleicher comes to the University with more than twenty-five years of experience in professional positions with historical and educational institutions, all in the field of public history.
"Outreach work has been a hallmark of my career" Schleicher said. "Reaching out to and working with various constituencies and communities is what I love to do."
Prior to coming to Nevada, Schleicher worked for sixteen years as Head of Special Collections in the McGoogan Library of Medicine at the University of Nebraska Medical Center (UNMC) with a focus on the institutional history of UNMC, and on the history of various health professions in Nebraska.
"From a very early age I have always been interested in history," Schleicher said. "My grandmother was a Russian immigrant. She came to America by boat in 1906 at age 11. Hearing her share her story with me as a young boy really made a meaningful and lasting impact on my life and my life's work."
Schleicher has previously served as a Field Services Representative for the Nebraska State Historical Society, Executive Director of the Dodge County Historical Society and as Exhibits and Programs Assistant for the Western Heritage Museum. He holds a Master of Arts in history from the University of Nebraska-Omaha, and a Bachelor of Arts degree in social science education from Hastings College, Hastings, Nebraska.
For questions about Special Collections and University Archives please call 775-682-5614.
About Special Collections and University Archives
Special Collections and University Archives contains the Libraries' rare books, book arts collection, manuscript collections, and University archives. The materials in Special Collections and University Archives are available to all individuals for research and scholarship.
About the University Libraries
The University Libraries embrace intellectual inquiry and innovation, nurture the production of new knowledge, and foster excellence in learning, teaching and research. During each academic year, the Libraries welcomes more than 1.2 million visitors across its network of three branch libraries: the Mathewson-IGT Knowledge Center, the DeLaMare Science and Engineering Library and the Savitt Medical Library. Visitors checked-out more than 80,000 items and completed more than 2 million database searches.