Even at just 5-foot-6 and a little under 140 pounds, Joe Bliss was a giant among the most notable Wolf Pack Athletics greats.
In 1973, the champion Wolf Pack boxer was part of the first class of athletes ever inducted into the Wolf Pack Athletics Hall of Fame. The 13-person group included NFL Hall of Famer Marion Motley, coach and administrator Jake Lawlor and Olympic skier Dodie Post Gann. Bliss' 1959 NCAA title in the 139-pound weight class was the University's first national title in the sport and only the second in school history to that point (today only 11 individuals have won NCAA titles in school history).
Bliss outlived all of the members of the Wolf Pack Hall of Fame Class of 1973, only passing away in Reno earlier this fall at age 87.
He was born in Lovelock and served in the Army during the Korean War. He was a member of the Paiute tribe, and was proud of his people's deep connection to the land.
He was known a good sportsman and a man of character. Even when he lost the 1960 NCAA championship a year after winning his title, who he was and how he treated others didn't go unnoticed. He was named the tournament's outstanding sportsman.
"I don't know if I've ever met a better person than Joe Bliss," the late emeritus athletic director Dick Trachok once said. "He was always above and beyond, always the person who did the right thing for the right reasons. A truly great person."
Joe Bliss' story reminds us why we always need to remember him.
Life in Lovelock
Bliss came from a larger family. He was one of eight children and his father died when he was an infant, leaving his mother Emma to raise the family.
The legendary Reno newspaper columnist, Rollan Melton, wrote of Bliss' upbringing in the Reno Evening Gazette on May 6, 1959: "Bliss has worked at odd jobs since he was old enough to remember. Raking hay, bucking bales, hauling freight, marking keno tickets, yard work."
Although Bliss was a talented quarterback for Pershing County (Lovelock) High School and earned headlines as "Little" Joe Bliss, it was boxing that beckoned Bliss' athletic passions.
Starting when he was in grammar school, Bliss boxed. He found a mentor and coach in "Baron" Billy Groth, who had come to Lovelock from Fallon to manage the town's summer recreation program.
"At first I didn't like it," Bliss remembered. "That was because I was losing. Pretty soon, though, I got better. Groth helped me out. He kept working with me."
While in high school, Bliss encountered another influence, the Nevada high school Hall of Fame coach Floyd Edsall. Bliss won a Golden Gloves title during his sophomore year at Lovelock. By 1952 Bliss was making a run toward qualifying for the U.S. Olympic Boxing Team. He won two bouts before losing at the Western Regionals in San Francisco.
Drafted in 1953, Bliss served overseas in Germany and continued to box, winning all four of his bouts while serving in the Army. He enrolled at the University in the late 1950s, and balanced his studies and training for boxing with a growing young family. In spring 1959 as he was making steady progress toward an eventual 1961 undergraduate degree in physical education, Bliss and his wife, Fern, already had two children and were living in a 35-foot, two-bedroom trailer home. He was earning $160 per month on the G.I. Bill and making an additional $39 per week working part-time.
"We live on a pretty tight budget," Bliss said.
Yet, already, Bliss was widely respected throughout Reno.
"Joe Bliss," wrote Melton of Bliss, who had won the April 1959 Sierra Nevada Athlete of the Month Award, "We say it couldn't happen to a more deserving fellow. It is particularly pleasing to watch young men of Bliss' fiber receive this area sportswriters and broadcasters award because they seldom fail to accept the citation with humility. … The better times could not happen to a more deserving fellow."
University star
Collegiate boxing was a major sport in the United States in the late 1950s, and the Wolf Pack boxing team, coached by Jimmie Olivas, was among the nation's best.
Bliss wasn't the only nationally known boxer on the team. His teammates included future Washoe County District Attorney and District Court Judge and Hall of Fame boxing referee Mills Lane, who would win a national championship in 1960.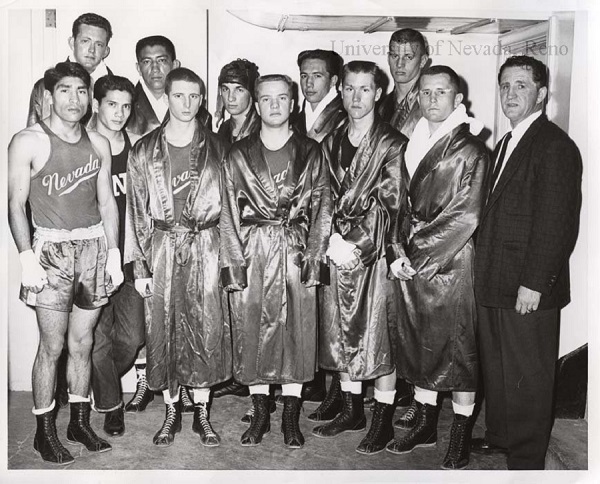 It was Bliss, though, a left-hander who possessed a pulverizing left hook and who could move with a ballet dancer's grace, who always seemed to draw the most accolades.

In a February 1958 bout against Sacramento State in Sacramento, Bliss won by decision over Bob Ericson. Ericson was a crowd favorite, but it was obvious that Bliss' quick combinations and lithe footwork had "stunned" Ericson "from body to head with blazing speed." The "partisan crowd" according to the Reno Gazette-Journal, had come to realize that Bliss was a talented boxer and "gave Bliss a nice hand when it ended."

Perhaps Bliss' finest moment as a Nevada boxer came during his NCAA championship win at the Old Gym on the University campus. Bliss, in typical fashion, prepared for the bout by keeping extremely busy with all aspects of his life. The March 31, 1959 issue of the Reno Evening Gazette reported that Bliss had celebrated his 26 th birthday earlier in the week by, "Working a full shift on his downtown job. Hustling through a brisk workout that included two miles of road work. Studying at his trailer house on Airport Road. Spending some brief time with his wife and two youngsters."
Coming off losing the national title but in 1958, Bliss was keenly focused. He was stronger, in better shape and ready to win.
"One thing is certain," wrote the newspaper, "Bliss will give it everything he's got."
The result shouldn't have been a surprise. The world's leading sports magazine, Sports Illustrated, wrote of Bliss' title bout:
"The crowd - mostly Nevada partisans, naturally - had other wild moments on the three nights of the tournament but none wilder than when it shook the gym, filled to its 4,500 capacity, with hysterical roars as another Indian lad, this time a Paiute, brought Nevada its first NCAA championship in history. Joe Bliss, a 139-pounder, outpressed and outslugged clever Darrel Whitmore of Washington State and so became immortal in the annals of his college."
Olympic disappointment and on with life
As one of the nation's top amateur boxers, Bliss was poised to make a strong run for the 1960 U.S. Olympic Boxing Team, a team which would include a young heavyweight from Louisville, Kentucky named Cassius Clay.
Bliss made a tremendous effort. He reached the semifinals of the Olympic qualification tournament in San Francisco, but suffered a head-butt early in his semifinal bout and had to withdraw. Although the defeat stung, Bliss later said he wouldn't have traded his time at the University, and where his career in boxing for the Wolf Pack had taken him, for anything.
"I'm glad I came to school in Nevada," he told a group of sportswriters and broadcasters in December 1960, after both he and Lane shared Nevada's "Outstanding Boxer Award."
Bliss and Lane, in many ways, remained inextricably bound as the years passed. In February 1975 the two Wolf Pack boxing greats sparred three rounds as part of an exhibition at the Old Gym. Bliss was 41; Lane was 38.
"I don't know if I really beat Bliss, but he's a helluva guy," Lane said.
"We're sparred for years," Bliss said. "I wasn't going all out."
After Lane, who had gained national fame as a quick-talking, no-nonsense, shaved-headed boxing referee who was in the middle of dozens of major championship bouts, suffered a major stroke and lost his ability to speak, it was Bliss who made his old friend smile and then cry during a ceremony honoring Lane's work as a prosecutor and judge.
As part of a celebration commemorating the naming of the Mills B. Lane Justice Center in downtown Reno in August 2006, an ESPN camera crew captured a moving moment when Lane and Bliss met in the Wolf Pack boxing team's gym. On seeing each other, both men began to weep.
"It was an emotional meeting," Bliss told the Reno Gazette-Journal. "We've always been good friends. … I know he wanted to talk, but I knew he couldn't. I talked to him. He knows how I feel about him. He's still the same 'ol Mills, fighting, fighting and fighting."
By then, Bliss, although no longer a boxer, was still applying many of the lessons and principles he had learned from the sport to his everyday life, which included a long career in the gaming industry. He had started working at the Palace Club in downtown Reno and continued on for several more decades at the Cal Neva. His honesty and ethics were reasons why he was appointed and served for many years as an Inspector for boxing by the Nevada Athletic Commission. In 2014, he received the President's Award at the Nevada Boxing Hall of Fame Induction Ceremony.
Bliss was always on the lookout to involve youth in sports, using his own story as an example of what a difference it could play in a young person's life. He founded an amateur boxing team, with equipment donated by athletes from the all-Native American Stewart Boxing Club, for athletes 14 to 20 years old.
His home in old southwest Reno was always full of children, first his four children, then 11 grandchildren, and great-grandchildren and various nieces and nephews.
On his passing on Sept. 25, 2020, at the age of 87, longtime Nevada sportswriter Chris Murray looked back on the last interview he had ever done with Bliss, back in 2014. Murray wrote then that Bliss was still in excellent shape, "with a thicket of white hair." Bliss was a little hard of hearing, but the stories of his time at the University flowed easily.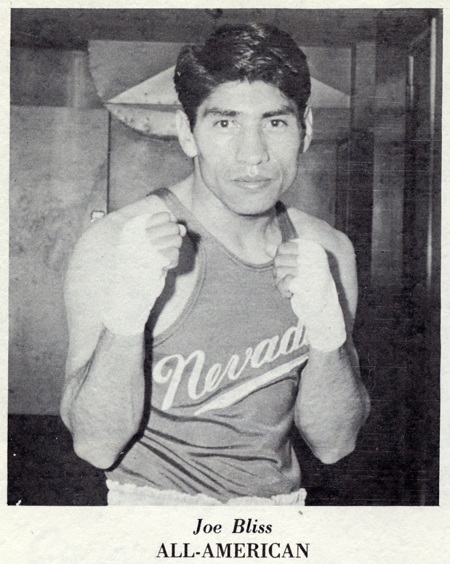 At one point, Bliss showed Murray the fancy boxing footwork that had dazzled college crowds more than 50 years earlier. He said he loved being around his children and grandchildren. "I know there's a birthday every month," he said to Murray. "I love it here because you're close to everything. … I wouldn't want to live anywhere else."

He was the last of that first group, a group of Wolf Pack Hall of Fame giants. Like any great boxer, Bliss lived a life that ensured he was going to go deep into the late rounds. He was a sportsman and a friend and a champion. He was a Native American icon who was proud of his heritage.
His greatness was something everything who knew him remembered.
Wrote Reno Evening Gazette sports columnist Jim Yacknow in 1972:
"Joe Bliss is a winner."