Mick Hitchcock is a biochemist and microbiologist specializing in the development of antiviral therapeutics. Hitchcock worked for more than 40 years in the biopharmaceutical industry and played a key role in developing ground-breaking HIV drugs.
Hitchcock most recently served as Senior Advisor to Gilead Sciences, the company that is currently working with global health authorities to respond to the novel coronavirus (COVID-19) outbreak through the appropriate use of the investigational drug remdesivir. Hitchcock helped to build Gilead into a successful biopharmaceutical company. The company also launched the drug Sovaldi, a hepatitis C treatment that can essentially cure most patients with few side effects.
Prior to his 26 years working at Gilead, Hitchcock spent 12 years at Bristol-Myers Squibb, and would later develop Viread with his former Bristol colleague, John Martin. Viread is a once-daily pill to treat HIV and was approved by the FDA in 2001. The development of this drug led to the "single-tablet regimen" concept for antiviral treatment, which now allows AIDS patients to effectively treat symptoms with ease.
In 2014, Hitchcock made a gift to the University to establish the Mick Hitchcock, Ph.D. Endowed Chair in Medical Biochemistry to further participate in the research of biochemistry. He also funded the Hitchcock Center for Chemical Ecology as well as the Mick Hitchcock Ph.D. Program for Visualizing Science. Hitchcock continues to support the University through generous contributions and received an Honorary Doctorate of Humane Letters in 2017. He currently serves as a member of the College of Science advisory council and Chair of the University Foundation.
Mick Hitchcock, a message to the College of Science Class of 2020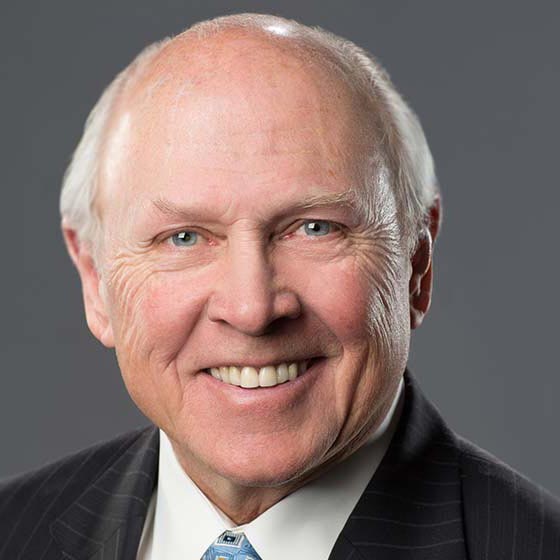 Let me start by congratulating you all on a successful journey through the University of Nevada, Reno and the College of Science that has culminated with you receiving your degree. It is a time to celebrate the accomplishment and the knowledge that has been gained, but it is also a time to look to the future and start to think about where it will lead. With the situation we currently find ourselves in, locked down by the SARS-CoV-2 virus, that future may feel uncertain. However, your education has primed you for just this moment—you are now scientists. Perhaps there is among you someone with a desire to work on a solution such as a vaccine or a drug to keep us safe and open for business the next time we have a major outbreak. Or perhaps you are interested in space travel—Elon Musk is keeping the dream going as we have all recently observed (Perhaps that is the way to escape the next pandemic?). Discoveries of such relevance to today's challenges are a connected series of small steps, and are not made overnight! Scientists are providing the answers, and you are now joining their ranks. Your degree is more valuable than ever. How exciting is that!
What are the keys to a future of personal success? Unlike what you may have been exposed to, it is not the delineation of the steps to propel you forward with a 5-year, 10-year or even 20-year plan. The first step is really to think about what it is that you like to do. Hopefully your education has exposed you to a variety of choices. Your challenge now is to figure out how to make initially a job (and then later a career) out of the one(s) you like.
When I graduated from college, I went on to graduate work and performed research in biochemistry and microbiology. And it was during that time I became aware of the work of the pioneers that had discovered and developed drugs for treating and curing bacterial infections. Inspired, I found what I wanted to do. As I moved through my Ph.D. and post-doctoral work, I looked for the opportunities that would allow me to move into that field. I eventually joined the Pharmaceutical Industry and worked on finding new, more potent antibiotics.
At that point in time, there were numerous drugs and drug classes that had antibacterial properties. It was challenging to find something better. However, after a few years I had the opportunity to switch to finding drugs that could be used to treat viral infections. The first useful antiviral (acyclovir) was just getting approved to treat genital herpes, and its success opened up the field. Also at that time, the world was facing a very different deadly viral pandemic than the one we face today. Infection with the human immunodeficiency virus was just being recognized as the cause of AIDS, and there was a desperate need to find drugs to treat it. So, I switched to working on drugs for viral infections and, over a number of years, helped to discover, develop and ultimately market drugs to treat HIV, hepatitis B & C, influenza, and some other viruses.
Finding drugs and getting them into medicinal use is very satisfying, and ultimately can change people's lives. In partnership with others, we were able to develop a single tablet for HIV that contained a complete treatment regimen (three drugs) that fully suppressed the virus. The ability to take just a single tablet once daily proved very popular with the patients and led to the development of other single tablet regimens. These are now the standard of care, and have turned what used to be viewed as a death sentence into a chronic condition that is simple-to-treat and manageable. Benefit to the patient was an obvious outcome, but it turns out that when patients have their virus fully suppressed, they are no longer a source of transmission. Thus, the community benefits as well from less disease spread. Wouldn't it be nice if we had something like that for COVID-19!
My path from college to playing a role in the development of a number of widely used life-saving drugs was not part of any particular plan. You may feel you need to have your future figured out, but I urge you to let go of that idea. If you must make a plan, keep it simple: follow what interests you and see where it takes you.
Another key to success is to recognize opportunities and take advantage of them. Sometimes opportunities arise from the ashes of a cancelled project, and you have to start anew. Sometimes, they are at-first-glance a bit scary because they are a long way away geographically or because they require you to develop new skills that are not currently in your tool box. Sometimes, they depend upon a different way of looking at things – thinking outside the box. While we were working to discover and develop drugs to treat HIV, others looked to the future for preventing the disease with a vaccine. In 1985, the Secretary of the Department of Health and Human Services said it would take 10 years, but 35 years later an HIV vaccine is still not available. However, during the animal studies with our HIV drugs, we found we could prevent monkeys from becoming infected with a virus similar to HIV. This led us to set up studies in humans, which were successful, and culminated in the development of a 2-drug combination taken daily that can be used for HIV prevention. This drug combination is now used worldwide, and has the potential to change the trajectory of HIV infection.
I know that through your recent experiences dealing with COVID-19 isolation, and "the new normal", you have already shown versatility and adaptability. Being suddenly thrust into a strange new environment of "shelter in place" and "distance learning" should prepare you for change in a way not usually seen by a newly-minted graduate. Although it may seem today to be an obstacle or a hardship, it will in time become just one of many challenges that you had to figure out a way through. And look for the opportunities it is creating, from changing the way we work and shop to reducing our use of office space and travel.
As I always say, the world needs more scientists. You are now part of that team, the ones who will work to find solutions to the myriad of problems we are facing. So, congratulations and good luck in making your mark on the world. There is much out there to do and I look forward in the future to hearing about how you will create your impact.