"The thing that I really wanted to do with this company was to use it as a means to demonstrate to nonprofits that they could be bold and brave in asking for what they need," Rachel Gattuso, APR, said.
Gattuso, a 2007 Reynolds School of Journalism alumna, is the founder and president of the Gattuso Coalition, but she is known by most in the Reno-Sparks community as an advocate for nonprofits.
In June 2020, she and her team worked on one of her most memorable projects – the Reno Urban Roots Festival. The virtual event fundraised for Urban Roots, a local non-profit that provides education for children about healthy eating. It was hosted by actress Melissa Joan Hart, best known for her role in "Sabrina the Teenage Witch," Reno-based radio personality Connie Wray and Emmy-award winner Stephen Ritz.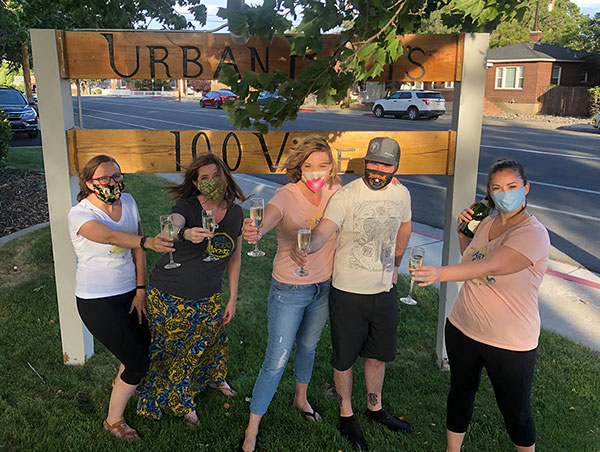 "So, we invited members of our community with medical expertise, local chefs and also looped in musicians who have Reno roots. They shared content about healthy eating and why gardening is important in their lives," Gattuso said. "I think the public really appreciated that this tiny, little nonprofit gave their heart to this really, really big effort."

The Gattuso Coalition was in charge of event publicity, social media before and during the live festival and messaging for the event's speakers to help solicit donations. The event helped Urban Roots raise more than $86,000 of its $100,000 goal.
Gattuso noted that while the amount of money raised was impressive, fundraising for Urban Roots and other nonprofits was far from over to ensure survival during the global pandemic.
"It's not the end of the road. We still need $100,000 to protect the organization, which is continuing the success and the best chance for health for our community since we're starting with kiddos that young," Gattuso said. "If we don't save organizations now, then we risk the fabric of our community in another year or two or five."
Much of her career has been spent communicating on-behalf of nonprofits. In 2014, she was hired at Ronald McDonald House Charities Northern Nevada as the marketing and communications manager.
"Six months in, I realized that I had inadvertently landed in one of my dream scenarios. At first, that job was amazing because it felt wonderful seeing how my work fit into the bigger picture of helping others instead of simply lining some higher executive's pockets."
Four years later though, Gattuso decided to leave her in-house communications job because she saw that many nonprofits including Ronald McDonald House Charities were forced to work inefficiently.
"The general ideal held by the donor public is that all monies should go to the mission," she said. "By saying nonprofits can't allocate dollars to people and process and infrastructure (salaries, marketing, rent, etc.), nonprofits get into a cycle of doing the most they can with the least amount possible."
In 2018, she started the Gattuso Coalition to address this issue. She offers public relations, digital media and crisis communications to nonprofits and the social responsibility arm of for-profit companies. Her goal is to affect social change.
"I want to be a part of shifting donor mentalities – if my company can encourage donors to say, 'oh yes, people are a part of the mission' or 'their investment in a public relations campaign tripled their revenues and, therefore, tripled the number of people they were able to serve,' I will have done what I set out to do with the Gattuso Coalition."
Now in year two of her business during the coronavirus pandemic, she has seen many nonprofits like Urban Roots go into crisis mode – trying to continue their worthy efforts without in-person outreach and fundraising. Gattuso plans to keep supporting these businesses and helping them use digital means to survive COVID-19.
"I'm very happy to be in a position now where I can safely advocate for my nonprofit clients, and that the money they receive can do big, big things. In fact, when we finally cross over to an improved existence after the pandemic, we're going to need nonprofits more than ever. It just feels like the right space for me to be."