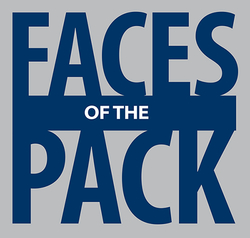 Steffany Yang, Senator for the College of Engineering, has been hard at work on legislation during the 87th session regarding first-generation students, sustainability, and social justice. A junior Honors student majoring in mechanical engineering and a minor in renewable energy, Yang hopes to enter a career that is centered around giving back to the community while still exploring what career path suits her best.
"Additionally, the idea of design, its physicality, and broad array of career options offered by Mechanical Engineering fascinates me," she said. "After consulting with many engineers in careers I admire, Mechanical Engineering felt most at-home for me."
Her dedication to the widely applicable field of mechanical engineering hasn't gone unnoticed, either.
"Steffany is a dedicated student, and is providing important student leadership to the Mechanical Engineering Department," said Miles Greiner, chair and professor of mechanical engineering. " I appreciate her dedication to our academic community."
Off campus, Yang is also dedicated to a volunteer position at Envirolution, a local non-profit dedicated to developing and scaling dynamic K-12 education, youth leadership development, and community outreach programs centered around energy efficiency, sustainability, and STEM career development. She also has just begun working as an engineering intern for the Vice President of Environmental Health, Safety and Quality at Panasonic Energy of North America over at Tesla's Gigafactory 1.
"My favorite aspects of this internship are working in a fast-paced environment, where 80% of the workforce work in level 3 clean rooms, where we work all day in surgical scrubs, booties, masks, and hair nets; and being with other interns across the country," she said.
As a first-generation immigrant, Yang has learned to be optimistic and resourceful, along with giving her best effort in every opportunity offered to her. Her role in ASUN is an opportunity to continue to advocate for a more resourceful college to better support engineering students, especially if they are women and minorities. Yang's advice for students who are first-generation, women or someone coming from an underrepresented background is to look past the intimidation of the field of engineering. She believes in using it as an opportunity to get out of your comfort zone, lead by example, and empower others who come from similar backgrounds. Yang has learned this through engineering courses and by joining organizations such as the Bonner Leaders and the Association of Students for the University of Nevada, or ASUN. These programs teach civic mindedness, engagement, activism and advocacy.
"Both of these organizations are filled with the most inspiring, empowering, and supportive individuals, in which I've had the fortunate opportunity to collaborate with," she said.
Yang also has been passing on the knowledge that she has acquired during her time at the University to some of her mentees in the CREATE scholars program. As a mentor, she helps provide academic and professional development support to academically talented, financially eligible students enrolled in majors in the College of Engineering.
"Steffany is an amazing person with a bright future. We greatly appreciate her work as a CREATE mentor," said Ann-Marie Vollstedt, lecturer in the College of Engineering. "She has shown leadership, compassion, and a genuine desire to listen to the scholars, offer good advice, and connect them to the many opportunities that UNR and the College of Engineering has to offer. She is energetic, highly motivated, and a great role model for others."