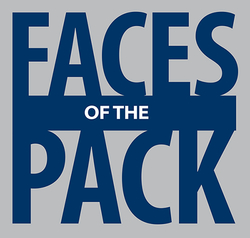 For graduate student Nicole Elias, attending the University was an easy choice thanks to the outstanding opportunities that the pavement engineering program provides. A 2016 graduate of the Lebanese University in her home country of Lebanon, the thought of continuing her education after receiving a bachelor's in civil engineering has always appealed to her. With a goal of improving her knowledge in the construction domain, she was also encouraged by her brother-in-law to apply, as he was a graduate of the program seventeen years ago.
However, there were some tough times for Elias as well.
"Moving overseas to the United States, detaching myself from my family in Lebanon, and settling away from my sister in California to join UNR, was so troubling for me since I am such a family-oriented person," she said. "However, it turned out to be that a person will find his greatest pleasure in what he feared the most, and a year later I feel so grateful for my lifetime of experiences at UNR. My original plan was to expand a successful career life after completing my master's degree, however it was so hard for me to leave such a valuable program. Lately, after my graduation with a master's degree, I was admitted to follow-up with a Ph.D. degree in the Pavement Engineering and Science Program."
One of Elias' favorite experiences during her time in the pavement engineering program was the opportunity to participate in the CRH Mix Design Competition organized by one of the largest building materials companies in North America. Their joint effort as a University team earned them a 3rd place ranking amongst the top pavement programs in the United States. This experience allowed Elias and her teammates to highlight their distinctive technical skills to generate new guidelines for asphalt mix design methodologies.
"Currently, the main focus is to benefit from my Ph.D. journey at the most fruitful level, afterward my career goals may be focused toward assuming a leadership position within the research or industry field, while developing continuously my technical skills and expanding my education with an MBA degree," Elias said.
The College's pavement program allowed Elias to venture into research projects at the Western Regional Superpave Center, laboratories that have over 30 years of groundbreaking research of improving asphalt pavements around the world. She also cites the comradery and team spirit amongst the graduate students as something that enhances the experience and motivation throughout.
Adam Hand, associate professor of civil engineering, is Elias' thesis advisor and direct mentor. He has been supervising her research project and sharing his field experience while being what she considers to be "a confident guide."
Elias also likes the unparalleled experiences that the PES program provides with the laboratories, technology and equipment, and hands-on experiments that she's participated in. She also appreciates the guidance of Peter Sebaaly, the WRSC director and professor, along with Elie Hajj, professor.
"It has been a treat to get to work with Nicole and see her grow. She is a real go-getter with a truly positive attitude that makes others want to work with her," said Hand. "She has excelled in the classroom and at every challenge presented to her, always putting the team she is working with and the program first."