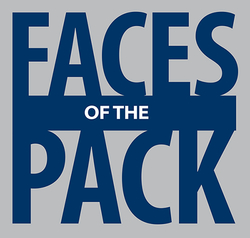 Living in a world where everyone can have access to clean energy and water in their everyday lives is an important goal for graduating senior Michelle Falcon Mujica. An electrical engineering major with an emphasis in renewable energy and a minor in math, Mujica has served in leadership roles for the Society of Women Engineers for the past four years.
"I got involved with SWE through one of my close friends who was an officer for the club, and I joined because I did not have many female friends in my engineering courses," she said. "The club's mission to encourage women to study in STEM fields and to promote equality for women in STEM is very important to me."
Her favorite memories of the club include an annual soldering workshop at the Reno Mini Maker Faire, where they taught people of all ages to solder LEDs on a circuit board pin that they could wear, and going to the annual SWE national conference where they had the opportunity to meet members from all over the world, assist with workshops, and talk to employers about internship and job opportunities. Her ability to network at this conference allowed her to interview with and accept a job at Eaton Corporation in Chicago as a power systems engineer, where she will soon begin her career.
Outside of the club, Mujica enjoys playing music, singing, dancing to Latin music, hiking around the city, yoga and Zumba.
In the College of Engineering, Mujica had her first research experience with Mohammed Ben-Idris working on power system simulations in his Resiliency Research Lab. She also worked as an intern for NV Energy in their System Protection Department, where she had the opportunity to learn about everything that goes into making electricity accessible to all parts of Nevada and the work that is done to protect the system from malfunctioning and causing power outages.
"This internship also allowed me to step into a substation and see equipment such as transformers and relays for the first time which made what I was learning about in my classes even more interesting," she said.
Her hard work in the club has been noticed by her mentor, Indira Chatterjee, associate dean of the College and faculty advisor of the SWE.
" Michelle has demonstrated excellent leadership skills as President of the UNR collegiate section of the Society of Women Engineers. She led a team of SWE officers on various activities, including Evening with Industry, always with an amazing sense of calm and a positive attitude. I am sure that she will be an alumnus that the College of Engineering and the University of Nevada will be very proud of. It has been such a pleasure working with her on SWE activities," said Chatterjee.
Mujica's advice to students who are interested in engineering is to not get discouraged or intimidated by rumors of how difficult the major is.
"It can be challenging but electrical engineering is a broad degree, in some places there are universities that actually split electrical and electronics engineering since there is so much to learn," she said. "Not only can you work in power systems and renewable energy but also on electronics, antenna design, electromagnetics, medical devices for biomedical engineering and more."
This past week, Mujica also has been awarded for her service to the electrical and biomedical engineering department.
"I feel very honored to receive the award and I would like to thank the EBME department for supporting organizations like SWE and IEEE. I would also like to thank Dr. Chatterjee and Dr. Ben-Idris for supporting me throughout my undergraduate career," she said.