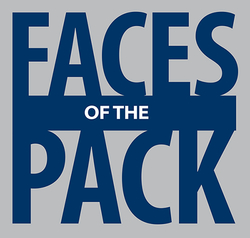 Last month, the University of Nevada, Reno ended all campus operations and transitioned to online learning in response to the COVID-19 pandemic. This has resulted in both change and challenges for some students. The School of the Arts' #ArtAt6Feet campaign is sharing the stories of students majoring in the visual and performing arts, and their transition to online learning during this time. This article is part of a five-part installment about the impact of alternative campus operations and social distancing on students in the School of the Arts.
---
A thesis defense is a nerve-wracking prospect. For visual art students in the Bachelor of Fine Arts (BFA) program at the University of Nevada, Reno, it involves creating and installing a solo exhibition, researching and writing a thesis paper, and finally, discussing and defending both the exhibition and the paper in an oral defense with their committee.
BFA student Mariah Vargas spent the last year working on her thesis exhibition which was installed on campus March 7 and 8. On March 12, she delivered her oral defense and stepped away from her committee members to give them space to deliberate.
She pulled out her phone and read an email that said campus would be moving to "alternative operations." When she returned to her committee, they informed her that they were very pleased and that she had passed her defense.
"It was like this really, really big high and this kind of weird low," Vargas said.
Vargas had successfully completed the requirements of the School of the Arts Bachelor of Fine Arts program. All the time, effort and stress she had put in to make that happen was now over. But, the exhibition she had spent a year creating is only halfway through its allotted time and the immediate future is still in question.
"I probably have the longest running show in BFA history," Vargas said, jokingly, taking a silver-linings approach to the effect of the campus closure and social distancing during the last semester of her undergraduate career.

Vargas' practice is quite physical. She is a sculptor and creates large-scale pieces, primarily of wood, using materials and tools in the sculpture lab on campus. Without access to the lab, she cannot create in the same way.

She said the change has been difficult, but it has also led to some new ways of working.

"I was having a pity party: 'I can't do anything, I'm a sculptor,'" she said. "And then, I'm running through this little baby tool box we have and I found a flathead screwdriver and a hammer... There's this expectation that I would be able to [carve rock], or that that's what I do in general [as a sculptor], and so I kind of started feeding into that."
Vargas has been chiseling into a rock as a way to keep up the physical process of making.
"We always laugh in sculpture that if it's not blood, sweat and tears, it's not a good piece," she said. So, I think that's kind of where that energy is being funneled right now, even if it's a 'throw away' piece."
Vargas has no plans to exhibit this work, instead, she is creating it because it is something she can do at home that requires a physical, hands-on process.
As this concept of daily chiseling demonstrates, Vargas' creative process is unique and innovative. The conceptual basis of her thesis exhibition is centered on thinking beyond traditional boundaries. Influenced by the minimalist art movement of the 1960s-70s, Vargas represents human bodies through simple geometric shapes.
Her artist statement that accompanies her thesis exhibition explains how the artwork "attempts to critique our immediate tendencies to categorize people into a binary system."
"Through this work, I assert that society's inability to break away from gendered attitudes inhibits the development of a more representative and complex human identity," her statement continues.
Initially, she thought her thesis would in some ways be the end of this period of her research and creations, but Vargas' research for the exhibition has led her to dive into queer theory.
"It's actually opened doors versus shut them," she said. "I'm finding myself in this larger context so really sinking my teeth into those things is where I'm excited."
Currently, Vargas has been taking advantage of new online opportunities during this time of social distancing. She photographed her exhibition before the University's closure and is in a nice position to take advantage of the myriad of new online opportunities for artists in these unprecedented times, such as Social Distance Gallery on Instagram or Rhode Island School of Design's "Thesis Shows 2020" website, both platforms that feature student exhibitions from around the country. Double Scoop, an online news outlet highlighting Nevada visual arts and artists, also reached out to Vargas to feature a video of her exhibition in an ongoing article titled "The show must go online."
"I'm in a great space to be able to share [images of my exhibition] with people, and that's what people are looking for right now so I couldn't be in a better spot in my thesis year," she said.
Despite her rock chiseling and the new virtual opportunities, the last month hasn't been easy.
"I'm struggling with the making," she said. "I'm really focusing on the small wins…" These wins include connecting with other artists and friends. "I've been in communication with a bunch of the sculpture people and so we've kind of bound together, we're FaceTiming, we're talking about art, we're trying to get each other through it, so those are the things that are coming out of this."
As for the future, Vargas will be applying for graduate school, potentially in architecture. "None the less my artistic life continues," says Vargas, "whether it looks like going away to graduate school, participating in the local art community, or both."
The School of the Arts includes 15 undergraduate and graduate degree programs across the disciplines of Visual Art, Music, Theatre, and Dance. Annually, the School of the Arts presents inspiring, thought-provoking, world-class visual art exhibitions, musical performances, theatre productions and dance concerts.