The University of Nevada, Reno has now gained its first ever Ethics Bowl Team. Simone Gubler, an assistant professor of philosophy and newly titled coach of the Ethics Bowl Team, recruited and trained two teams this semester. The students are ready to compete in their first competition set for Dec. 5.
"We are very fortunate to have a very active student body at the University, so it was easy to recruit the teams," Gubler said. "We simply advertised using online student email list serves and had a good response. We had enough interest to enter two teams into competition, which is fantastic."
The National College Ethics Bowl is organized by the Association for Practical and Professional Ethics. It was formed in 1997 and has grown to include teams from all over the country. There are 12 regional competitions held in the fall, and the 36 top-scoring teams from across these regional areas are invited to compete in the National Finals in the spring.
The Ethics Bowl is a competition where teams learn about and discuss real-world cases concerning ethically provocative situations from recent news and daily life. Each team will study and train for 15 different cases and will be prepared to discuss any one of them at the competition. Some of the cases this year include cancel culture, mask mandates, covert medication administration and the ethics of protest.
"Competing in an Ethics Bowl is not antagonistic," Gubler said. "Although the teams are competing to win, they need not contradict each other as in debate, but rather are expected to give a good survey of the ethically relevant issues, and to constructively engage their opponents."
Hailey Overholser, a sophomore at the University, heard about the Ethics Team through Gubler's Philosophy 207 course and was immediately interested in joining the team.
"I wanted to join because I thought it would be really interesting and fun," Overholser said. "It would be great for my major and minor and my future goals of going to law school."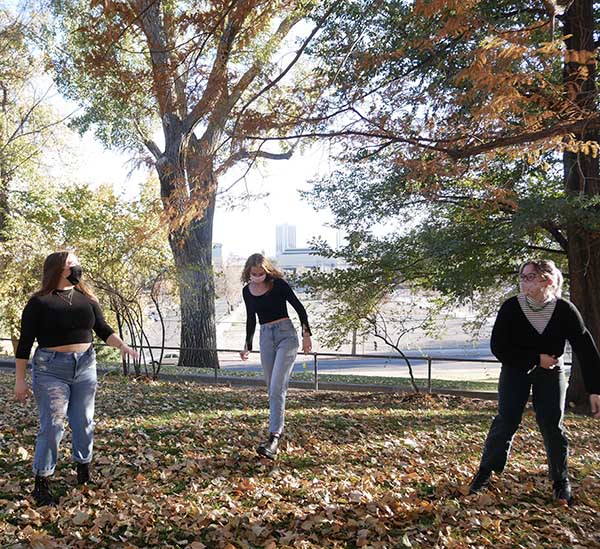 Despite the coronavirus pandemic and online courses, she says this has been a great way to feel involved in student life on campus. The team held socially distanced practices outside in the beginning of the semester but has now transitioned to Zoom meetings.

"We have been able to get a lot of practice and work done in the short time we have had before the tournament," Overholser said. "It has been a challenge to adapt to everyone being so busy with school and their own lives, but we are still able to work well. The pandemic has obviously changed the way we operate so we were able to meet in person because it was just seven of us, social distancing and wearing masks outside, but now we are meeting virtually and it hasn't been a problem."
Alyssa Tudor, a junior at the University, also learned about the team through the philosophy department. She thought it would be a low stress environment where she could improve her critical thinking skills and apply the knowledge she has learned in class.
"The team is entertaining because a lot of the meetings are just casual discussions of ethically interesting topics with people who are all mutually invested in thinking them through," Tudor said. "We all got along well from the beginning, and I think for any team-oriented activity, that is a sign of success. Because of this, we are usually on the same page about what position we want to take on issues. I think our friendliness will lend itself well to discussing issues in a fluid, casual way."
Tudor, along with fellow teammate Overholser, is confident about their upcoming competition. The team is participating in a California regional, since there are currently none in Nevada, which will take place over Zoom.
"I think we'll do well, and it'll be a nice break from preparing for finals," Tudor said. "Regardless of how well we do on paper, I think we'll give the judges and the other teams arguments worth thinking about. Thus far, we have prepared by discussing each case at length. Now so close to regionals, we are doing mock competitions to prepare."
Gubler is impressed by her student's commitment to their training and the enthusiasm they bring to their meetings.
"I feel really excited," she said. "The teams have worked very hard to prepare, and I'm extremely proud of them. It is a huge achievement to be the first University of Nevada, Reno squad to compete in this big competition, let alone during a global pandemic. No matter what the outcome is, they are champions to me."