University of Nevada, Reno Executive Vice President and Provost Kevin Carman recently announced a new collaborative effort between the University, the Redfield Foundation and the Eddy House, a Reno non-profit entity committed to serving homeless youth.
"Helping our community's most vulnerable populations is a top priority for the Redfield Foundation and other philanthropic groups, and as a land-grant institution committed to community engagement, the University is a natural partner for these types of community projects," Jerry Smith, president of the Nell J. Redfield Foundation, said. "I believe that this is just the kind of effort that will help define the University as a crucial partner in high impact community engagement."
The University effort will involve students and faculty from various disciplines and will be led by Professor of Counseling and Educational Psychology Ken Coll. Coll served as dean of the College of Education from 2013 to 2019 and recently served as acting dean for the School of Social Work.
"This great new collaboration with the University will help homeless youth in our area like never before," CEO of the Eddy House Diaz Dixon said. "Homeless youth at Eddy House are survivors of domestic abuse, others have alcohol and substance abuse problems and many still need to complete their education and develop job skills. Our programs address these needs – creating a continuum of care and tools for homeless youth to become self-sufficient. The relationship with the University will focus on the assessment and intake process along with additional services."
The Eddy House is the only youth homeless facility in northern Nevada and, starting this month, will now offer Reno its first 24-hour overnight shelter for young people.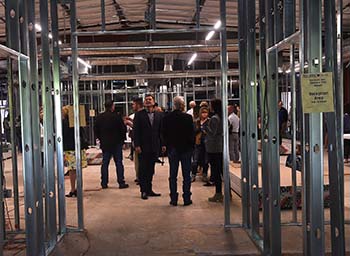 "This is truly a win-win initiative as it will address a critical need within our community while also providing extremely valuable practical experience for our students," Provost Carman said. "Ken is uniquely qualified to lead this effort given his leadership skills, content expertise, campus and community connections and understanding of program development and philanthropy. This is a unique opportunity to develop and expand collaboration with community agencies in support of mental health needs."

The collaborative services and benefits that the University will provide include but are not limited to mental health counseling, psycho-social education, job skills development sessions, healthy relationships and other educational opportunities.

"These crucial services the University intends to provide to the youth we serve – over 800 per year – would not be available without this collaborative," Dixon said. "We endeavor to work closely in this collaboration to seek funding to offset costs, sustain our collaborative and expand this much-needed service to other community agencies."
For more information, contact Ken Coll at kcoll@unr.edu.