"I developed a passion for sports during my sophomore year of college while working for Nevada Athletics and to share that passion with other Reynolds School grads was incredible," Katie Cavender said.
Cavender, a 2005 Reynolds School of Journalism graduate, joined the College Football Playoff (CFP) staff as its assistant director of communications in August 2018. This past bowl season, she shared a full-circle moment after welcoming four more Reynolds School graduates onto her team for the 2020 CFP National Championship.

Upon graduating from the Reynolds School in May 2019, Janay Hagans was hired as the communications and social media intern at the CFP in August 2019. As part of their duties, Cavender and Hagans worked throughout the fall to identify a team of content creators from around the country to assist in telling the story of the national championship game, held on January 13 in New Orleans.
As part of that process, the pair welcomed three more Reynolds School graduates – Aaron Washington, Hugh Tomasello and Mirelle Schwalbach, to join the game week social media team. Jenna Holland, another University of Nevada, Reno alumna, also joined the team for the 2020 game.
"It was really exciting to have four other Reynolds School grads create digital and social content throughout the national championship experience," Cavender said. "While I was a Reynolds School student a few years before the others, I know I can speak for them in saying that we wanted to represent the program in the best way possible, and we wanted to make the University of Nevada and Wolf Pack Athletics proud."
Hagans, Washington, Tomasello, Schwalbach and Holland previously worked together for Nevada Athletics during their time at the university and already knew how to collaborate as a team prior to joining the CFP for national championship game week.
"I knew when building the social media team that the Wolf Pack had to be represented," Hagans said. "The talent that comes in and out of Nevada's athletics department is unmatched, and I honestly think a lot of people don't realize that."
"Full credit has to go to Janay for having faith in us and having us work together," Washington said. "Once I saw Hugh, Jenna and Mirelle were going to be on the team, I knew it would be a great experience because they are all so good at what they do."
During the 2020 College Football Playoff National Championship, the social media team led by Cavender and Hagans were tasked to cover all events, from team arrivals and pep rallies, to fan festivals and concerts, from educational forums to the national championship game itself between No. 1 LSU and No. 3 Clemson. The intent was to provide inside access not only for those attending the festivities in New Orleans but also to extend the story to those followers who were unable to physically attend in person.
"Being able to create content for CFP social during championship week is something so rewarding to me because I'm doing what I truly love to do – telling real-time stories through my own lens for the world to see," Schwalbach said.
The team communicated often throughout national championship week to ensure the quality of posts and to avoid similar posts going live. According to Schwalbach, that meant having trust in one another to get the job done.
"I learned how crucial it is to strategize what kind of content is going to go out when covering an event and when it will be posted," Tomasello said. "When you have a team covering multiple events at the same time, no one is wasting their time getting content that will not be used or placed on the back burner."
For Schwalbach, one perk of working for the CFP was the lively and fast-paced environment. She also reflected on the opportunity to work with some of her best friends and fellow Nevada alumni.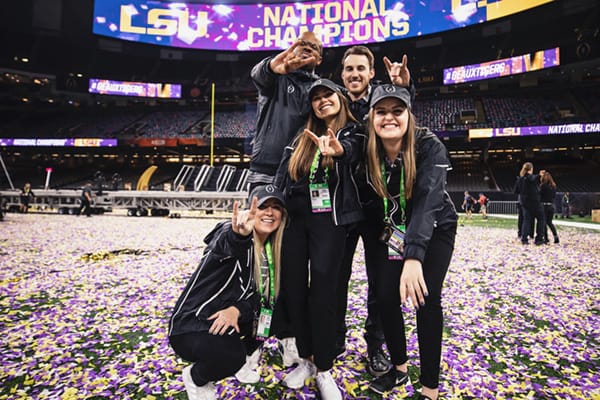 "Getting to work alongside Katie Cavender, Janay Hagans, Jenna Holland, Hugh Tomasello and Aaron Washington was something that put the biggest smile on my face each day," Schwalbach said. "There's nothing more rewarding than to see all of us grow from working in the Nevada Athletics department to where we were then [in New Orleans], all together. It made things more familiar in an unfamiliar place."
As the mentor of the group, Cavender watched the younger members of her team help each other as they also grew professionally.
"I am a large proponent of the saying 'lift as you climb,'" Cavender said. "It's great being part of the opportunity that these individuals have in investing in their professional life.".
The group collectively advised students to trust their work and be themselves as they continue their education at the Reynolds School.
"From the professors to the classes to the organizations, I would not have been able to accomplish so much without this strong Nevada family of ours," Schwalbach said. "Take all the challenges with open arms because every time I failed at the RSJ, I was able to get up and come back stronger."