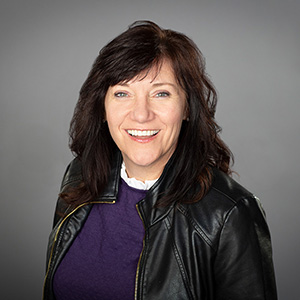 Every year, the Staff Employee's Council recognizes one exceptional classified employee at the University of Nevada, Reno. This year, Kimberly Bonnenfant was named the 2019-2020 Classified Employee of the Year. Bonnenfant has been with the University for 27 years, currently working as the marketing/publicity/outreach coordinator and administrative assistant for the Honors Program. Her past positions include professional training and development where she provided hands-on training to the Office of Prospective Students, University Libraries, the Office of Information Technology and other faculty and staff.
"This is very humbling," Bonnenfant said. "I wouldn't have been able to do my job without all of the help from other departments such as HR, Accounts Payable, Travel, scheduling, and the list goes on and on. I feel extremely fortunate."
Bonnenfant was recently appointed to her role in the Honors Program and said the position has breathed new life into her. She is motivated by her work and eager to engage with her current Honors students and recruit new ones.
"I love the students and want to know everything about them," Bonnenfant said. "When reading their admissions essays or interviewing them for a student employee position within the department, I find out just how interesting they are. This office is very inspiring. It amazes me just how much these students do with academics and volunteering within the community."
Her colleague and supervisor Matthew Means, Honors Program director and an associate professor, describes her as a versatile worker and praises her infectious positive attitude in the office, helping others feel at ease and lighting up every space she occupies.
"Kimberly embodies the best qualities of an ideal colleague: experience with freshness and vitality," Means said. "Her long history at the University gives her an encyclopedic bird's eye view of what, and who, has made our University a destination of choice; she treats every day as a new adventure and never stops learning."
Bonnenfant has a lot of pride in the University and its students. She enjoys being able to make a great first impression for a parent or incoming student and believes all her staff does an amazing job at doing so.
"I truly believe to my core that the University of Nevada, Reno is the best place for a student to attend," Bonnenfant said. "I have seen it firsthand for 27 years. The caring faculty and staff, the beautiful campus and the willingness to go the extra mile to put a student or parent at ease."
While she may be able to retire in three years, ending with a total of 30 years working with the University, Bonnenfant said she doesn't think she will. There are too many things she wants to be a part of, right now and in the future.