Within the dark linen covered journal, a faded sepia-toned picture shows a man in his mid-fifties, donning suspenders and dark, dusty shoes. His stance is relaxed, with one hand on his hip and the other on his burro.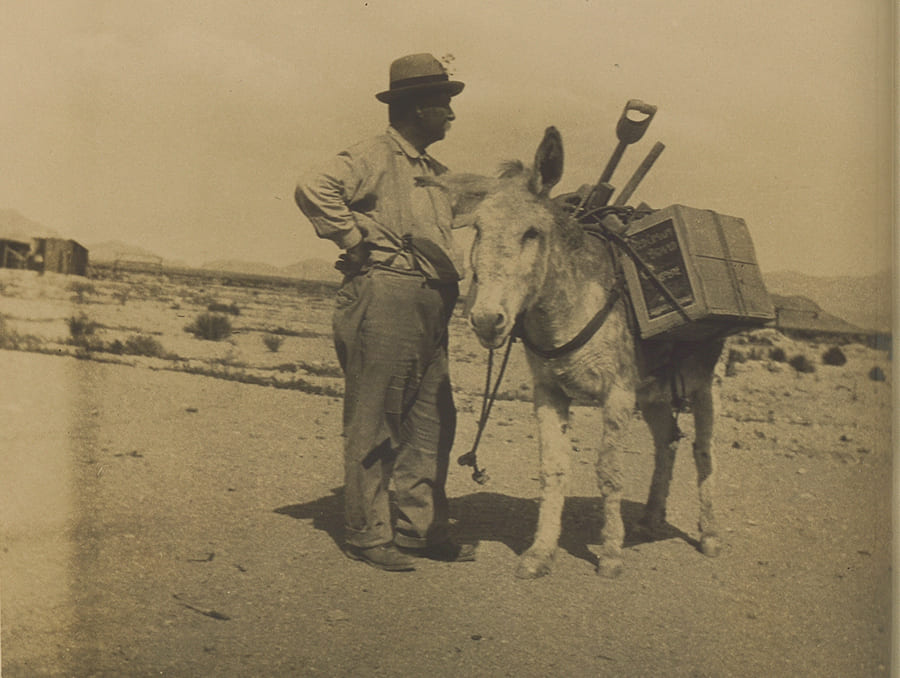 The light-colored burro stands resolutely, outfitted with a pack-saddle, a wooden crate strapped to one side and a shovel handle visible from the other. In the background stretches an endless desert dotted with sagebrush. The man is George Scott, one half of the husband and wife team that wrote One Thousand Miles of Desert and Mountains, A Prospecting Trip Across Nevada and Over the Sierras.

The duo kept a daily diary as they traversed 1000 miles of Nevada terrain on their 1914 prospecting journey. Originally a series of four diaries, three are still in existence today and reside in Special Collections and University Archives at the University of Nevada, Reno University Libraries.
"This country reminds us, in a way, of Zane Gray's story "The Riders of the Purple Sage." You stand on a mesa and look out for miles and miles and there is not a thing to obstruct the view; the brush is nowhere higher than the belly of the horse and you are satisfied that no man, woman or child could cross that country, wither on foot or on horseback, without being seen at once."
This summer, a small team at the University Libraries created the 1000 Miles Project, based on the adventures of George and Josephine Scott. The 1000 Miles project shared highlights from the historical diaries in a new and unique format.
When COVID Strikes; A Catalyst for Innovation
As spring progressed and it became apparent that COVID restrictions, in some form, would be continuing at least through the summer and likely into fall, Special Collections and University Archives began to look for a new way to share primary source and historical materials contained within its collections that typically would be utilized in person. The 1000 Miles diaries already had been digitized and were available via the Special Collections and University Archives digital collections webpage, but was there a way, the team wondered, to enhance and expand the delivery of these materials in this new virtual environment?
"I found a solitary grave, among the brush, half a mile to the south. Someone has placed at the head a cross made of two bolster irons riveted together; there was no name. The man was killed, in the boom days, by a man whose claim he had jumped."
A small team within the University Libraries comprising members from Special Collections and University Archives, the Digital Services Lab, the @One Technology Suite, and the Office of Advancement and Engagement envisioned a program that would showcase passages from the diaries by bringing them to life through podcast style recordings paired with short video segments that highlighted the geography, vocabulary and concepts contained in the diaries. The videos and accompanying worksheets, geared to fourth through seventh graders, but suitable for all ages, also included topics ranging from desert ecology to mining techniques, all inspired by observations detailed in the diaries.
A Community Collaboration is Born
The University Libraries team hoped to make the project as dynamic as possible and realized early on that including a variety of voices in the project would significantly enrich the final product. A steadfast partner in serving our community, the Washoe County Library embraced the project and distributed and publicized the nine-week long program that launched at the beginning of September and ran through the end of October. Their connections with the Washoe County School District and strong relationship with the northern Nevada K-12 student community made them a natural partner to provide a bridge between the 1000 Miles programming and its intended primary audience.
"Put new heels in my shoes, fastening them on with roofing nails."
Once the partnership with the Washoe County Library was in place, the team set about the task of blocking out the individual videos and reached out to community members to help enrich the scope of each segment. Experts from a variety of fields contributed their talent to help expand and reinforce the concepts in the video segments. Guest speakers featured in the series included author and educator Michael Branch who taught a segment about "Turning your boring life into an awesome story," W. M. Keck Earth Sciences and Mineral Engineering Museum Curator Garrett Barmore who talked about prospecting, mining and minerals, artist and educator Emily Reid who shared tips about creativity and painting, author and educator Terri Farley who coached viewers about writing from the perspective of an animal, and Desert Research Institute Research Scientist Tiffany Pereira who taught about desert ecosystems, native plant species and desert reptiles and animals. Also contributing were University Libraries Earth Sciences, GIS and Maps Librarian Chrissy Klenke who taught Map Skills 101, and Director of Special Collections and University Archives Kim Anderson who led a lesson about primary versus secondary sources. Desert Research Institute STEM Education Program Manager AJ Long created all the math questions for the activity sheets and the words of George and Josephine were brought to life in the eight podcast-style recordings by Reno actor and poet, Jeremiah G. Nelson.
The 1000 Miles project capitalizes on the breadth and variety of George and Josephine's observations recorded in their diaries. The videos and accompanying activity sheets prompt viewers to think more deeply about life in 1914 and how George and Josephine's experiences might relate to life in the present.
"In the letter to Plummer, he was told that both Chiro, the palmist and himself told me when I was forty-five that I would die when I was fifty-five and advised him that I had now passed the fifty-five year and feeling fine."
The Inherent Value of Primary Source Materials
The diaries provide a first-hand account of George and Josephine's adventure, which began in the spring of 1914. Hailing from Orangevale, California, the pair, along with their four burros, Jack, Tucson, Chino and Cyclone, their dog Poonee and cat Mebbe, traveled throughout Nevada, spending time prospecting along the way. Through the pages of their diaries, which document the "ordinary" details of their daily life, we begin to understand the world they experienced in 1914. We come to know George and Josephine and the people who form the cast of characters in their narrative. When George describes the bulletin in the Tribune office detailing Germany's position, we learn not only about the current events of their time, but how they learned about current events. We learn what things cost, what items topped their shopping lists, with whom and how they kept in contact, how they cared for their animals, what they ate, and what surprised and pleased them along their journey. There are descriptions of towns and hand-drawn maps detailing routes not described in published maps at the time. Via the pages of the diaries we are able to participate in historical relationships; George teasing his friend in a letter that the "palmist was wrong about him dying at fifty-five," a fellow traveler passing along advice warning of the folly of attempting a Death Valley crossing, and brave men rescuing a big city visitor who lost his way in the Funeral Range.
"There was a bulletin a the Tribune office, stating that Germany had given Russia twelve hours to agree to withdraw her army from the frontier and had given France eighteen hours to state whether she will remain neutral in case Germany goes to war with Russia."
What this and other primary sources provide is a humanization of history, a first-person account that takes us well beyond a simple list of dates and events. We are transported to the time and place through the eyes and minds of those who were present. Primary sources enable us to experience the emotions, values and attitudes of those who recorded the moment in time and experienced it firsthand.
Primary sources also give us the opportunity to evaluate and analyze the biases of the authors – and perhaps our own. Incorporating primary sources into teaching curriculum gives students the opportunity to develop a deeper understanding of history while developing their ability to evaluate and make appropriate use of many sources of information.
A final element of the 1000 Miles project asked participants to record their own diaries throughout the project. Fifty years from now, those diaries might be the primary source future students and researchers use to understand what life was like during the COVID-19 pandemic, helping others understand the history we are making now.
To access and explore the 1000 Miles Project and the complete diaries, please visit the 1000 Miles Project page.
Special Collections and University Archives, along with the Jon Bilbao Basque Library together house collections featuring hundreds of thousands of primary source materials that are available for learning support. Your Special Collections, Basque, and subject librarians are here to help faculty find ways to creatively incorporate digital versions of primary sources into curriculum and assignments. Faculty can email Special Collections at specoll@unr.edu, the Basque Library at arrieta@unr.edu, or contact their subject librarian for assistance.
About the University Libraries
The University Libraries embrace intellectual inquiry and innovation, nurture the production of new knowledge, and foster excellence in learning, teaching and research. During each academic year, the Libraries welcomes more than 1.2 million visitors across its network of three branch libraries: the Mathewson-IGT Knowledge Center, the DeLaMare Science and Engineering Library and the Savitt Medical Library. Visitors checked-out more than 80,000 items and completed more than 2 million database searches.