The University of Nevada, Reno's Nevada Wind Ensemble concludes a stellar 2019 with a performance with Mark Davis Scatterday, conductor of the world-renowned Eastman Wind Ensemble at 7:30 p.m. Dec. 9 at Nightingale Concert Hall.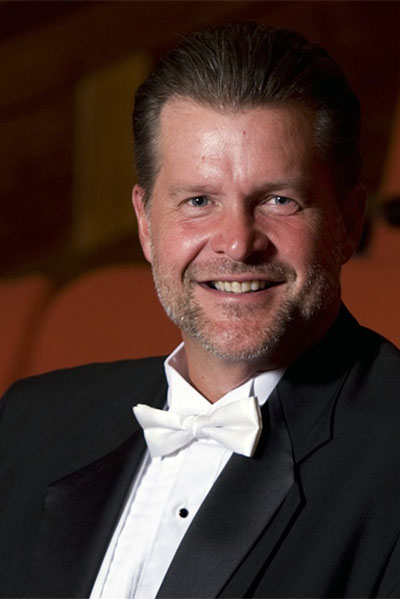 Scatterday regularly guest conducts around the U.S. and the world, most recently with Kunitachi Conservatory of Music in Japan. Recent recording projects with the Eastman Wind Ensemble include "Images: The Music of Jeff Tyzik, Sierra Live: Music by Roberto Sierra," and "Stravinsky: L'Histoire du Soldat/Octet." The Nevada Wind Ensemble is the flagship wind and percussion ensemble at the University. It performs a broad repertoire of classic and contemporary styles, ranging from large band works to chamber pieces.
The group will perform Gabrieli's "Aria Della Battaglia," Tyzik's "Three Latin Dances," Debussy's "Hommage a Rameau," and the finale from Howard Hanson's "Symphony No. 9" during its Dec. 9 event.
The final 2019 concert marks a successful year in which more than 40 college musicians performed for students affected by the devastating 2018 Camp Fire. The fire destroyed a northern California community, killed more than 80 people and left tens of thousands homeless. In spring, the ensemble visited students at Paradise High School in California on a good-will tour, sharing the uplifting message of music with a community that has been through tough times.
The Nevada Wind Ensemble has toured through Northern California and the Bay Area since 2017. In 2018, the group was selected by audition to perform for the College Band Directors National Association Division Conference at Weill Hall on the campus of Sonoma State University. The Nevada Wind Ensemble gives both graduate and undergraduate real-life experience performing on the road.
New recording
The University ensemble recently released the extended play record, EP, Bernstein: Overture to "Candide," Suite from Mass – Hailstork: American Guernica. It is available on all major streaming services, including Spotify, Apple Music, Amazon and Tidal.
The wind ensemble studio recording featured the Chicago brass quintet, Gaudete Brass. It was conducted by Reed Chamberlin, director of bands and assistant professor of music. It was recorded in Nightingale Hall in the Church Fine Arts building and professionally edited by Tom Gordon, the recording arts instructor.
"Large ensemble recording provides an important professional experience to our students—it teaches them the importance of preparation and reinforces the need to perform with the highest standards possible. The recording also brings international recognition to the Wind Ensemble and the University." Chamberlin said.
The music of Leonard Bernstein, conductor and composer, and Adolphus Hailstork, composer and professor, has been performed across decades and has helped to define the American musical landscape.
"We're excited about our spring 2020 recording session because it will produce an additional LP (to be released in the spring)," Chamberlin said. "We will be able to use our new state-of-the-art control room/recording studio in the University Arts Building to record the group from Nightingale Concert Hall."