Each semester, the University of Nevada, Reno and the Alumni Association honor an undergraduate student from each school or college who meets the exceptional Senior Scholar program standards. The seniors will be recognized in a reception at the Joe Crowley Student Union Wednesday, May 15. The reception will begin with a welcoming speech from the President of the Nevada Alumni Council Joe Nannini. President Marc Johnson will speak and the Director of Alumni Engagement, Amy Carothers will present the students with their awards.
As a celebration of their time at the University, the Senior Scholars were asked to reflect on their experience and scholastic achievements. A brief recap of each of their experiences is below.
Autobiographies
College of Agriculture, Biotechnology and Natural Resources

Amanda Reaves and Karon Felten.
Amanda Paige Reaves
GPA: 3.9777 | Mentor: Karon Felten
For most of my life, I wanted to be a teacher. I began college with that goal in mind and came very close to completing a degree in elementary education. However, a year and a half from graduating with a Bachelor's degree, I chose to change my major to something my mind had always wandered to: nutrition. With the support of my now-husband, family, and friends, I pushed back my graduation date by a year and began my journey in the College of Agriculture, Biotechnology, and Natural Resources. At first, I was unsure of how I would even be able to obtain the credits needed to graduate with a Bachelor's degree in nutrition and was nervous that I was changing my mind too late. I was referred to Karon Felten to discuss my new major and come up with a schedule that would get me through the program. I am grateful that Karon was assigned as my advisor, as she has worked with me to ensure my academic plan would suit my life circumstances and has gladly helped me to made adjustments, as necessary. After my first meeting with her, I became confident that I could successfully change my major and still graduate in a timely manner. I truly felt assured that I had made the right decision once I realized how engaged I was in my new classes and how much I enjoyed learning the material presented. During my time at the University of Nevada, Reno, I got married and became a mother. I am proud to say that with the help of my advisor, professors, and family and friends, I have been able to stay on track to completing my degree and maintain the grades that I expect from myself.
College of Education

Devin Burri and Caroline Hatcher.
Devin Nicole Burri
GPA: 4.0 | Mentor: Caroline Hatcher
I knew I wanted to be a teacher from very early on. When I was in second grade, I used to make math, reading and writing worksheets and activities for my six-year-old brother to do. We would sit there and I would help him answer questions about a short piece of reading or show examples of how to solve similar math questions. This was when I found out how much I love helping others learn new things. While a lot of people are motivated by competition, I am motivated by helping others learn and seeing that light bulb go off.
I planned to attend the University of Nevada, Reno since I was a sophomore in high school. I had quite a few family members and good friends that went to school here and they always spoke very highly of their professors. Once I got to take both education and history courses at this university, I knew exactly what they were talking about. My professors modeled countless strategies that I will use in my classroom one day. They gave students opportunities to bring their own ideas to class discussions, allowed students to make choices about their own research and lesson plans, and always made time for collaboration.
I have so many people to thank for the success I have had here at the University of Nevada, Reno. To my parents, thank you for continuously supporting every single one of my goals and for always helping me believe in myself. To my peers, I have never met a group of people so intelligent, kind, and helpful. There is no doubt in my mind that every single one of you will go on to have such a positive influence on the lives of your future students.
I would also like to thank my professors for the academic success I have had here at the University of Nevada, Reno. In particular, I would like to thank a professor who I have spent the past two years with. Professor Hatcher, thank you for helping all of us grow through our practicum experiences. You not only taught me how to embrace and love the realities of teaching, but how to reflect on experiences and always choose to grow through them. Thank you for helping create such a close-knit and collaborative group of future educators in your classroom. My professors, peers, family, and friends have furthered my love for both teaching and learning. I am very excited to use everything I have gained from this college experience in my very own classroom.
College of Engineering

Tolin O. Skov-Black and Sid Pathak.
Tolin O. Skov-Black
GPA: 4.0 | Mentor: Sid Pathak
Growing up in Gig Harbor, WA, I was raised near one of the biggest engineering failures in the United States. The Narrows Bridge, a large suspension bridge that collapsed due to wind, always made me curious in how something so sturdy like it could fail. This curiosity in how things fail and how they can be improved drove me to engineering. After moving to Reno for my junior and Senior years of high school I was unsure of where to go and what to do after high school. I ultimately chose materials engineering because of the tour at the University of Nevada, Reno I had taken senior year of high school. The combination of research and engineering was the perfect combo I was looking for.
The journey through college has certainly changed me as a person. Rarely can you have so many life-changing experiences in such little time, starting with the best job I've had at the University Math Center. As a tutor, I was able to sharpen my communication and arithmetic skills, as well as develop some of the best friendships. The last two years of college were particularly great. At this point, I had joined the United States Navy as a Nuclear Propulsion Officer Candidate. Having a career set up post-college gave me the extra confidence to keep up with my schoolwork even as the work became longer and the sleep shorter.
I am extremely grateful for the Senior Scholar Award and want to thank my fiancé, family and all the Department of Chemical and Materials Engineering staff. Particularly, I'd like to thank Dr. Pathak for the amazing time I have had throughout my college career. I only met Dr. Pathak at the end of junior year; however, his guidance in these last semesters has had a major impact on who I am as a student, researcher and individual.
College of Liberal Arts

Timothy Shaw and Lin Li Hall.
Timothy Ryan Shaw
GPA: 4.0 | Mentor: Lin Li Hall '07 M.A.
Growing up with two physician parents, I have always admired occupations that translate dedication and academic study into aid for individuals in need. Despite my parents' medical conversations not making for the most appetizing dinner discussions, I have always marveled at the stories of doctors curing patients by making critical, life-changing decisions for those under their care. My high school career, however, sparked my interest in legislative policy and a career as an elected representative. I passionately believed that the most successful way to effect change for individuals in need was to initiate new policy at the state and national level. I thought it impossible to somehow incorporate my lifelong interest of medicine into such a demanding career. Never before have I been so happy to be proven wrong.
In 2017, my sophomore year of Undergraduate study, I was able to take advantage of one of the many incredible opportunities offered by the University of Nevada Reno. Through the Political Science program, I was able to apply and intern for Nevada State Assemblyman Ozzie Fumo and experience legislative action from within the legislature. During my internship, my interest in the legislative process continued to grow, and I discovered that physicians were able to serve as senators or assemblymen in Nevada. The biannual sessions allow for assemblymen and senators to maintain private practices while simultaneously creating new policies. I understood that my unwavering interest in both policy, as well as medicine, meant that I must follow the same occupational path.
From working towards a successful legal career to my current goal of attending medical school, I have always been interested in translating the needs of the underserved into effective policy or care. Thanks to my mentor, Lin Li Hall, I have been able to literally translate the needs of Mandarin-speaking patients during my Student Outreach Clinic Volunteering. Despite Mandarin being one of the most difficult languages to learn, Lin Li Hall's patience and unfaltering effort made the process a delight rather than a struggle. I hope to continue to apply my mentor's instruction through study abroad and clinical opportunities.
College of Science

Erin Kelley and Pamela Sandstrom.
Erin F. Kelley
GPA: 4.0 | Mentor: Pamela Sandstrom '07 Ph.D.
I knew I wanted to pursue medicine when I began as a freshman biology major, but I admittedly had no idea what it would take to get there. During my first year, I was focused solely on getting good grades and had not engaged in any extracurricular activities. After taking my first biology course with Dr. Sandstrom, I decided to apply to become a discussion group leader. This is when my college experience truly began.
I immediately fell in love with teaching and helping other students achieve their academic goals. It was incredibly fulfilling to see my students finally grasp a concept and become excited to learn. Not only was able to see the impact my efforts made on other student's success, but I was able to improve my own communication and public speaking skills through this program. The skills that I have refined as a discussion group leader will be imperative to my success as a future medical professional.
After my first semester as a discussion group leader, I continued to get more involved and take on more positions in the biology department. Most of my time outside of studying was spent fulfilling my positions as a discussion group leader, learning assistant, mentor, coordinator, and dissection assistant. Being a part of this community has been the most impactful experience in the past four years I have spent at the University. The support of Dr. Sandstrom, Dr. Pravosudova, and my peers was essential to my success throughout my undergraduate career. I cannot thank Dr. Sandstrom and Dr. Pravosudova enough for helping me develop as a student and an individual. Finally, I cannot wait to continue my journey at UNR as I begin as a first-year medical student at UNR Med next fall.
Division of Health Sciences, School of Social Work

Hannah Sweeney and Eric Albers.
Hannah Faith Sweeney
GPA: 3.97 | Mentor: Eric Albers
Before I can talk about Social Work, I must talk about faith. For the purpose of this autobiography, strip all your preconceived notions about faith and its many reputations. Faith has a variety of definitions; each one created by individuals as a reflection of their own unique experiences. In my reality, faith embodies hope in the future; it inspires me to trust in the goodness of others and challenges my internal strength. It instills belief that the world will heal, even when circumstances are engulfed by darkness. Faith is a complex, deeply meaningful concept that has molded my heart, mind, and soul; it seems quite fitting that it is my middle name. When I connect with the core of who I am, I find Faith right in the middle.
My heart is drawn towards empowering others to find their own "Faith", by creating a safe space for self-exploration and healing. Through my experiences in the Social Work Program at the University of Nevada, Reno, Hospice Social Work and Bereavement, Mental Health care, and volunteering with underprivileged youth, my heart has been completed transformed by the rawness of the human experience. Luckily, I had astounding mentors that guided me through these demanding circumstances. This is where Dr. Eric Albers comes in. His humble spirit, yet fierce nature never ceases to amaze me. His passion for authenticity is contagious, and I was not immune. Dr. Albers prompted me to think creatively, ask questions, and embrace my uniqueness. I am filled with gratitude for Dr. Albers and the many others that challenged me along my journey. As this chapter of my life concludes, the future remains unpredictable. Regardless, one thing is for certain: I will continue cultivating a life of faith and use it to send peace, hope, and healing out into the world.
Orvis School of Nursing

Emory Thompson and Wei-Chen Tung.
Emory James Thompson
GPA: 3.978 | Mentor: Wei – Chen Tung
During my sophomore year of high school, I was involved in a snowboarding accident in which I sustained a broken shoulder. I underwent surgery that night to repair the break. During my hospital stay, I received excellent care from the nurses who worked with me. It was at this time that I discovered my interest in nursing, a profession in which I knew I would be able to engage in wonderful interactions and serve those in need. Coming from the rural town of Placerville, California, I wanted to continue my education in an area similar to where I grew up: surrounded by mountains, rivers, lakes, and trails where I could hike, bike, and snowboard. Fortunately for me, I found the University of Nevada, Reno and the Orvis School of Nursing.
In the four short years that I have spent at the University of Nevada, I have learned so much about myself and the world around me. Most valuable to my future career, however, is everything I have learned in the last year and a half through Orvis. There have been countless professors and clinical faculty who have equipped me with the knowledge and skills I need to be a successful new nurse. Dr. Wei-Chen Tung has been an inspiration to me, as she has given me ample career guidance and has provided me with excellent research opportunities. I thank her for all she has done and will continue to do for me.
I am truly grateful for the opportunities and fortunate for the experiences I have been given over the years, and I have countless people to thank from teachers to friends. Most notable is my family to whom I owe so much. I truly would not be who I am today without their endless support.
Reynolds School of Journalism

Daniel Lindbergh Lang and Bob Felten.
Daniel Lindbergh Lang
GPA: 3.984 | Mentor: Bob Felten '71
I entered the University feeling undecided. After high school at Advanced Technologies Academy, I found myself a maverick best in graphic design and social studies — separate fields? A friend suggested with my hobbies in writing and photography to choose media.
I quickly discovered journalism teaches advocacy. Conversations with distinguished speakers and writers encouraged me to try every platform and seek advice. I reported and vlogged about my freshman residence community White Pine Hall before its demolition and shared stories of college Catholics at Our Lady of Wisdom Newman Center. I even reported elections 2016. I loved helping.
Life struck when my mother was killed. That summer, my first time abroad, I met her family in China — my family. Four more journeys abroad later, to Taiwan and Panamá too, I realized the lives I share now cross languages and cultures. I published and appeared in campus, regional, national and international media. I volunteered with Kiwanis Circle K International, imparting my strategic communications knowledge as lessons. I have been so blessed. With friends, we reimagined Nevada's Journalism Student Council. Now through my Honors thesis, I finally intersected my minors in Chinese, communication studies and English literature.
I feel grateful to the students, faculty and staff in the Reynolds School of Journalism, Honors Program and College of Liberal Arts, who know their impacts on my education. But especially I thank Bob Felten, who challenged me every step. From Wolf Pack Welcome, when he roused my Class of 2019 to "Be Open," to my four years learning then leading his American Advertising Federation student chapter, this man never let me settle. He opened doors to internships, mentorships and friendships. And he reminded me I not only love studies — I love action. Next, I am volunteering to teach with the Peace Corps in Mongolia.
School of Community Health Sciences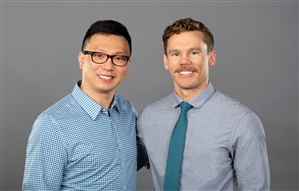 Chris Capron and You Fu.
Chris David Capron
GPA: 3.992 | Mentor: You Fu
Attending the University of Nevada, Reno has been one of the best decisions that I have made in my life, but I give absolute credit to my friends and family for getting me this far. In truth, this is my second tour at UNR, as I attended for one lackluster semester a year after I graduated from high school and dropped out soon afterwards. I spent the next six years working various jobs as a server, lifeguard, and ski instructor until a good friend of mine convinced me to go back to school. At first, I wanted to be a physical therapist, and spent my first two years preparing for that career. I had a change of heart before my junior year, however, to pursue a career in physical education. The most important thing I have learned in the health sciences is the power of preventative care, and what better way to reduce the need for tertiary care in our community than to teach good health and fitness habits to our youth? Also, as a born-and-raised Nevadan and longtime Renoite, I love to take advantage of all the outdoor physical activities this area provides (great teacher perk: summer vacations!) and I would love to prepare students to enjoy these very same activities themselves. I would especially like to give thanks to Dr. You Fu, who has been instrumental in the past two years. His classes first exposed me to student teaching, and he has helped get me in contact with several physical educators in the community, as well as allowing me to TA for him in my final semester. Without his advice and hard work, I would not be prepared to achieve my goal of teaching once I leave this wonderful campus.
The College of Business

Kayla Banda and Michael Branch.
Kayla Banda
GPA: 4.0 | Mentor: Michael Branch
My parents have been small business owners since my earliest memories. I watched as they worked to grow the business, keep their customers happy, and balance the stress of work with the responsibility of raising a family. As I grew older, I further understood the importance of business and how it could be used to empower individuals and communities alike. I wanted to help others by giving them the ledge to run their own businesses and communities, to be "the head and not the tail," to have the opportunity to be their own boss—these were the freedoms I fell in love with as a child and I knew I could develop the power to share those freedoms with the world.
So, I entered the University of Nevada, Reno ready to learn everything I could about the fields of Marketing and Entrepreneurship. In my time here, I've learned all kinds of new theories, business processes, marketplace trends, and even confirmed knowledge that experience had taught me in the past. During my employment at the Nevada Small Business Development Center, I've worked with 'regular joes' on their entrepreneurial journey from idea conception, to market entrance, to business growth. Collaborating with these individuals developed my understanding of the corporate theories learned in class by challenging my ability to apply those theories to small business situations. Upon graduation, I am confident in continuing toward my goal of influencing the community for good.
Above all, I've learned that happiness comes first. Not only for myself but for the many strangers we pass by daily without notice. Business has given me the opportunity to positively affect the happiness of our community—locally for now, and globally one day.
Thank you to those who have helped me get to this place—I am forever grateful!
University of Nevada, Reno School of Medicine, Speech Pathology and Audiology

Haylee Hoelzel and Megan Swank.
Haylee Hoelzel
GPA: 3.991 | Mentor: Megan Swank '06
I have always possessed the aptitude and desire to help people – my passion to do something of significant value, or perhaps with the good of others in mind, changed the trajectory of my life. I started researching different career paths in high school and I was immediately drawn to Speech Pathology and Audiology. I researched the innovations and impacts associated with these fields, and while I could understand the impacts as life-changing, the words "life-changing" were somewhat abstract to me. Fast-forward seven years and I know now with certainty that audiology is the best career choice I could have made. The science and medicine of hearing can alter an individual's life and spirit, and it gives me a sense of purpose I could not have imagined.
However, I did not arrive to this point alone. In fact, before taking any audiology courses, I was planning to follow the Speech Pathology route, and then I met Dr. Megan Swank. Dr. Swank's passion for the field of audiology is contagious, and I quickly developed a love for the field as she translated the techniques we learned via books and classroom lectures to hands-on, relevant experience in a clinical setting. Her encouragement, guidance, and teaching throughout my undergraduate studies have inspired me to continue my education in audiology for four more years at the University of Utah, with the goal of attaining my Doctorate of Audiology.
I am thankful not only for my mentor, but for the opportunities the University of Nevada, Reno has provided me to achieve academic and clinical success. Additionally, I am grateful for support from my parents, other faculty members, and my friends throughout these last four years. These people have allowed me to reach my full potential by pushing me to be the best version of myself.
2018 – 2019 Nevada Alumni Council
John K. Carothers*
Delores (Barcellos) Clewe '69
Peter Costa '84, '88 M.D.
John Desmond '90*
Julie (Krater) Dunlap '89
Tyson Falk '08, '11 MPA
Tony Gallian '11
Mike Hix '89
Abigail Weston Inkster '99
Ben Kennedy '97
Doug Knuth*
John Krmpotic '90
Trevor Macaluso '11
Megan May '05, '07, '13 MBA
Lauren (Lacombe) McBride '07, '12 Ph.D.
Fred McElroy '76
Courtney McKimmey '17
Cesar Melgarejo '13, '16 MPA
Tara Park '17*
Brandi Stankovic '01
Jack Sutton '70
Anthony Martinez*
Paul Thomsen '01, '10 MPA
Richard Viloria '08
Victor Wowo '11, '17 MBA
Chul Yim '04
*Denotes ex-officio member