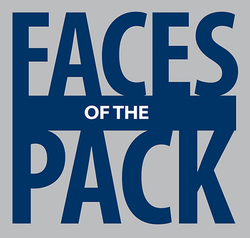 "Since I was little I knew I wanted to be a teacher," Jennifer Segura, a first-generation student, said.
Even though Segura's parents had not attended college, they instilled the importance of higher education into their children. Segura recalled that she always knew that she would obtain her college degree.
Segura, a senior preparing for graduation, knew she wanted to pursue her education at the University of Nevada, Reno after participating in the College of Education's Dean's Future Scholars program during high school.
The DFS program is an academic outreach program that specifically aims to increase the number of low-income, first-generation students who graduate high school and enter into college degree programs in the field of education. Her participation in this program solidified her future plans and helped her transition comfortably into the college environment.
Segura's background as a first-generation student has driven her to become an educator who aims to help students who are most in need.
"The main reason I chose to go into education was because I knew I wanted to help students, especially students who had a similar background as me," she said. . "I knew I wanted to help make a change in students' lives and found that teaching was the best way I could do that."
Segura is now working a paid internship in a kindergarten classroom at Veterans Elementary School, which is classified as a Title 1 program. Title 1 programs are schools that receive federal funding to support school districts with large concentrations of low-income students.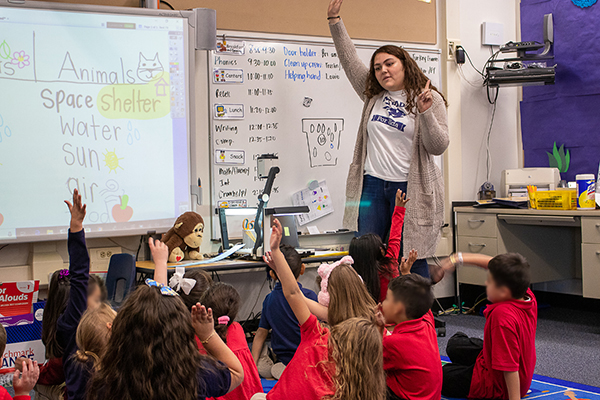 Working as a teacher in a Title 1 school district can come with challenges such as a lack of financial support to meet the needs of the students, having parents who work multiple jobs and are not able to be as involved in their children's education, and students are often facing additional challenges outside of the classroom. While these challenges sometimes deter potential teachers, they are the exact reasons why Segura wanted to be placed in a Title 1 school.
"I was excited to get to work with students in a Title 1 school," Segura said. "I knew these students were coming from backgrounds I could relate to and I could be a teacher that really supports and understand them.
"The kids make it all worth it. Every day I laugh at least 50 times because the kids are so funny. I love that I get to wake up in the morning and go have fun with my students."
Segura had briefly explored other career options when she entered college but quickly found herself feeling at home within the Elementary Education program. She feels that the program at the University of Nevada, Reno has prepared her to be a successful educator.
"They really instilled skills onto me that are important, and needed, to be a teacher," she said "I feel so lucky to have had some amazing professors who taught me so much but also continued to inspire and motivate me to become a teacher."
Segura is also specializing in English Acquisition and Development, which is particularly useful in her current placement. "The majority of my class speaks a second language and I was excited to get to be able to work and communicate with those students," she said.
Faculty members of the College of Education have also noticed Segura's efforts and dedication to teaching.
"On a daily basis, she works hard to create a learning environment where her students feel safe, respected for who they are, empowered to learn and most of all cared for," Joseph Nannini, Director of Clinical Experience and Assessment in the College of Education, said.
When asked about what she enjoys about teaching, Segura stated that "the connections I make are what I enjoy the most- whether they are with my own students, students in other classrooms, and even the parents."
Segura also cited her coworkers at Veteran's Elementary school as being particularly supportive of her work.
"I have also really enjoyed being surrounded by people who have the same passion as me," she said. "I have a great team that I get to work with and bounce ideas off of. I truly feel so grateful to have gotten my placement at this school because the support has been incredible."
Her passion for teaching has been noticed and her current instructors at the University anticipate her making a large impact in her field.
"The impact Jenn will have on the thousands of students and families with whom she will work over the course of her career is the sort of thing that changes and builds whole communities," Nannini said. "If you have a future kindergartener, you want them in Ms. Segura's class."
Segura also had words of advice to anyone considering a career in education.
"I would say to just always remind yourself why you went into education in the first place," she said. "It can be difficult to stay motivated at times during college because you're learning skills you need to be an educator but aren't always around students.
"I would also recommend getting to know your professors and practicum lead teachers because they will be an awesome resource throughout college and when you start teaching."
When asked about some of the challenges teachers face, Segura said, "ask yourself why you're pursuing a certain career. I think when you start college it's easy to focus on how you can make the most money, and careers like teaching may not pay the most but are so fulfilling in many other ways."
When asked how she felt about teaching such a young age group, Segura said that her main goal in the classroom is to teach the students the how to be independent thinkers, know what they are capable of, and be able to take the skills they learn in kindergarten with them throughout their years of schooling to be better learners.
It is almost impossible not to be inspired by Segura. Her passion, dedication, and commitment to teaching standout in everything she does within her classroom. Segura's efforts are not only apparent in her classroom today, but will have long-term impacts on the students who have the opportunity to learn foundational skills and knowledge from her that they will take into their futures.