Innovation Day, the day graduating seniors in the College of Engineering present their capstone design projects, occurred on Friday, May 3rd in Lawlor Events Center. The same energy usually present for Nevada Wolf Pack basketball games was also present for this annual event, as engineering students from all five departments congregated in the halls with displays of posters, demonstrations and prototypes. More than 600 people attended the event, with 200 Washoe County School district students present.
In total, more than 100 groups presented projects, advised by faculty members like David Feil-Seifer, assistant professor of computer science and engineering.
"My job as a project adviser is to get out of the students' way," he said. "I don't impose upon their process, except to run in and provide resources when there are problems that can be solved with money or equipment. Otherwise, I leave them alone to do the great work that I know they can do."
Capstone design projects are an important part of students' engineering education. They require skills like teamwork and communication, and the experience helps them be prepared for the challenges of their future engineering careers.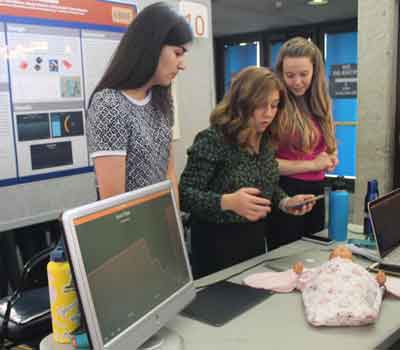 The SafeSwaddle team demonstrates their product.
"The wide variety of projects really encompass current technology, and the ideas coming from students are great," said Indira Chatterjee, associate dean and Foundation Professor of electrical and biomedical engineering. "All of the projects focus on helping humanity, and students are really thinking about the impact."
Among the projects Chatterjee praised were the Electronic Therapy Mat, which would help physical therapists and patients track balancing issues; the Sasquatch Box, which hides delivered packages inside porch furniture; and Safe Swaddle, a baby monitoring device that tracks the infant's heart rate, oxygen levels, temperature and movements.
Engineering projects aim to improve health, safety
The Safe Swaddle group's goal is to prevent infant mortality and provide parents with precise information to bring to the doctor.
"One day we were just talking about babies and it led to this idea," said Kelsey Viani-Wittwer. "We wanted it to be different and effective, and we planned to price it at about $200 to keep it fair and on the lower end for similar products."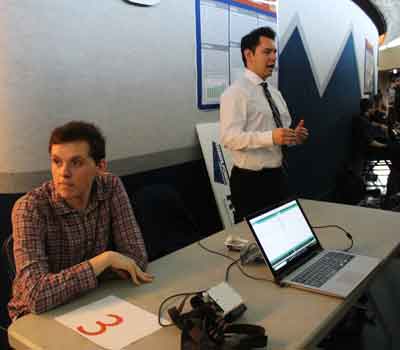 Students on the LifeLight team explain their project
LifeLight, which was developed by a team in the electrical and biomedical engineering department, helps cyclists and motorists sense when they're too close to each other on the road. The LED array uses a proximity sensor that lights up for drivers to see cyclists in low visibility and high traffic situations.
"I think our project turned out really well," said team member Anthony Bugatto.
The Hit Pad by Hit Tech was also a popular demonstration from mechanical engineering students. The Hit Pad is a force mat that is placed on the springboard for gymnasts to read force magnitudes and see pressure mapping on their feet to prevent injury.
"Our project was really fun," said Massimo Daltoso. "A lot of it relied on electronics and since we're mechanical engineering students, all that stuff was new to us."
The Modular Planter System, in collaboration with Laira Co., is a project students worked on to allow for consumers to adjust the size and shape of their planter box to fit any size they want.
"It's composed of little puzzle pieces so you can design the box to fit your design needs," said Kayla Tam. "The biggest challenge we actually faced was finding a way to make it cost efficient. We 3D printed the pieces and found that one particular piece worked the best."
Engineering design projects engage local community
Innovation Day also allowed for local K-12 students in the Washoe County School District to get interested in engineering. Many interactive projects, such as the VR Together video game, allow for multiple people to play virtual reality games together. Using a single VR headset, participants played games such as "Chicken Shooter."
One project team in the Civil & Environmental Engineering Department developed a design of a booster pumping station for the Carson City Public Works Department.
"The project would be an uphill battle because of a 300-foot gain in elevation," said Chasen Fayeghi. "But we basically looked at how many pumps would we need to make the water go uphill."
The team looked at the best way to design the project, properly deliver treated drinking water to Carson City and keep factors like efficiency in mind.
"I think the civil engineering department is great," Fayeghi said. "I like how our professors apply real world lessons in classes, so we're more prepared for the workforce."