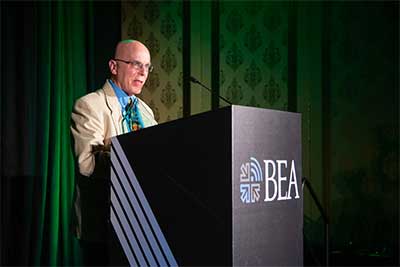 Professor Howard Goldbaum has been awarded "Best in Festival" for his virtual reality (VR) work at the Broadcast Education Association Festival of Media Arts. Goldbaum, who has previous won awards for his VR projects in the BEA competition, has been working with virtual reality technologies since 1996. His work was selected from a pool of more than 1,500 entries, representing over 300 colleges and universities.
Goldbaum's winning work consists of 15 different case studies of VR and drone photography, encapsulating scenes from Nevada as well as parts of Europe. The addition of the drones, he said, allows users to see these sites from a full perspective, like his example of the Creevykeel Court Tomb in County Sligo, Ireland. This historic location is one of Ireland's best-preserved court tombs, dating back to the Neolithic period.
"The scale of the monument is so large… [from the ground] you can see half of it but not the other half. You don't get a sense of the entirety that you do [with drones]."
Goldbaum, who got his first drone last April, says winning this award feels validating for his work. "When I look back on it… I started working with a drone in April and had finished enough projects with it by December to submit a project that won an award."
Goldbaum will be retiring from the Reynolds School in December 2019. But, he's not done experimenting with VR or drone technology. He'll be working with the Department of Mining and Metallurgical Engineering to create a mining safety project using drone-acquired virtual reality.