Gregory Crouch, author of "The Bonanza King" is the first speaker in this school year's Discover Science Lecture Series, a free public lecture at the University of Nevada, Reno, Sept. 19, 2019.
John Mackay is the subject of his most recent book titled "The Bonanza King: John Mackay and the battle over the greatest riches in the American West."
In his lecture, Crouch will discuss the rags-to-riches American frontier tale of Irish immigrant John Mackay, and the rich body of gold and silver, the legendary "Big Bonanza," discovered 1,500 feet beneath the streets of Virginia City that was so immensely valuable that it changed the destiny of the United States.
The destiny of the University of Nevada, Reno, especially its mining and metallurgy program, also changed with Mackay's influence. Visitors to the University's Quad will be familiar with the statue of John Mackay in front of the Mackay Mines Building. He and his family were ardent supporters of the University.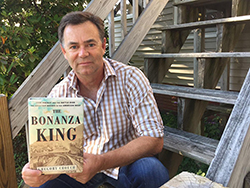 As an author Crouch specializes in adventurous and historic subjects. He has five major books in publication and has published stories in The Atlantic, National Geographic, National Geographic Adventure, Smithsonian, Time and more.
Bringing the best and brightest minds in science to our community, the College of Science is in its ninth year of presenting the series. Discover Science lectures are always free to the public. They are held at 7 p.m. in the Redfield Auditorium inside the Davidson Mathematics and Science Center at the University of Nevada, Reno.
The series brings top scientists from around the United States to the University to share their knowledge with the community.
Other speakers the College of Science is bringing to the community this year are: on Oct. 17 Gabriela Gonzales a team physicist working on the discovery of dark matter at the Laser Interferometer Gravitational-Wave Observatory; on Feb. 6 William Tate, a professor in arts and sciences at Washington University , St. Louis will talk about the relationship between place and STEM attainment; on March 12 Harry Jol, a Geoarchaelogist who uses ground penetrating radar in Holocaust studies at suspected locations of mass graves, destroyed synagogues, ritual bathhouses and other structures in Lithuania that have been lost to time; and on April 9 Harrison Schmitt, the last man on the moon, who is a retired NASA astronaut and geologist.
Past speakers in the series include astrophysicists Michio Kaku and Neil deGrasse Tyson; Robert Ballard, who discovered the wreck of the Titanic; and Bill Nye the Science Guy.
Free parking for the event is available on the top level of the Brian Whalen Parking Complex. For more information, call the College of Science at 775-784-4591 or visit the Discover Science Lecture Series website.