Strengthening community health and healthy brain function. Deepening the partnership between health care and higher education in Northern Nevada. Bringing new equipment and imaging technology to better serve patients and advance neuroscience research happening in Reno.
The addition of a new functional Magnetic Resonance Imaging (fMRI) scanner to Renown Health's South Meadows campus is a "win-win" for this community: Physicians at Renown use it to further patient care, and University of Nevada, Reno researchers will use it to advance understanding of human brain function.
Physicians use MRI scanners, a non-invasive magnetic imaging technology, to examine the brain's anatomy, evaluate the effects of stroke or other disease, or to guide neural treatments. The scanners can also be equipped to monitor the brain's activity using fMRI technology, which provides images to show the brain areas or circuits involved and how they interconnect while the brain is allowing performance of different tasks.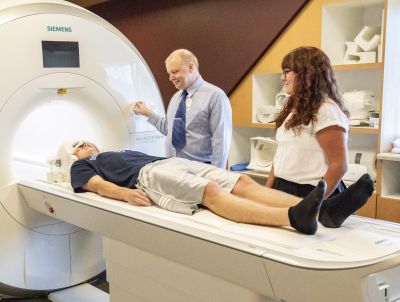 Neuroscience researchers across the University use functional or fMRI technique to study a broad spectrum of human brain functions such as vision and memory. Since 2014, these researchers have used Renown's fMRI scanner on its Pringle Way campus in a limited capacity for research purposes. Now, the new fMRI offers higher resolution and more capabilities making it the gold standard for research.
"It allows us to conduct neuroimaging research as well as any other place in the world," said Lars Strother, director of the University's Neuroimaging Research Core and assistant professor of psychology.
The new fMRI is available to Northern Nevada thanks to a partnership between the University and Renown Health, and the equipment purchase was supported by the Renown Health Foundation and the University's research enterprise.
Partnering to meet community needs
Tim Stephens, director of outpatient imaging at Renown, envisioned the two organizations working together to move to a higher level.
"We wanted to make sure the community is getting the best imaging equipment possible and that the University has the best platform for research," he said of the opportunity to add a new fMRI that is the current standard for research. "The question became: how do we work together to get what we both need?"
The answer is a 10-year agreement between Renown and the University through which Renown has installed and is operating an additional fMRI system and using it for patient diagnoses during the day, while University researchers use it after hours and on weekends.
By providing an investment of $500,000 in the scanner, the University helped Renown complete the purchase, and in turn researchers will be able to use the equipment at a reduced cost, thereby supporting its use for research studies.
Stephens said the agreement with the University to bring an additional fMRI system to the community also will mean faster scan protocols, improved imaging and better access for patients.
"It allowed us to upgrade to two fMRI systems in the community which will reduce our backlog and allow patients two locations for their imaging needs," he said.
With the addition of the new equipment, all research activity will take place at the new fMRI facility at Renown's South Meadows campus.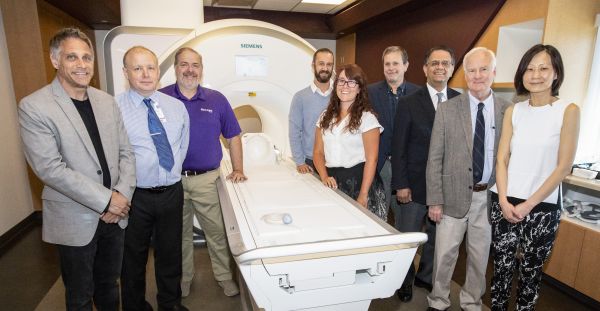 Growth for research
Neuroscience, or the study of the brain and nervous system, is a growing area of emphasis and research at the University. It is multidisciplinary in nature, encompassing many different disciplines in basic and applied research. Teaching and research in the neurosciences draws more than 60 affiliated faculty drawn from a dozen academic departments ranging from philosophy to pharmacology to psychology.
The University's Institute for Neuroscience was established in 2018 to support this important area of study and address a critical opportunity for better communication, efficiency, strategic planning, visibility and resources for all University neuroscience programs. These include a burgeoning undergraduate neuroscience BS degree program, now with more than 400 students, and a Ph.D. program in Integrative Neuroscience with 26 current graduate students. The institute provides an organization and resource to help bridge the educational and research programs.
Strother, one of several University researchers working in the realm of cognitive neuroscience, uses fMRI to study how the brain is organized to carry out the uniquely human and complex task you are performing at this moment - converting the lines and curves you are looking at into meaningful language. Strother is also the director of the University's Neuroimaging Research Core, a major component of the Center for Integrative Neuroscience. He first approached Renown five years ago with a proposal to upgrade its existing MRI scanner to allow for fMRI research.
He cites the talents of Larry Messier, an imaging technician at Renown, who has been "indispensable" in terms of technical assistance, trouble-shooting and operating the existing fMRI scans, as an example of Renown's willingness to help its University partners with their research projects.
"There are 11 labs in the psychology department studying neuroscience, yet the lack of this latest equipment limited not only our ability to do research, but to recruit faculty and students," he said. "This new equipment will allow us to continue to draw top-caliber faculty to the University."
Strother said the additional fMRI technology will enhance research capabilities in human neuroscience, allow the University to expand brain research in new directions and "put UNR on the map for human brain imaging."
Advancing COBRE capabilities
In 2012, the University was awarded a $10 million grant from the National Institutes of Health (NIH) Center of Biomedical Research Excellence (COBRE) to establish a Center for Integrative Neuroscience. The center targeted an fMRI scanner as one of the primary aims of the award, and helped build the initial partnership with the Renown MRI facility.
In the fall of 2017, an additional COBRE award in the amount of $10.6 million was received for a second 5-year phase of support, allowing the center to augment the fMRI infrastructure and deepen the partnership with Renown through the new scanner.
Michael Webster, foundation professor of psychology and director of the Center for Integrative Neuroscience, sees the addition of new fMRI equipment as evidence of the success toward the overarching goal of a COBRE grant, which is to build research capacity at an institution by supporting a critical mass of early-career investigators and providing the necessary infrastructure to mount fundamental advances in biomedical research.
Support for fMRI research falls within three research cores supported by the COBRE led by Webster:
Core 1 - Cognitive neuroimaging; noninvasive measurements of brain activity using fMRI or complementary techniques such as electroencephalogram, is directed by Strother,
Core 2 - Molecular imaging; cellular and molecular analyses of neural function and microscopy is directed by Alexander van der Linden, associate professor in the Department of Biology,
Core 3 - Virtual reality and augmented reality; measuring how the brain responds to novel and highly controlled virtual environments is directed by Eelke Folmer, professor and chair in the Department of Computer Science and Engineering.
"fMRI has become a critical tool for noninvasively studying human brain function," Webster explained, adding: "The fMRI facility through the partnership with Renown is the crown jewel in the COBRE grant. It would be very difficult for the University to mount and host this equipment on campus."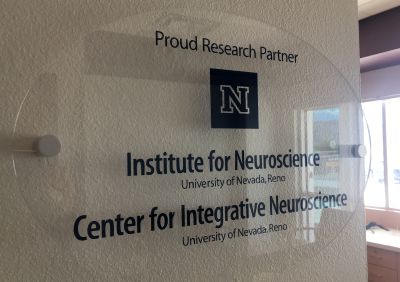 Webster said Renown Health has already been generous in providing access and technical support for its existing fMRI, and this new equipment offers a very exciting opportunity for the University.
"Neuroscience is one of the most active and important areas of current research and is an important arena to invest in," Webster explained. "The University has been investing over the last several years in resources, faculty, equipment and partnerships to grow both research and training initiatives in the neurosciences. The fMRI partnership between UNR and Renown is one more major component of that growth, and was made possible by leveraging our mutual resources for mutual benefit."
Nevada Today extra: What is the difference between Magnetic Resonance Imaging (MRI) and functional Magnetic Resonance Imaging (fMRI) in research?
MRI: A non-invasive technology used to study brain anatomy and function. MRI uses a strong magnetic field and radio waves to measure signals emitted by excited hydrogen atoms present in various types of bodily tissue. These signals are converted into images that show different degrees of contrast for different tissue types, which allows researchers to create detailed anatomical, static images of the brain.
fMRI: Uses MRI technology to measure brain activity, which can then be superimposed on images of brain anatomy from MRI. fMRI measures blood-oxygen-level dependent signals that indicate the amount of blood in different areas of the brain. Blood volume increases as a function of brain activity because the brain does not store the glucose needed to provide energy to the metabolically "expensive" activity of its neurons, and blood must be shunted to brain regions that are most active. Like electroencephalogram or EEG, fMRI measures the activity of large populations of neurons. However, the spatial resolution of fMRI is much greater than that of EEG and it has fine spatial resolution. fMRI measures brain function as it happens and determines what areas of the brain are active and how they are active.