Parley Anderson, DPT, OCS is a local physical therapist and instructor of applied kinesiology in the School of Community Health Sciences. Dr. Anderson received a bachelor's degree in education for the University of Nevada, Reno in 1993. After graduating, Dr. Andersons spent a few years managing the Wellness Center on campus. In 2001, he decided to switch career paths and pursue a dual Masters and Doctorate of Physical Therapy degree at the University of Pacific.
Dr. Anderson has now been practicing physical therapy in Reno for over seventeen years and has taught at the University for ten years. Dr. Anderson continues to teach at the University because he loves the opportunity to meet young students and provide mentorship as they begin their careers.
Since entering the field, Dr. Anderson has always wanted to write a book about physical therapy. Four years ago while flying to a conference, he came across an article discussing the negative effects of sitting. This caught his attention and eventually, became the spark for his first book.
Dr. Anderson's book All This Sitting is Killing You: How to Survive and Thrive in the Modern Age of Sitting provides unique information from the perspective of a physical therapist with experience treating spinal, shoulder, and hip injuries. The book focuses on how to mitigate the negative effects of sitting and live a truly well life. In his writing, Dr. Anderson addresses an array of topics, including lifestyle habits, nutrition, balance training, and diaphragmatic breathing.Dr. Anderson plans to write another book in the future, focusing specifically on the spine.
All This Sitting is Killing You is now available on Amazon.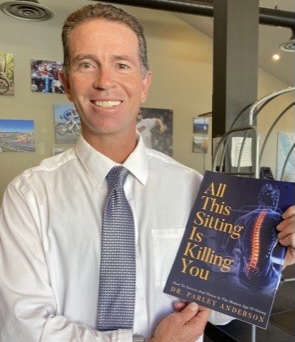 "My motivation for writing this book was to really bring awareness to a broader audience than just the patients who come into his office" - Parley Anderson, DPT, OCS