University of Nevada, Reno students Jordan Cosselman and Savannah Urcioli placed second in the nation last month within the novice division at the National Parliamentary Debate Association Championship in Salt Lake City, Utah,.
"It was our first national tournament," Urcioli said. "We were blown away when we heard that we had broken into the top four."
Cosselman and Urcioli met in a performing arts high school in Las Vegas. Cosselman was interested in music, and Urcioli danced. The two became close and both chose to go to the University. Cosselman is currently majoring in secondary education with an emphasis in communications. Urcioli has recently elected to major in journalism. Neither Cosselman nor Urcioli have had previous experience with debate. They joined the Nevada Debate Union on campus together, as partners.
"When I toured my senior year of high school for Nevada Bound, I saw these flags that said 'Debate us; we dare you,' and it always kind of resonated with me," Cosselman said. "I just thought that debate seemed interesting."
"My brother was a debater in school, and I always wanted to be like him," Urcioli said. "I was like, 'Whoa, that seems pretty cool,' and I wanted to try it. But then I was intimidated by the videos I watched and I would get scared off. Joining Nevada Debate with Jordan definitely was one of the best decisions I've ever made."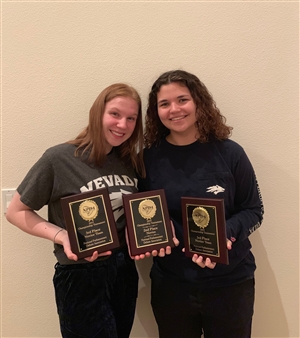 After participating in many rounds of debate at the NPDA in Salt Lake City, the initial 107 teams were narrowed down to the top 2 first-year teams. The final debate consisted of four women, two of which were Cosselman and Urcioli.
"I was actually sulking because I thought we weren't performing our best, but when I heard the news, I was really proud of how far we had come," Cosselman said. "I was just so proud to be a part of the tournament and to be able to represent females in debate, which has traditionally been dominated by cisgender, white males."
Phil Sharp, director of the Nevada Debate Union and director of forensics in the College of Liberal Arts, recalled learning of the girls' performance.
"I was out in the hallway, and I knew they were competing in the final round – regardless of the result – I was ecstatic," he said.
Cosselman and Urcioli placed second in their division and showcased the abilities they had acquired throughout the year.
"Jordan and Savannah have worked very hard this year," Sharp said. "They came into an activity that was new to them, and they struggled at first to figure out what was going on, but they took it as a challenge, and they rose to that challenge. In the end, they achieved their goal, which was to make the elimination rounds in the novice category."
Overcoming obstacles
Both Cosselman and Urcioli enjoyed reading with their grandmothers when they were younger. Cosselman solved jigsaw puzzles, played solitaire and was inspired by her mother, who is an English teacher. Now, Cosselman hopes to teach English in a foreign country. Urcioli initially wanted to follow her mother's career path in real estate, but ultimately decided to forge her own path in journalism.
"I've always struggled with overcoming insecurity, especially about my intelligence," Urcioli said. "I think that's one of the reasons I joined debate, because I've always been afraid of not being smart enough. I always surround myself with people who are smarter than me … to challenge myself and prove myself. The comparison of myself to others really began in competitions for dance, and it was just so toxic. Everything I did was to prove something to someone else. I would think, 'I just have to do this one thing, and then I'll be good enough, but now, I finally have something that I'm just doing for myself. Yes, it's hard to balance inspiration and jealousy, but it's a challenge that I'm working on daily to try and overcome. I'm finally satisfied with myself and happy to have an encouraging team."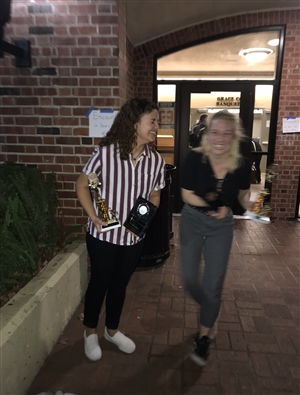 Cosselman and Urcioli stated that they look for female mentors within the activity whenever possible. The two have found several Nevada Debate Alumnus to look up to. Grace Miller, who was top speaker at the 2017 NPDA Championships and Kelly Brill, a member of Nevada's 2014 NPDA Season Champion squad, are just two of the impressive lady debaters who have competed for Nevada. Due to their admiration, Cosselman and Urcioli occasionally message former female Nevada Debaters, like Miller and Brill, on Facebook to ask for help while they are preparing for debates. Both are currently in Law School using the skills they learned as undergraduate debaters.
"Grace is a major inspiration to us, and it's just so nice to know that there are so many people who are out there rooting for us and offering us help," Cosselman said. "All of my life, I've just done work because I've had to do it. I'd get the grade and move on with my life. Debate is like the first thing I have found, and it took 19 years to find, but now, I finally have something that I want to put my time into, and it's just even better knowing that we have the best support system."
Cosselman and Urcioli also face sexism in debate, and they cite Miller and other woman in debate as inspiration for continuing to work as hard as they do.
"We are judged by our appearance more than men, and our tone, which is just as passionate as our male counterparts, is sometimes called 'bitchy' or judgmental," Cosselman said. "I've been in situations where both teams are animated and the all-female team is told to tone it down by the judges. However, I've also seen situations where men on the other team reassure the judge they were both behaving the same. It's unfair, but it's also a reason to keep doing the best that we can do."
"Exactly; I want everybody to be able to look up to us and know our backstories, and see us as an inspiration," Urcioli said. "I want everyone to know that debate is changing, and it's becoming more and more inclusive. We, as partners, help show that you can be in an all-woman team and succeed."
Support the debate team
"We are hosting a public debate Tuesday, April 23, so we definitely want to max out the seating capacity," Uricioli said. "It's going to be a little bit different than what we normally do. There will be six of us talking about the Yucca Mountain nuclear storage and making a list of pros and cons. I really hope people interested in joining or seeing who we are and what we do come to this event."
The Nevada Debate Union held the National Parliamentary Tournament of Excellence, an exclusive championship involving the top 26 teams in the nation, on campus in March. Students from the top 5 percentile in debate came to Reno and enjoyed the city and campus facilities.
"It was just so impressive to see some of the best debaters in the country in our lecture halls debating," Uricioli said. "I felt a lot of pride having them on our campus. We could hardly decide who won – they were that smart, and the debates were that close."
Because the Nevada Debate Union will hold two campus tournaments this year, the public debate on April 23 and the NPTE debate in March, and all of their competitive success, t he Nevada Debate Union won the ASUN Club of the year award for the Social and Political Involvement category.
The debate team will soon be traveling to South Carolina for the U.S. Universities Debating Championships. Travel is just one of the expenses the debate team covers. Through a new crowdfunding campaign, the team funds scholarships, travel and administrative costs.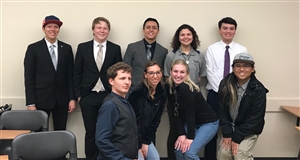 "Any donation helps – a dollar, 25 cents, it all helps build the endowment," Cosselman said. "And it's just for the debate team to help us continue existing. The first $9,000 of funding is also matched. The nicest part is that the money we raise helps us this year, next year and goes to those who are potentially on this team in 10 years. It has a lasting impact on our team."
"The entire team this year has been a young team and has progressed in a similar way to the way Jordan and Savannah have progressed," Sharp said. "They've had a drastic improvement over the first half, and it's an exciting time moving forward for the team and looking toward the future. I think Jordan and Savannah are great examples of how you don't need previous experience to join the team and be successful and attain a level of education not found within their classes."