Every year, around 30 strategic communications students at the Reynolds School of Journalism participate in one of two competitions: the National Student Advertising Competition (NSAC), also known as IMC, and the Public Relations Student Society of America's (PRSSA) Bateman Competition. This year's Bateman team, comprised of five students, took an honorable mention, finishing in the top third of competing universities, for their diversity campaign. The larger IMC team, which includes marketing students from the College of Business, took "a very close" second place regionally for their national campaign to change negative perceptions about hot dogs.
Lecturer Alison Gaulden worked with the Bateman team as faculty advisor. "What's remarkable about this campaign is that the students have no idea how much of a lasting impact they're going to have from this," Gaulden said.
This year, PRSSA selected the national PRSA Foundation as the client for the competition. The teams were asked to create a campaign about diversity in public relations, as the public relations industry in the U.S. is 87% white. While student Lizbeth Alvarez knew this statistic, she expected Reno would be a little more diverse.
"Professionals were unable to name more than one or two diverse professionals here," Alvarez said after conducting interviews for the research portion of the competition. "It was really surprising that we're stepping into a field that is not diverse at all."
This information inspired the Reynolds School Bateman team to not only raise awareness about diversity but inclusion as well. The Reynolds School team reached out to high schools, professionals and recruitment offices at the University of Nevada, Reno to educate people of color and diverse groups about public relations careers. The team even pitched to Reynolds School faculty about the need for professors and administrators to tackle the issue of diversity within the school.
The campaign, which highlighted a book of stories written by people of color and a diversity summit with the City of Reno, sparked a dialogue in the community. "Publicity campaigns are kind of hard to get, but they got the coverage," Gaulden said, referring to KTVN's coverage of the event, as well as other media coverage from the Nevada Sagebrush, Univision and El Sol, the local Spanish newspaper.
Gaulden was not the only instructor who thought highly of her students. Professor Bob Felten said he was impressed with this year's IMC team and their creative work, especially as he prepares to retire this semester. "I was proud they were my last team," he said. "They did a great job."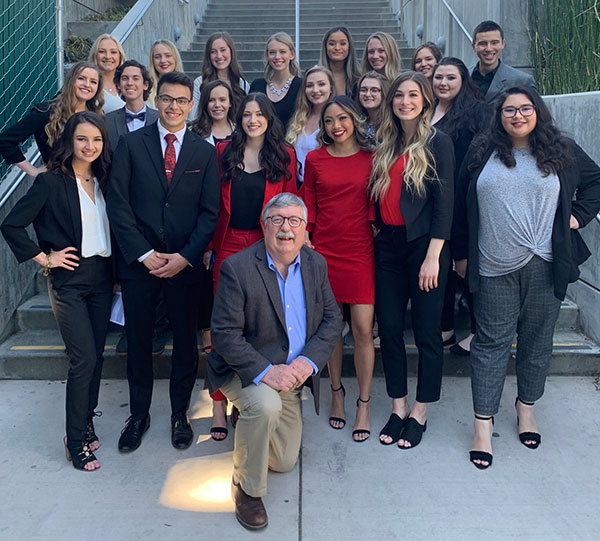 NSAC is an American Advertising Federation program with about 170 universities competing. The challenge of changing perception of hot dogs was presented and sponsored by Wienerschnitzel. The students created a multifaceted campaign that included social media, publicity, significant paid advertising and three pop-up hot dog experiences in major cities. The team produced video and audio commercials to run on traditional and streaming media. They developed interactive social media elements and an innovative approach to working with micro-influencers – food bloggers in local markets – to earn coverage.
"The smart strategy this team developed was clearly demonstrated by the engaging creative work across multiple platforms," Felten said.
Student Alissa Bremner, who participated in the competition in 2018, was initially hesitant to participate again but decided to do it anyway. "I knew how much I had gained from doing it once. This is a competition that, no matter who the client is, gives you skills that you'll use for the rest of your career. Each case is different, so I knew we'd face completely different challenges this year that would only help us grow as strategic communicators."
Both competitions, Gaulden and Felten agreed, put students ahead when job hunting later.
"Two things are true about this experience," Felten said. "And one is that it sets you apart from others graduating at the same time… but it's also a club…. It's not just a network of these faces, but it's the network of others who have participated in this around the country."
Alvarez, who graduates this spring, said participating in the Bateman competition is already giving her an advantage in job interviews. "The first thing that they ask me about in my interviews is 'So you were in the Bateman competition? How did that go, and what did you learn?'"
She recommends that any student participate if given the chance. "It really gives you a sense of belonging here at the school. And it provides you with an experience that honestly sets you apart from the rest when you enter the workforce."
Bremner spoke similarly. "The experience gained lasts a lifetime and so do the wonderful friends you'll make in this class."