It's no secret that at the Reynolds School of Journalism, students and alumni are capable of achieving some pretty incredible things.
This is certainly true for one Reynolds School alumnus, Alexa Ard, who graduated in 2016 with a bachelor's degree in journalism and minor in photography. Ard now works in Washington, D.C., as a video producer for a publishing company called McClatchy, which oversees nearly 30 daily newspapers in 14 states. As a video producer, she's responsible for helping newsrooms provide digital content and collaborates with reporters to ensure they have visual elements in their stories.
"I always pictured myself working in news and telling stories and just reporting on topics that are important," she said. "In college, what changed was I switched from focusing more on text to focusing more on video."
According to Ard, this switch was encouraged by several faculty members at the Reynolds School, including dean Al Stavitsky and professor Paul Mitchell. Not only was she encouraged to join the Next Generation Radio Nevada Boot Camp by Mitchell, but Stavitsky also approached her to join a student project called News21 as a junior.
News21 selects journalism students from around the country and brings them to Arizona State University, where they work to produce multimedia stories for outlets like the Washington Post, NBC News and USA Today. During this experience, Ard knew she wanted to switch to multimedia storytelling.
"I just thought it'd be a different kind of challenge for me to try out and an opportunity for me to grow in a different way," Ard said. "And there were a lot of talented student journalists and instructors I could learn from."
A few months post-graduation, Ard joined the McClatchy team and has been with them ever since. However, she did at first find it difficult to secure a job. That is until the Reynolds School's Nico Colombant saw a video she did for Noticiero Móvil and offered to connect her with a friend at McClatchy. Ard was flown out for an interview with her future employer by August of 2016.
"I was pretty nervous because I had never been to D.C., and then all of a sudden, I was considering a job opportunity in D.C. But I was really excited because this is what you go to school for, and this is what you stay up till midnight doing homework and projects and internships for," she said.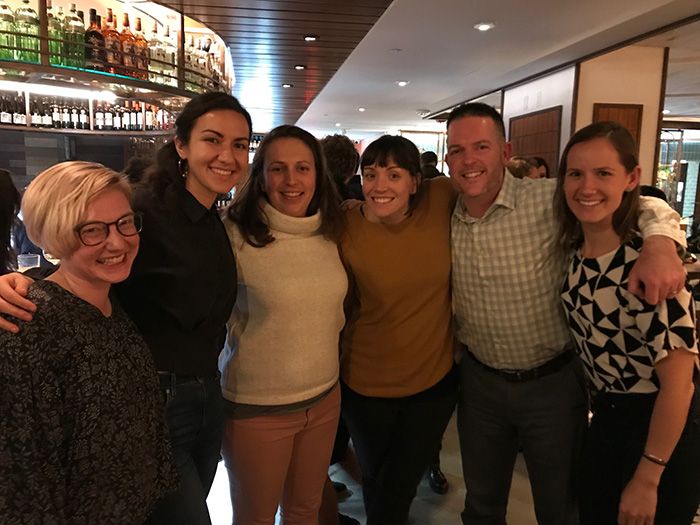 As of now, Ard is one of the youngest people in her workspace and recently finished as six-month docuseries project for Facebook, called "The War Within". The series follows the lives of several U.S. veterans from the conflict in Afghanistan, as they navigate life with PTSD.
"The War Within" was recently given an Award of Excellence and Second-Best Multimedia Package award by the White House News Photographers Association. For Ard, this project and several others are what she's most proud of in her career so far. She's also collaborated with the McClatchy DC Bureau in their investigation of Trump's ties to Russia and put together a video for the Miami Herald about a whale in captivity named Lolita.
Despite her many successes, Ard does come across several challenges in her field. As one of the youngest people in her office, she occasionally struggles with confidence in comparison to her older, talented peers. In addition, working in an ever-changing field like storytelling can be difficult to keep up with.
"There's a lot of changes happening in digital media […] places are condensing a lot, and you just have to constantly be on top of it," she said.
Thankfully, the skills she developed and nurtured at the Reynolds School have helped her battle those difficulties. She also attributes her relationships with Reynolds School faculty as one of the reasons why she's been successful in her career.
"I think people [at the Reynolds School] saw how badly I wanted to work in journalism and do the best I can and tell the best stories I could tell," she said. "I think when they saw that, they invested in me and that meant a lot, because if it wasn't for them and everything they taught me and connected me to, I for sure wouldn't be working in D.C. right now."
Visit Ard's website to see more of her work.