University of Nevada, Reno School of Medicine Associate Professor Seungil Ro, Ph.D., in the Department of Physiology and Cell Biology, has made an important discovery - a molecule that can be used to inhibit and treat Type 2 diabetes. This finding helped obtain $2 million in funding for project development over the course of the next three years.
The $2 million contract will support Ro, whose lab discovered that Type 2 diabetes can be caused by gastroparesis, a condition where stomach muscles stop working properly and therefore have difficulty moving food from the stomach to the small intestine.
"This new finding is contrary to the current paradigm that suggests that diabetes causes gastroparesis," said Ro. "However, our findings are supported by the results of gastrectomy surgery (removal of a part, or all of the stomach), which have been shown to significantly alleviate the symptoms that arise in Type 2 diabetes patients."
The most common form of diabetes is Type 2, which is a lifelong disease that causes blood glucose (sugar) levels to rise coupled with the inability to produce the insulin needed to regulate normal blood sugar levels. According to the World Health Organization, there are over 400 million diabetic patients in the world, and that number has been rapidly increasing as obesity rates increase. The direct cause of the disease remains unknown, making it challenging to discover effective treatments.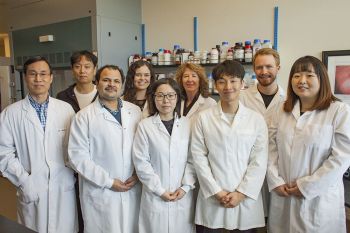 Ro is researching what causes obesity and Type 2 diabetes in the hopes of uncovering any underlying causes. His research focuses on smooth muscle biology and gastrointestinal motility disorders, and he works in the Department of Physiology and Cell Biology, chaired by Kenton Sanders, Ph.D., at UNR Med.
The research funding is provided by YUYANG Dnu Co., Ltd., an international company based in South Korea, with the goal of leveraging medical research expertise at UNR Med in order to develop new targeted drug treatments for gastrointestinal complications that arise in obese and Type 2 diabetes patients.
"This funding will allow us to begin testing FDA-approved drug candidates that will restore the function of gastrointestinal regulatory cells," said Ro. "The YUYANG funding contract will serve as a springboard to transfer these discoveries into efficacious drug treatments that are commercially available."
YUYANG will have the rights to negotiate an exclusive license with the University of Nevada, Reno for the intellectual property that result from this research. With that, the company will work toward development of new treatments with UNR Med.
"The outstanding work of our faculty, from basic research to translational research, is attracting attention," said Mridul Gautam, Ph.D. University of Nevada, Reno vice president for research and innovation. "With the support and investment of YUYANG Dnu, a global company, we will continue to enhance the competitiveness of our faculty, helping them grow their research and make a difference in the lives of many."
"This dedicated research funding is evidence that UNR Med is at the forefront of innovative solutions to improve global health," said UNR Med Dean, Thomas L. Schwenk, M.D.