This year, Wolf Pack Welcome kicked off with new students moving into the University residence halls during the annual move-in day Thursday, Aug. 23, followed by the New Student Opening Ceremony Friday, August 24.
NevadaFIT also welcomed over half the incoming freshman into the residence halls last week as part of its annual boot camp.
Excitement and nerves were evident as students, with the help of their parents and friends, moved their belongings into the residence halls. While taking breaks from the buzz of energy and flurry of cardboard boxes, many of the students were excited to share their thoughts on move-in day and the upcoming school year.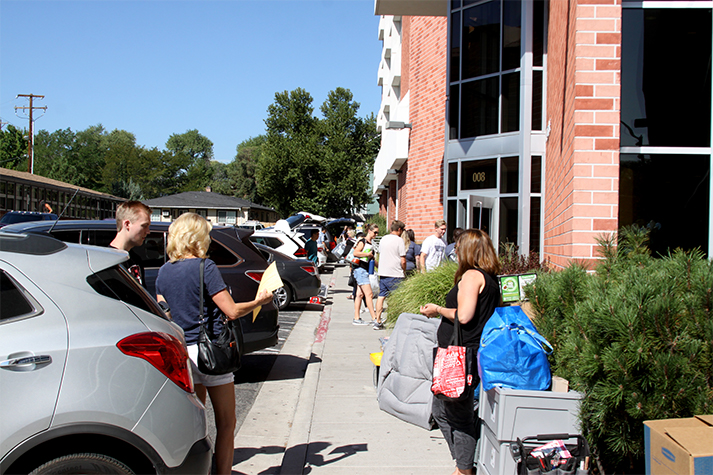 Jocelyn Reyna, an incoming freshman majoring in engineering, sighed in relief as she finished moving all of her belongings into Argenta Hall with the help of her mom.
"Move-in day has gone really good so far," Reyna said. "I was a little nervous with how today was going to go and about moving out for the first time, but my family is close, so I know they'll always be right there ready to help."
While Reyna is from Reno, a lot of the students moving into the halls won't have the luxury of being so close to home. Riley Machado drove three hours from California to be able to move in on Thursday morning.
"I'm excited to be here," Machado said. "I love the Reno area and all of the different activities that there are to do. Today has been difficult but fun, so I'm looking forward to settling in and starting the school year."
Volunteer students were available all day, carrying boxes, directing traffic and facilitating check-in.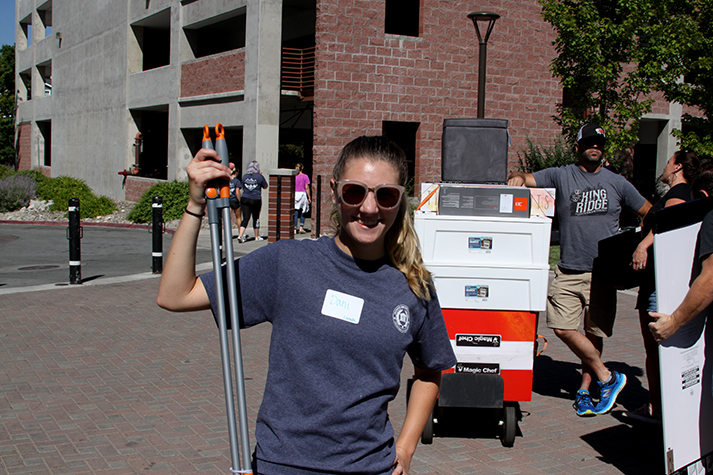 University student Danielle Madix was one of the many volunteers standing by the check-in line making sure everything was running smoothly.
"I like helping with move-in," said Madix, "I remember in my freshman year it was so nice to have the extra people. My parents and I were overwhelmed, but the volunteers were so friendly, so I'm happy I can give back to the new students by helping in that way."
"Welcome to college. You need therapy." - Myrton Running Wolf
With the lighting of their candles and the recital of the Nevada Oath, the class of 2022 officially began their four-year journey at the University at the New Student Ceremony.
Along with Executive Vice President and Provost Kevin Carman; keynote speaker Myrton Running Wolf, assistant professor in Race & Media in the Donald W. Reynolds School of Journalism; and Associated Students of the University of Nevada, Reno President Hannah Jackson, as well as academic leadership and faculty, new students and their families experienced an Opening Ceremony aimed at student success. Many of the guest speakers touched on the joys and struggles that would come with moving on to the next chapters of their lives and provided encouragement and advice.
Carman, especially, wanted to instill in the students how important this experience would be for them. He gave students his suggestions for success in college and explained how different it would be from their high school experience. These tips ranged from "Go to class," "Get to know your professor," and "Make use of the many resources on campus."
"I want you to be confident and engaged," Carman said. "Colleges have been touching on a lot of questions about societal issues recently, and this is an important conversation. Students will play a role in participating in these conversations, and that will show your commitment to the values of the University."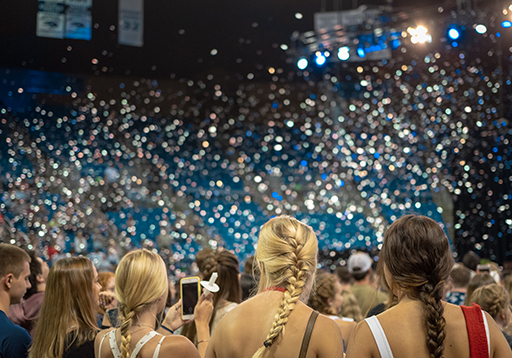 "College may bring a mix of anxiety, tears and laughter, but that's totally normal," Running Wolf said. "Nothing is wrong with feeling this way. There are so many resources available to you; you are going to be just fine."
Running Wolf encouraged the students to make the most of their time at the University and to "fail miserably." He spoke of his own failures and successes in his career, showing that determination is often the key to success.
"Make a lot of mistakes early so you can find the right answers quickly," he said. "We learn by falling down, picking ourselves up and dusting off again and again."
He concluded by reassuring the students that they would do great things if they made sure to build support systems that would lift them up in times of struggle.