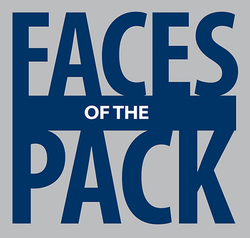 As the College of Engineering's exchange program continues to expand its summer course offerings, two University of Nevada, Reno engineering students will be participating in a research internship at Technische Universität, or TU Dresden, in Dresden, Germany this summer.
Of the fifteen students who applied to the TU Dresden research internship, materials science and engineering student Cayla Harvey and mechanical engineering student Austin Kost were the two chosen to attend the summer program.
"The research internship in Dresden had a huge demand from our students, and TU Dresden let us know that the max number of students they could bring in was two," said Julia McMillin, who coordinates the engineering exchange program. "The applicants were asked to write a statement of purpose, and investigate the faculty they wanted to work with at the Dresden institute. TU Dresden could have selected no one, but they got back to us very quickly."
Both Harvey and Kost will attend TU Dresden from the middle of May through July and expand on the research they have been a part of at the University of Nevada, Reno, as well as work towards becoming part of new research with their chosen faculty at TU Dresden.
To the moon and back
Harvey began her research with Assistant Professor in Chemical and Materials Engineering Sid Pathak, focusing on the nanomechanical behavior of materials. She also began work in 2016 on analyzing the mechanical behavior of ion-irradiated carbon nanotubes and presented her research this March at The Metals, Minerals, and Materials Society's (TMS) annual conference in Phoenix, Arizona where she was given the prestigious TMS Undergraduate Award.
"I was very happy to receive recognition for the research," Harvey said. "This work is also currently being presented to the broader public through Carnegie Mellon's MoonArk Project which selected images of the carbon nanotubes to travel to the moon aboard a lunar lander and they'll remain on the surface as an enduring time capsule."
The work Harvey has chosen to be a part of at TU Dresden will differ from the fields she has researched during her undergraduate time at the University of Nevada, Reno.
"I'm planning to work on the topic of nanoscale sensors for biological detection," Harvey said. "I do not have a background in this particular area of research, but I am eager to get experience in a different area of materials science. I will be working closely with graduate students in the department who are already involved in this research and I hope to continue to pursue it in my graduate studies when I return to Nevada."
As far as studying overseas, this won't be Harvey's first time. She has spent time studying abroad in Europe through the Universities Studies Abroad Consortium where she visited Pau, France.
"I'm really looking forward to returning to Europe and gaining a different perspective on student life," Harvey said. "Being able to learn more about the German culture and more about their ideas surrounding materials science and engineering will have a large impact on how I continue to work with my research."
A student ambassador's kinematic designs
As a freshman, Kost began working with mechanical engineering faculty learning the c++ programming language and applying it to more complex problems. More recently, Kost will join computer science and engineering professor Monica Nicolescu's research lab next semester.
"Dr. Nicolescu's research focuses on a variety of practical applications of robotics," Kost said. "I will be looking to work with multi-robot control systems. Professionally, I hope to continue to work in the field of robotics as it has always been a field I have had a lot of excitement for, and the potential for serious advancement in the field for the near future really intrigues me."
Kost's movement into new fields of research at the University will be mirrored during his research internship at TU Dresden where he will work to design kinematic devices, allowing students to work with small boxes that simulate mechanical operations and analyze the desired range of movement for a specific mechanical system.
"I'm hoping my work in Dresden will lead to students being able to study numeric controlled programming, which is the automation of machine tools by means of computers executing pre-programmed sequences of machine controlled commands, and programmable logic controls, which are industrial digital computers that have been adapted for the control of manufacturing processes," Kost said.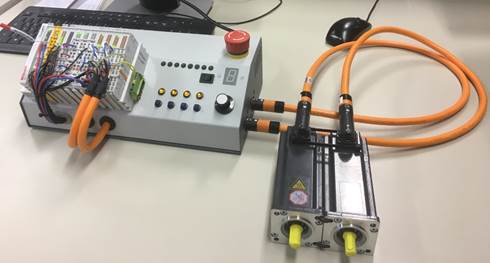 Kost's plans for the design and build of the kinematic devices will begin with a two-motor system. As the process moves forward, he hopes to add more motors to increase the total number of processes that can be analyzed using devices.
"We're starting with the two motors, and I'm free to move up to six," Kost said. "The professor I'll be working with already has some computer-aided designs of two-motor kinematic devices, so that's where we'll start, perfecting the design, making sure the production team can create it and then getting everything operational before adding more moving parts."
Beyond being included in new research that will go on to help educate the students at TU Dresden, Kost, who was part of an internship opportunity at the German university Rheinisch-Westfälische Technische Hochschule Aechen last summer, is excited to return to Germany and gain more experience in overseas education that he can share with current and future University of Nevada, Reno students.
Related Academic Programs
"Something that is very important about what I do here at the University is my role as a student ambassador, " Kost said. "The Nevada Student Ambassadors represent the University at various recruitment events, and this organization has provided me the opportunity to share my experiences with prospective students and give them an idea of all of the different types of education that students have available to them at Nevada. I would not be the person, or leader, that I am today without having served in this organization or without having been a part of the engineering exchange program.
You can learn more about the summer engineering exchange program and the schools involved by visiting their website, and you can reach out to Julia McMillin at juliamcmillin@unr.edu for any additional questions.