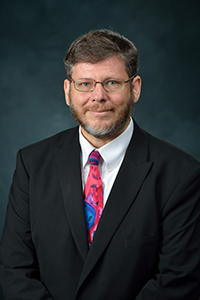 Eric Lambert is the new chair of the criminal justice department in the College of Liberal Arts. He began his appointment at the start of the fall 2017 semester, hailing most recently from the University of Mississippi in Oxford as chair and professor of the department of legal studies. Lambert earned his Ph.D. in criminal justice from University at Albany, State University of New York. Unlike many Ph.D.s, Lambert did not intend on making his career in academics. He enjoyed working in the field and initially received a job right out of college working with the Federal Bureau of Prisons in southern California. After being told he needed to transfer to Washington D.C. for more of a desk job, Lambert turned it down and began looking at his options.
He then signed a two-year contract to work with the New York Division of Youth, looking at correctional interventions. After the contract ended, Lambert decided to give academics a try. When the position opened at the University of Nevada, Reno, Lambert said he was excited to join the Wolf Pack. He isn't a stranger to the area – during his career in California, Lambert spent a lot of time exploring the national parks of Nevada and said he enjoyed the area.
One of his research interests is on organization of the criminal justice system. Lambert said the criminal justice system is employee driven and usually organizations do a good job at recruiting, but a poor job with retention. So he looks at things like how jobs can be made more enjoyable without spending money. He researches how to make people more effective and efficient at their jobs. "It doesn't cost you a lot of money to make good changes," he said.
Changing communities for the better is Lambert's goal on and off campus. One of his main goals as chair of the department is to help improve the quality of teaching and research. "In order to be a great teacher you have to be up-to-date and to be a great researcher you have to share your findings with others," Lambert said. In order to share more research, he plans to accomplish this through presentations, brown-bag-seminars and publications, especially with industry professionals.
Students are an important part of the equation to building better communities. Lambert refers to it as "changing the world one degree at a time." He said they expect students to change the world once they graduate, and students will help fulfill their model of excellence.
It's not always about the students though. Lambert enjoys playing video games and fixing old Sega Genesis consoles in his free time.
Lambert's parents both worked in health care fields and when asked why he didn't pursue a health degree he replied, "I'm a child in rebellion."
This might also explain his eclectic tie collection. Depending on the day, you never see Lambert wear the same tie twice. He said he has over 300 shirts and ties – most all have been gifts. His holiday collection is quite large. "If I start at Thanksgiving, I still can't get through them all by Christmas," Lambert said.