The Graduate School and Graduate Student Association held a reception on Tuesday, September 4 to recognize the recipients of the 2018 Graduate Dean's Fellowships and Merit Scholarships. David Zeh, Vice Provost for Graduate Education and Dean of the Graduate School, created these awards in 2017 to attract nationally and internationally accomplished scholars to the University's graduate programs. The $35,000 fellowships are available to incoming graduate students in PhD programs, and the merit scholarships, both $10,000 and $5,000 awards, are open to both master's and PhD students. Students are nominated by the director of their graduate program and awarded based on a holistic review of their academic performance, research and work experience, contributions to diversity and inclusion and potential to make further contributions to their discipline.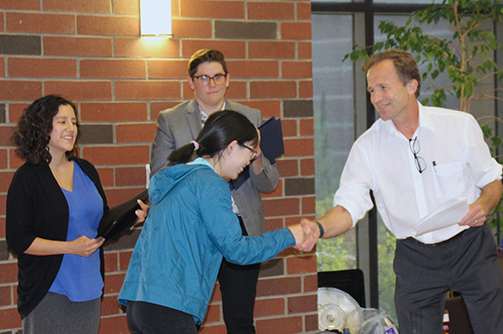 "The Dean's Fellows are an elite group of students with wide-ranging accomplishments, including national and international research experiences, publications, conference presentations, and diverse outreach activities," said Zeh. "We are proud that these students have chosen to pursue their graduate education with us, and we look forward to their contributions to our research programs and the greater University community."
In addition to receiving recognition from the Graduate School, the Dean's fellowship and scholarship winners were presented with a certificate of commendation issued by the office of Nevada Senator Catherine Cortez Masto and furnished by regional representative Kerry Durmick. In her remarks, Ms. Durmick noted that Senator Cortez Masto is an alumna of the University of Nevada, Reno who strongly supports graduate education.
"Over the last few years, the Graduate School has increased its recruitment efforts to identify highly talented and diverse students for our graduate programs," said Veronica Zepeda, Director of Graduate Student Services and Senior Advisor to the Graduate Student Association. "Our highly successful campus visit programs have allowed us to bring students to our campus and introduce them to our outstanding faculty, staff and campus resources," Zepeda said in reference to the GradFIT and Gradventure campus visit programs.
The Graduate School is also partnering with other campus units this year to offer 15 professional development workshops, a graduate course on Effective Teaching Practices and mentoring training for graduate students and faculty. These programs are all designed to increase the retention and success of graduate students and will continue to be offered in future years.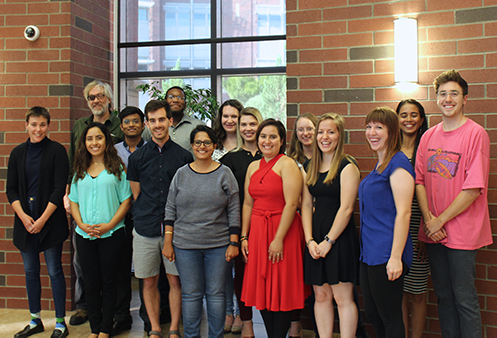 "It was an honor to meet these students in person and cheer them forward on their graduate education," remarked Rachel Zarndt, Director of Postdoctoral Affairs and Graduate Diversity Recruitment. "These students have already proven themselves academically, personally and through their contributions to society. I look forward to watching their future successes, and I am glad the University of Nevada, Reno will help shape their journeys."
Another 30 merit scholarships will be awarded to current University graduate students this semester, with the winners expected to be announced in October. Since 2017, the Graduate School has awarded twelve Dean's Fellowship awards. Please visit the graduate school website for more information on the awards and a full list of winners.

2018 Graduate Dean's Fellowship Awardees
Foram Gathia, Education Informational Technology
Xixi Guo, Mechanical Engineering
Riquel Hafdahl, Social Psychology
Lauren Phillips, Geography
Brianna Preiser, Clinical Psychology
Aghata Silva, Animal and Rangeland Science