Mridul Gautam, vice president for research and innovation and professor of mechanical engineering at the University of Nevada, Reno, has been elected as a Fellow to the National Academy of Public Administration.
"With his trademark enthusiasm and commitment, Dr. Gautam has contributed tremendous leadership to increasing the competitiveness of this University and our faculty, always with a focus on bettering the region and state we serve," said University President Marc Johnson. "He has generated new levels of collaboration and built relationships both on and off campus."
Under Gautam's leadership, the Division of Research & Innovation is committed to facilitating connections with industry, entrepreneurship and regional collaboration. Research & Innovation provides high quality services and infrastructure to enable faculty, students and staff to excel in their research, scholarly and artistic endeavors and to advance innovation and commercialization. The division helps build interdisciplinary collaborations, assists researchers in obtaining and managing funding, and provides services to support safety and integrity.
"Dr. Gautam has guided development of a strengthened infrastructure for research and innovation," Johnson said. "As an administrator and as a member of the University President's Council, he is a strong advocate for creating supportive, safe, healthy and ethical environments in which to work and conduct research."
The National Academy of Public Administration is an independent, non-profit organization established to assist government leaders in building more effective, efficient, accountable and transparent organizations. Founded in 1967, it is one of the two such organizations chartered by Congress, the other being the National Academy of Sciences.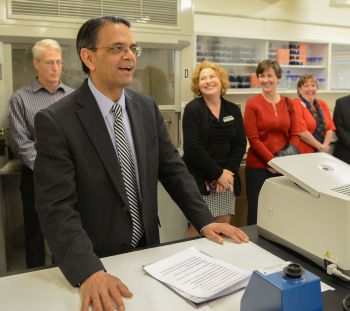 The National Academy of Public Administration's membership of more than 890 Fellows includes scholars, public managers, business executives, labor leaders, current and former cabinet officers, members of Congress, governors, mayors, state legislators and diplomats. Collectively, they are described by the Academy as its primary vehicle for addressing current and emerging issues and contributing to the intellectual and popular discourse on government.
"The 2018 class is an outstanding group, representing the best in public administration professionals, and will enrich our Fellowship, especially as we launch an effort to identify and address Grand Challenges in Public Administration," said Academy President and CEO Terry Gerton.
Prior to joining the University in 2013, Gautam served as associate vice president for research at West Virginia University as well as the vice president for the WVU Research Corporation. His internationally recognized research is in the area of heavy-duty mobile-source exhaust emissions, aerosol sampling, and particulate-matter measurement, characterization and control. He serves on several national and state committees including the Association of Public and Land-Grant Universities' Council on Research and its Research Task Force on Laboratory Safety, the National Academies' Government-University-Industry Research Roundtable and the University Economic Development Association's board of directors.