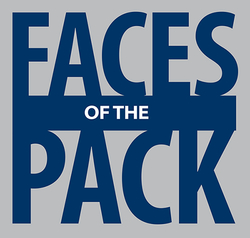 As a boy, Liberatus J. Rwebugisa wondered if he would ever get a chance to go to school. It wasn't until age 11 that his family had the funds for him to start first grade. Even then, they struggled to pay the school fees and purchase necessary supplies. A few years later, Liberatus wondered if he would be one of the few children to make it beyond the seventh grade, the average level of education in Bukoki, a small, rural village in Northwest Tanzania. In a surprising story of luck and persistence, Liberatus eventually became one of the four students, out of his 54 primary schoolmates, able to attain a college education. Now as a student earning his Ph.D. at the University of Nevada, Reno, he is thankful for the knowledge he is using to build a better world.
Liberatus is the last born in a family of 11 siblings. Growing up, his family was heavily involved in the community and the Catholic church. This involvement not only enabled Liberatus to attend Catholic seminary school from sixth grade through high school, but also inspired him to help those around him. He volunteered at his church teaching choir, a tradition he continues when he goes back home. After graduating from college, he taught English as a Second Language at one of the secondary schools in his community.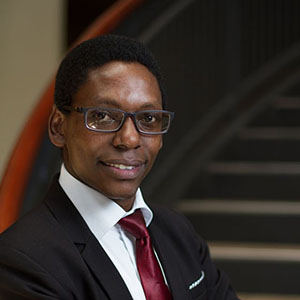 "I have firsthand experience and understanding of what it feels like to live in a large extended family of 11 children with nearly 50 nieces and nephews. Most of the time, it is very difficult to satisfy all the basic needs," Liberatus said. "Yet there are many families in my community with such experiences, which is one of the reasons I do what I do for my community and any community I happen to live in."
Being an undergraduate in Tanzania
Liberatus was able to attend college as an undergraduate at the University of Dar es Salaam in Tanzania. He was awarded a government scholarship that paid for 60 percent of his school fees. Liberatus and his family had to pay the remaining 40 percent, but it wasn't easy. He started college staying with friends in their dorms because he was unable to afford a room of his own.
His experience with his school choir ended up paying dividends. The financial burden of attending university was lifted when his music professor, Professor Mitchel Strumpf, recognized his potential and paid the rest of his fees for the remaining two years of his undergraduate career. The professor also kindly welcomed him into his home.
"If I had not met that professor who offered me accommodation and paid for my fees, I probably would have gone crazy and not finished," Liberatus said. "But there are people who did not get that opportunity, especially girls who face adolescent pregnancies or are forced into childhood marriages."
After he graduated from college in 2010 with a bachelor's degree in geography and environmental studies, he cofounded a non-profit organization called Advocacy Tanzania.
"It concentrates on education, health, microfinance and community organizing," Liberatus said. "Advocacy Tanzania currently runs a small-scale Village Savings and Loan Associations program in my home community, serving 377 individuals, including 214 women and 163 men, organized in 18 microfinance groups. These groups help members establish small businesses to help support their families. Advocacy Tanzania uses a microfinance model that has become increasingly popular in many areas of the Third World-especially in Sub-Saharan Africa."
The study abroad opportunity
In 2011, Liberatus was offered an unexpected opportunity that has transformed his life. Karen Makoba and her two daughters came to Bukoki in order to volunteer at a local hospital. Karen was already fluent in Swahili, the national language of Tanzania, but she asked Liberatus to also teach her Haya, the primary local language, and to teach her daughters Swahili. One of the doctors at the hospital where they were volunteering had recommended Liberatus as a language instructor. The visitors began to call him their "mwalimu" ("teacher" in Swahili) and soon became aware of his potential and determination for education.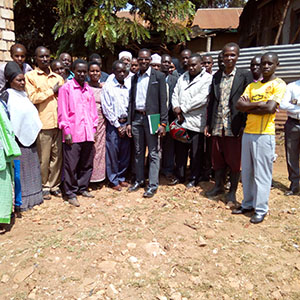 "Once back home in Nevada, Karen worked with her husband, Professor Johnson Makoba of the University's Sociology Department, to help me to come to the U.S. and study." Liberatus said. "They initially sponsored me and encouraged me to attend the University of Nevada, Reno, where I would obtain a master's and Ph.D. in educational leadership."
Looking back, Liberatus said his current studies and accomplishments in life would not have been possible without the Makoba family's generosity and the help of others before them. The Makobas raised funds through FOCCAS, a non-profit they formed in 1993 to work in Uganda and Tanzania.
"They have lifted me up to this point," Liberatus said. "The education I am obtaining is not about me because that is not my life. It's about others. That is what pushes me and gives me the passion and motivation to start working for the community." He added. "I do not know why my parents called me Liberatus, a Latin name meaning liberty or freedom. But for me, freedom is about being able to freely serve others, and I believe that is what they hoped for in me - a selfless dedication to community service."
Bringing it back home
Since 2015, Liberatus started coordinating and working with various individuals and leaders from his community to create the BIKAMANYA Community Development Foundation, a foundation that will be registered as a Community Based Organization (CBO) in the district of Muleba. Its purpose is to serve as the community's instrument for envisioning, planning, implementing and sustaining grassroots-level development initiatives. BIKAMANYA incorporates the first letters of six different villages in the rural Tanzanian community that include Bisore, Kangantebe, Mayondwe and Nyakashenye. The organization's mission is to create and sustain a stronger community among the villages to harness their assets and solve problems to ensure a higher quality of life for all residents.
Each summer, Liberatus travels back to his community for developmental research and community organizing efforts. He continues to conduct meetings with the community leaders, teachers, parents and community members where they discuss community development initiatives to improve education, health, water, agriculture and other community services.
"In 2016, the meetings attracted about 1,000 attendees from different villages ," Liberatus said. "Also, through these community organizing initiatives, a group of BIKAMANYA community members living in the diaspora was able to raise about $1,300 to support education initiatives including employing three temporary math and science teachers at two community secondary schools."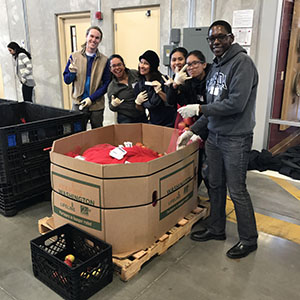 His life in Reno
Under the direction of his academic mentor, Professor Janet Usinger, Liberatus is working with colleagues here at the University to create an international outreach program, the UNR-Tanzania Development Initiative. The team, consisting of faculty and graduate students from various disciplines at the University, plans to pursue high quality research and partnerships to aid community development in rural Tanzania.
He recently collaborated with individuals from his community to write a community water project proposal. Water-borne illnesses account for over half of the diseases affecting the population of rural Tanzania, according to Tanzania's national website. Liberatus also focuses on staying involved in the Reno area by volunteering for several community organizations through the Center for Student Engagement. In 2016, the center recognized Liberatus has an exemplary citizen and recognized him with the October 2017 Silver Paw Award. He recently completed his 2017 pledge of the 100-hour community service challenge, and he is now challenging himself to complete 200 hours of volunteering in the 2018 academic year.
" Educational leadership covers nearly all aspects of rural village life for both children and adults, so that is why I chose this program," Liberatus said. "I am always working on something either for my coursework or for the community or just for my personal development and growth. It means so very much to me to have the opportunity to obtain my advanced education here. I want to make sure that many communities and thousands of rural Tanzanians benefit from my own opportunity, and I am very grateful to all my sponsors."
Liberatus' future aspirations include working as a community organizer, researcher and educator focusing on sustainable community development in rural areas to improve education and other social services. He wants to create opportunities to reduce poverty. He also plans on registering Advocacy Tanzania as a national non-profit organization. He hopes to establish links to donors in the United States who may be able to provide funding for various projects.
His inspiration to spark change from as early as seventh grade is continually growing and producing results. Other people's generosity in his education gives him gratitude, and his selflessness within every community he enters motivates those around him.
"Liberatus is one of the most remarkable students I have ever met," Usinger said. "Everything he does contributes to his understanding of how to effectively work to improve community conditions. His dissertation research plan will directly impact the communities he serves in Tanzania. It is a privilege to work with Libe here in Reno; Tanzania is fortunate to have such a dedicated native son."