"It was now or never," Torge Gelard said. "I knew I wanted professional and cultural experiences outside of Germany and this was how I was going to get them."
This August, Carina Holzer and Gelard arrived in Reno, Nevada, to participate in the Congress-Bundestag Youth Exchange Program through the Office of International Students and Scholars at the University of Nevada, Reno. Each year since 1983, the program provides 75 Americans and 75 Germans the opportunity to live in each other's countries for one year. The participants are expected to study at a university and experience the culture. To ensure the students gain experiences culturally, outside of the classroom, the program provides the students with a host family.
"It's going to be difficult to go home because they've already become my second family," Holzer said of her host family. "They enjoy doing similar things as me. I love to hike and swim in lakes, like Lake Tahoe, it reminds me of home."
In areas where the students are not able to use mass transportation systems, the program requires they have a car. This stipulation guarantees the students will be able to participate in the area's social life. Because the program places so much value on social life, they only send Germans over the age of 21 to Nevada. Both Germans purchased used vehicles, Gelard, a Mercedes, and Holzer, a Nissan Pathfinder, to explore Reno.
"I went to the Hot Air Balloon Races once," Gelard laughed with Holzer who had gone twice. "It was early, but fascinating."
Both Gelard and Holzer have attended many events including the Biggest Little City Festival and Wolf Pack football games.
"I love football and tailgating; I've had so much fun," Holzer said.
They both have found football exciting and compared the fan excitement to soccer in Germany.
While Gelard enjoyed going to football games, he prefers bicycling and playing video games. He also wants to experience more of Reno's resort life.
"I want to try gambling," Gelard said. "I've never done it before and it seems interesting."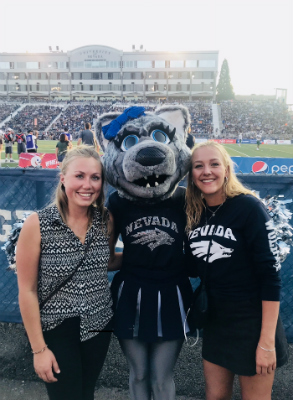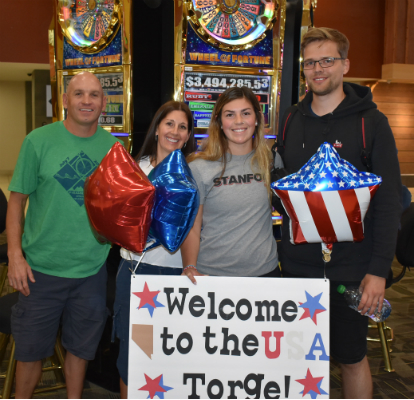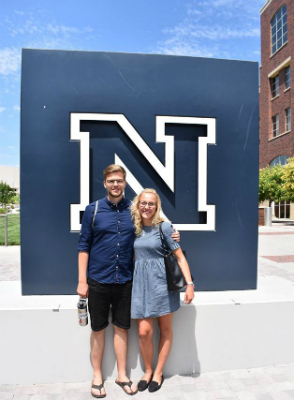 Both Germans differ slightly in dialect and culture due to their regional division. Holzer is from Bavaria, or Southern Germany, and Gelard is from Northern Germany. Despite their regional differences, they both agree that the U.S. is not what they had expected. Gelard remarked that the political culture is strikingly different.
"In Germany, it would be a crime to call someone a liar," Gelard said, "I often hear people name-calling on the radio, and it's strange."
While Holzer also spoke about the political differences, she was very passionate about another historically political item.
"I miss the coffee culture in Germany," Holzer said. "I used to spend hours talking with my friends at the café."
Both Gelard and Holzer found that there are other nuanced differences between the two countries.
"Conversations are hard to follow," Gelard said. "Once I figure out what people are talking about the subject has already changed, but that's why I'm here."
"Exactly," replied Holzer. "We wanted to practice our English and where better to practice than here?"
As part of the program's acaedmic requirements, Holzer and Gelard attend an English class on campus with other foreign exchange students. Because they are both interested in studying communications and marketing, they are also in an introductory marketing class.
"I wouldn't call us exchange students, because this is my first time at a university," Holzer said. "I chose to apprentice instead."
The German education system is much more complex than the education system in the United States. After elementary school, at 10 years old, Gelard and Hozier had to decide whether they wanted to go to Gymnasium, which is the only pathway to University, or one of the other two schools. While Gelard attended Gymnasium, both he and Holzer decided to apprentice in marketing and communications. Holzer plans to continue her university education when she returns. Gelard hasn't decided what he'll do when he returns home in the spring.
"With my experience here, maybe I'll go back to work," Gelard said. "But I might continue at university; I'll see how I feel when my time here is completed."
Both Gelard and Holzer applied within a week before the application was due. Out of 1,000 applicants for the highly competitive program, they were selected to be a part of the 75.
"It felt right, I knew I had to apply for the program," Holzer said. "I hope more people learn about it and come to Germany too."