The intersection of letterpress and graphic design and music converge into one exhibition featuring artwork by Bruce Licher currently on display at Black Rock Press in the Jot Travis Building. Licher will be visiting campus this week for an illustrated lecture about his work as an artist and musician on Nov. 1, followed by a reception for the exhibition on Nov. 2.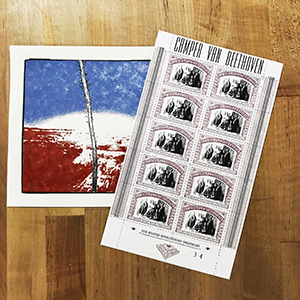 The Work by Bruce Licher of Independent Project Press exhibition features an impressive collection of printed music ephemera by the letterpress and graphic design artist, including posters, CD and record packaging, show tickets, stamps and more.
"We can't even show half of the stuff that we've got. To actually go through as we were putting this up and see how prolific he was - the amount of work he did, it's really great," said Inge Bruggeman, curator of the exhibition and director of Black Rock Press. "It's nice to acknowledge someone who has been doing this for so long and who has made a career and life out of it."
Licher began his career in the 1980s when he started to design album covers, posters and other music-related materials for his Los Angeles punk band, Savage Republics. His style caught on, and other groups in the Los Angeles area started to ask him to design artwork for their records and shows. Eventually, Licher began to design for bands like R.E.M., Blues Traveler and Stereolab.
Licher has twice been nominated for a Grammy Award for his album packaging, and his graphic design and letterpress work has been featured in pivotal design publications and exhibitions across the country.
Bruggeman points out that Licher's work was one of the first examples of the DIY style of design and printing that is so common today. She also points out that Licher was one of the first designers to think of design in a more critical and theoretical way, as opposed to making just a product to sell.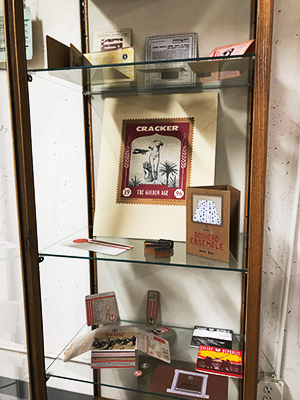 "Now, many designers are asking themselves how they can affect change through design," Bruggeman said. "It's language that can change people's minds and lives. Instead of just making stuff that people buy, how can I affect society in a positive way? I think there's a legacy there that Bruce's thinking about design led to."
Connection to the classroom
Bruggeman, as associate professor and director of Book and Publication Arts at the University of Nevada, Reno, brings these concepts into her classrooms.
"I think it's a really neat time to have a show like this because the art department's graphic design program is getting started and letterpress printing is the birth of design," Bruggeman said. "Having this exhibition is an effort to connect the new design program with fine art and applied art."
Black Rock Press teaches traditional letterpress printing and the book and publication arts. They've recently been instrumental in creating a new Book and Publications minor that is now open to all students. Bruggeman notes how traditional letterpress design can not only give students a solid foundation in historical design practices but also help accentuate their portfolio with analog design materials. The minor will not only dovetail nicely with the new graphic design program. Bruggeman points out that any student from any background might find the Book and Publications minor helpful to their studies.

"It's great for English, history, and journalism students; I think even the sciences. Really, anyone who wants to do a creative research project," Bruggeman said. "Art books are an interesting way to take content and try to convey what's going on with their research in this form, instead of a dry academic paper."
If you want to go
Bruce Licher Presentation
Thursday, Nov. 1, 6 p.m.
Mackay Science, Room 215
Work by Bruce Licher of Independent Project Press Exhibition Reception
Friday, Nov. 2, 4:30 p.m.
Black Rock Press, Jot Travis Building
Work by Bruce Licher of Independent Project Press Exhibition
On display until Nov. 30
Gallery hours: Monday - Friday, 9 a.m.-5 p.m.
Closed on national and state holidays.