Shannon Ellis, VP Student Services, opened the 2018 "Honor the Best" ceremony, held Tuesday, May 15, in the Glick Ballrooms of the Joe Crowley Student Union. More than 370 people attended the ceremony and reception.
"As members of the Wolf Pack family know, this is a vibrant campus with the success and challenges of a public land-grant university seeking to prepare itself and its students for the future," Ellis said. "This afternoon, we recognize and celebrate many of those who have made this University what it stands for today."
View all commencement articles.
Since 1970, the "Honor the Best" ceremony has been a gathering by the campus to recognize the outstanding achievements of faculty, staff and students. Executive Vice President and Provost Kevin Carman continued with welcoming remarks before the presentation of awards.
"We are a vital, productive and quality institution because we have so many vital, productive and quality people who play important roles," Carman said. "All of today's honorees have made it a point throughout their careers to take that extra step, to go that extra mile, so that others could benefit. So, this is a shared moment, where we celebrate personal achievement and also acknowledge the great outcomes that are often a combination of extraordinary moments, done together, for the good of all. All of you have provided us with a proud example of what it means to work, to teach, to research, to study and to provide service."
The list of honorees Tuesday included:
Emeriti Faculty: Davood Bahrami; Phillip Boardman; Charles Carslaw; John Cobourn; Denise Cordova; Jason Davison; Francis Flavin; Alan Fuchs; Betty Glass; Cheryll Glotfelty; Sandra Haslem; Guy Hoelzer; James Kenyon; Steven Lewis; Bernadette Mae Longo; Richard Mason; Marilyn Ming; William Murphy-Sharp; Christopher Nielson; Kim O'Reilly; Samuel Parks; Pat Ragains; Susan Ray; Roger Ritzlin; Beatriz Robinson; Howard Rosenberg; Patsy Ruchala; David Sanders; Eberhardt Sauerland; Kathleen Schegg; Emma Sepulveda Pulvirenti; Sonya Sistare; Marilyn Smith; Anton Sohn; William Sparkman; Gregg Tallman; John Tipton; Virginia Vogel; Patricia Walsh; Mary Perry Wilson; Ronald Zurek
Foundation Professors: George Bebis, Michael Branch, Wendy Calvin, Peter Weisberg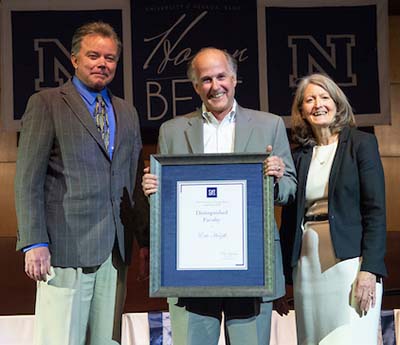 F. Donald Tibbitts Distinguished Teacher Award: Shannon Richard; Dianna Townsend
Distinguished Outreach Faculty: Jane Fisher
Inclusion, Equity and Diversity Leadership Award: Albert Lee
Innovative Impact Award: Kara Cleveland
Outstanding Undergraduate Research Faculty Mentor: Christopher Jeffrey
Postdoctoral Award for Exceptional Mentoring: Felicity Muth
Student Employee of the Year: Karla Cortes Canchola
Cavanaugh Community Volunteer Award: Tyra Eggert
Henry Albert Senior Public Service Award: Joseph Jun-Yiu Cheung, Jr.; Catherine Pollock; Brittany Rose Russ; Clark Watkins
Phi Kappa Phi Award: Kayla Banda; Luke Bittar; Brenda Saldana
Outstanding Senior Award: Yesenia Alvarez Padilla; Catherine Pollock
Outstanding Graduate Student Researcher: Alicia DeVault
Outstanding Graduate Student: Farzan Kazemi
ROTC Governor's Award: Mira Seekins
ROTC President's Award: Royce Kennerley
Faculty Senate's Award for Outstanding Service: Cheryl Hug-English; David Sanders
Thornton Peace Prize: Kate Berry; Kevin McReynolds
Regents' Academic Advisory Award, Undergraduate: Natalia Rudi
Regents' Researcher of the Year: Mae Sexauer Gustin
Regents' Rising Researcher Award: Wesley Chalifoux
Regents' Rising Researcher Award: Jacqueline Snow
Regents' Scholar Award, Graduate: Carrie Branch
Regents' Scholar Award, Undergraduate: Shahil Pema
Outstanding Researcher: Jeffrey Harper
Early Career Innovator Award: Amilton de Mello
Established Innovator Award: Thomas Bell
Global Engagement Award: Mehmet Tosun
Outstanding Supervisor Award: James Beattie
Administrative Faculty of the Year: Jeffrey Erickson
Distinguished Classified Employee Award: Donna Healy
Distinguished Service: Ronald Zurek
Distinguished Faculty: Eric Herzik
Ellis concluded the ceremony and said, "Together, we are taking our University into a bright and prosperous future."