Now that construction is finished, and now that it's only about dealing with the small details of the opening week of the E. L. Wiegand Fitness Center, Jim Fitzsimmons can actually pause for a moment and consider what it has all meant.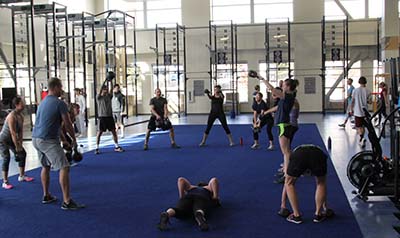 It's been more than three years since the $46.5-million, 108,000-square-foot project was formally approved by the Nevada System of Higher Education Board of Regents on Oct. 18, 2013, more than 1 ½ years since ground was broken in what used to be the south parking lot for Lawlor Events Center on June 17, 2015, and it's been a little less than a year since the former hub of campus wellness and recreation - Lombardi Recreation Center - was officially given a new purpose with the announcement on Oct. 3, 2016 of a $1 million gift from former Wolf Pack basketball player Ramon Sessions to begin a Lombardi renovation that will help the 43-year-old facility become the practice and performance training centers for the University's basketball programs and women's swimming and diving (while continuing to support academic offerings from the School of Community Health Sciences).
All of the loops have been closed. All of the milestones have been reached. A new era in campus health and wellness is beginning.
And with it comes new challenges and concerns - a fact that hasn't been lost on Fitzsimmons, the longtime director of campus fitness and recreational sports.
"I've probably talked to 50 people from throughout the country who have gone through this process," Fitzsimmons said recently. "None will look you in the eye and say everything was 'perfect.' There are constant changes in the industry, things that you always want to do, or wish you could've done. But overall, when you look back over the past few years throughout the entirety of this process, in the big picture this facility and what it represents absolutely conforms with the student and market data we've compiled. It's a facility that embodies what forecasters say you need to put your money and your focus.
"There are very few spaces in the facility that paint us into a corner. Absolutely, it meets the needs of our campus, and sets us up for an exciting future."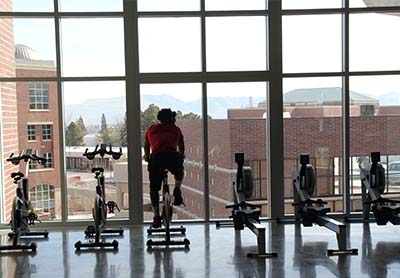 The campus will have a chance to experience the E. L. Wiegand Fitness Center up close and personal during an Open House scheduled for Wednesday, Feb. 15, from 10 a.m. until noon.
Fitzsimmons is most pleased that the building, though it is finished, will continue to evolve throughout the months and years to come. Some space has intentionally been left open, with the idea that although the Wiegand staff "has a really good idea of equipment and programs, we will still want to have that flexibility that comes with leaving space open for growth and change. In this industry, you have to take that kind of approach."
At first blush, the Wiegand Fitness Center has very definite points and spaces of emphasis. The building has some of the largest windows of any building on campus. The abundance of natural light is intentional, giving the building an open and spacious feel.
Perhaps the most striking feature, though, is the "fitness stairway," a series of deep and somewhat steep stairs leading from the first floor entry all the way to the fourth floor, where a 1/8th mile running track awaits. The fitness stairs are part of a larger nationwide trend for fitness buildings, which have brought front and center high-intensity work that used to be relegated to far-removed and seldom-noticed stairwells. It's also an example of what Fitzsimmons termed, "Our effort to bring Mackay into the building."
For years, Lombardi fitness students had trudged to nearby Mackay Stadium to run stadium stairs. Now, they can be challenged by a four-story ascent followed by a tour of the indoor track. In all, an entire "lap" of the stairs and track is approximately 400 meters long. The journey can also include a return down a shorter, more compact set of stairs next to the wider fitness stairs, which more closely resemble the experience of running stadium stairs.
Fitzsimmons also views the fitness stairs as a key recruitment feature for the facility's other programs.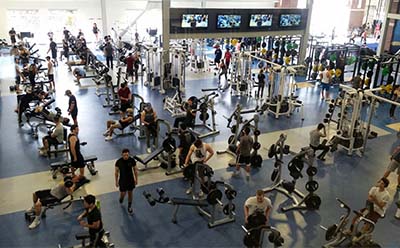 "There should be a ripple effect associated with them," he said. "We will have people coming in and out of the building, and right in front of them they will see a class running up and down the fitness stairs and they'll start to think, 'Oh, that's how they do it.' "It's a huge programmable feature and it will also provide a lot of passive recreation for people who simply want to go for a walk or do something else that doesn't necessarily involve a class."
President Marc Johnson, himself a dedicated walker and hiker who has completed (in sections) the 165-mile Tahoe Rim Trail high on the ridgetops of Lake Tahoe, said the promise of the building is that it "exemplifies the University's commitment to students' whole-person success. The E. L. Wiegand Fitness Center shows that we have a campus culture that values health and wellness. We want our students to be successful in all aspects of their lives, and by more fully integrating student wellness into this facility, we're helping them lead healthier, longer and more productive careers and lives."
Fitzsimmons echoed Johnson, noting that not only do state-of-the-art campus fitness facilities improve the health of students, they also add needed enrichment and engagement, which are essential to the student experience.
"There is a tremendous amount of research and data that connects student fitness levels to improved cognitive function, academic performance, social networks, and engagement on campus, plus a decrease in stress and anxiety," said Fitzsimmons, whose graduate studies have focused on the impact of fitness offerings for student retention, graduation and other success factors.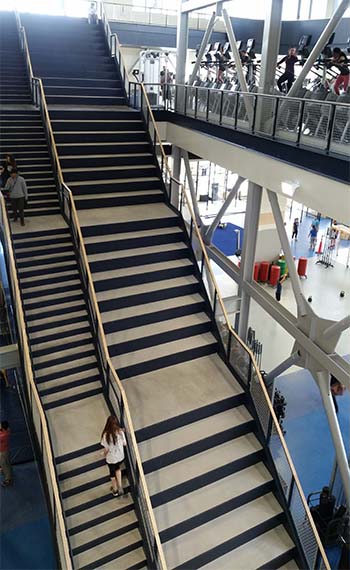 He listed many of the benefits of fitness centers that contribute to the core of an institution's mission: Students surveyed nationally said a state-of-the-art facility was a major influence on their decision to remain at a university; studies show that students who use an on-campus facility three times a week or more have a full GPA point higher than students who don't; parents increasingly see the presence of a fitness facility on a campus as a strong positive sign that the institution takes their student's well-being seriously.
And, the bottom line of such a building is promising. The E. L. Wiegand Fitness Center is what Fitzsimmons termed a "consumable building," meaning that it's heavily used, with fee structures for use associated with it, giving it an excellent rate of return on the University's initial investment.
"It's a marvelous addition to the campus," Fitzsimmons said. "The campus is entering a whole new chapter now that it's here."
Other general features of the building include a gymnasium with three courts for intramural basketball and other sports; areas for weightlifting, cardio training and a multitude of fitness classes and activities. There are also lockers and changing rooms, as well as some administrative office spaces.
A floor-by-floor look includes:
The ground floor offers a parking garage with approximately 85 spaces (if the parking garage is added to the facility's square footage, it exceeds 150,000 square feet).
The first floor is the main entry level, with a lobby, men's and women's locker rooms, administrative offices, and two multi-purpose rooms. The majority of the floor space is dedicated to an open strength training space and functional training zone. The fitness stairway begins at this level.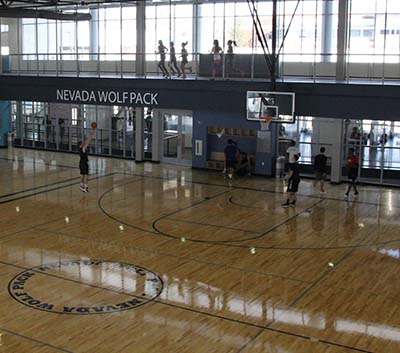 The second floor continues the fitness stairway, and holds five multi-purpose rooms for fitness classes such as yoga, Pilates, aerobics and Zumba. There are additional restrooms on this floor.
The third floor features the gymnasium with three multi-use courts and a cardio zone with exercise machines such as stationary bikes and treadmills. There is also an additional smaller strength training room complementing the first floor's offerings.
The fourth floor holds the 1/8th mile running track and includes some areas for stretching. The fitness stairway ends at this level.