University officials along with students, faculty, staff and community members celebrated the reopening of the Thompson Building Thursday, April 13, 2017 by ceremoniously ringing small bells to commemorate the event.
"Throughout the world, ringing a bell has many different symbolic meanings," University Executive Vice President and Provost Kevin Carman said. "It could signify the philosophical harmonizing of a new environment, or the beginning or completion of an accomplishment."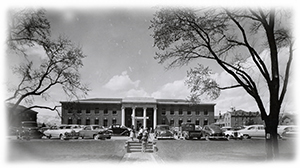 The ringing bells clearly signified both for the 97-year-old building, located in the historic district of the University of Nevada, Reno campus. As part of a one-year partial retrofit, the Thompson Building received structural upgrades that address seismic and safety standards, and an interior remodeling to transform the space into much needed faculty offices.
Opened in 1920 as the "Teachers' Training College," the Thompson Building served as the University of Nevada, Reno's "Education Building" for nearly 50 years before transitioning to the "Thompson Student Services Building." Named for Reuben C. Thompson, faculty member and later College of Education dean, the Thompson Building now houses the Gender, Race and Identity Program; College of Liberal Arts Advising Center; Department of Political Science; and Core Humanities Program for the College of Liberal Arts at the University.
"Like the other historic buildings that are located on this end of campus, Thompson and its elegant white columns is a reminder of who we were, and, thanks to the effort of the past year-plus, of what we are becoming," University President Marc Johnson said.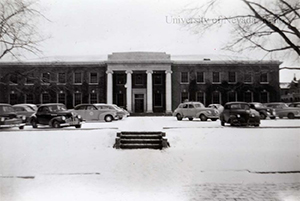 President Johnson spoke of the imperative for students to receive a liberal arts education.
"The four different departmental and program areas now located within this building will ensure that the ideal of a Liberal Arts education will continue to find a valued place on our campus," he said. "This renovation was not only an investment in the future of Liberal Arts education on campus. It was an investment in the important place Liberal Arts-educated individuals must have in our society."
Nevada System of Higher Education Chairman Rick Trachok also stressed the need for students to receive a liberal arts education.
"Imagine a world of engineers without the ability to think strategically in the liberal arts," he said. "Steve Jobs, a college dropout, accredits his success at Apple to a higher education calligraphy course he audited."
The building's retrofit was made possible through institutional funding. GML Architects helped redesign the space and Geney and Gassiot, Inc. were the contractors on the project. University Facilities Services played a key role in the capital improvement project.
As the University plans to hire more than 400 faculty in the coming years, which will help reduce the student-to-faculty ratio from 22-to-1 to 18-to-1, office spaces created from these projects will house new and existing faculty.