Nineteen high school students from the Upward Bound Programs at the University of Nevada, Reno, in partnership with the School of Social Work, traveled to the Nevada State Legislature as a part of the inaugural Upward Bound Capitol Experience.
Upward Bound students toured the Legislative and the Capitol buildings and were also invited to a private meeting with Governor Brian Sandoval, who encouraged them to follow their educational dreams. Several legislators made time to meet with the students including: Teresa Benitez-Thompson, Amber Joiner, Michael C. Sprinkle, Skip Daly, Ira Hansen, Heidi Gansert and Julia Ratti.
In addition, two students had the opportunity to speak in front of the Assembly Committee on Education.
"The Carson City Capitol Experience was by far one of the most amazing experiences I've had," Victor Arriaga-Medina, an Upward Bound senior at Hug High School, said. "Gaining insight into the responsibilities of Assembly members and the Governor really helped me to understand how involved in local politics a regular citizen can get."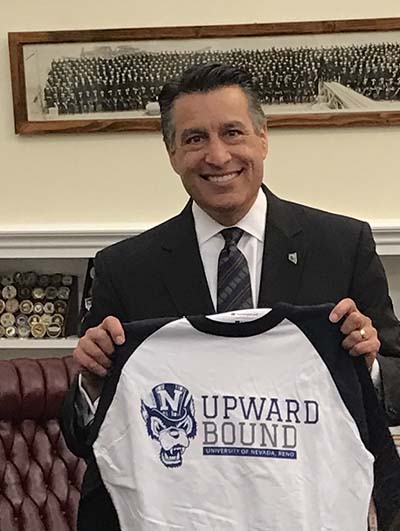 Nevada State Governor Brian Sandoval met with 20 Upward Bound students and University social work students at the Capitol building in March.
The Upward Bound Capitol Experience was a collaboration with University's School of Social Work Civic Literacy Program which is overseen by Mary Hylton and provided materials and training to the students to prepare for the day of civic engagement.
"We are so grateful for the School of Social Work's partnership," Upward Bound Truckee Grant Counselor Jen Sims, said. "The Upward Bound students learned a great deal during their Capitol Experience in Carson City. We are proud of their commitment to leadership and advocacy. This opportunity empowered them to become more civically engaged, effect change and use their voices.
The federally funded Upward Bound Programs at the University provide 186 first-generation, income-qualified high school students with free college preparatory services and support to develop the skills and knowledge essential for successful admission, persistence and completion of postsecondary education.
Written by University of Nevada, Reno Graduate Assistant Jon Haley.