Project ReCharge, a program that includes students and teachers aiming to create energy efficiency in northern Nevada through research and invention, was recently recognized for its impact at an event hosted by Envirolution; the Raggio Research Center for STEM education at the University of Nevada, Reno; Washoe County School District and Douglas County School District.
More than 4,500 middle and high school students and 47 teachers are involved in Project ReCharge, which solicits creative energy-saving ideas from participants. As part of the program, hundreds of proposals were made by students and teachers, and only 20 groups were specifically chosen to present at the May 31 event. Last year, three student proposals were implemented and saved $44,000 in Washoe County School District alone, cost savings expected to recur annually.
Saving money, going green and preparing students for the future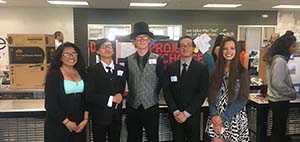 The proposals are a result of the students' conservation detective work and the knowledge they gain from the program, which is taught as part of the STEM curriculum and based on internationally benchmarked Next Generation Science Standards adopted by the school districts. These standards and Project ReCharge help students learn about researching, predicting, analyzing results and making conclusions in a concrete, hands-on way that helps drive home the lessons.
Todd Markey, a Project ReCharge teacher at Dillworth STEM Academy, believes in the program and its efficacy.
"Sometimes the students can get very intimidated by big, fancy science words, but [Project ReCharge] makes it accessible," Markey said.
The program and others like it are meant to kick off a life-long science-learning adventure, and they really work. Average content knowledge is shown to increase by 24 percent in Project ReCharge students.
"My favorite activity was the third day with the wind turbines," a student in the Project ReCharge program said. "I liked having to measure the amount of electricity we made. It was harder than just lifting the weights. We had to redo our design to make it better, but that was cool too. When [my family] drove to Salt Lake City, I kept looking at the turbines out the window, and I can explain how they work now."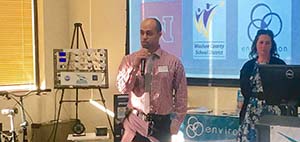 The program has high hopes for expansion in the region. It will involve seven new schools adopting Project ReCharge and training 35 additional teachers to bring it to 1,000 more students. Each teacher received 45 hours of hands-on professional training, and those hours will increase in the upcoming 2017-2018 school year. Up to $10,000 in classroom resources are offered to participating teachers to provide a sufficient , energy-focused learning environment. They are given bins with more than 40 items including solar pumps, kilowatt meters, and infrared thermometers.
Vanessa Robertson, director of Project ReCharge and executive director of Envirolution, said the program provides knowledge that can be brought back home with the students. Markey supports the efforts of Robertson and Project ReCharge's impact on its participants.
"Vanessa puts a lot of effort and heart in to the program," Markey said. "It isn't just curriculum to get funding. She believes in the project and believes in getting these ideals out to the children, and I think that is amazing."