The University of Nevada, Reno has modernized one of its historic buildings, the Palmer Engineering Building, which was completed in 1941.
The College of Engineering celebrated the building's reopening Sept. 21, after a year of renovations that added 3,100 square feet to the building's interior, complete with overhauled lab, classroom and faculty space to accommodate for the rapidly growing mechanical engineering department.
Palmer was the last building on campus to be designed using the classical Jeffersonian Revival style, and the last to be placed according to the old campus master plan. It housed most of the College of Engineering before the Scrugham Engineering and Mines Building was completed in 1963.
Palmer Engineering is included as an historic structure in the University Historic District. The University's Facilities Services and Design Team worked with the Nevada State Historic Preservation Office on this project in order to keep the standards of the treatment of historic property.
"The entirety of the effort was to shape this building into one of the most comprehensive, state-of-the-art learning and research spaces for our students and our faculty," University President Marc Johnson said. "We did this in what has been traditionally an academic building. We've created something very special without changing the building's historical character."
"This building has been here for such a long time and I've seen aerial photos from the 1950s when it really was the only building on this part of campus," Miles Greiner, chair and Foundation Professor in the mechanical engineering department, said. "Someone really had to have a lot of forethought in 1940 to think that this would be the center of an engineering complex when it was built."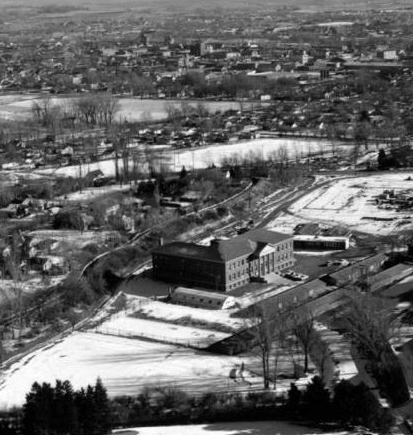 Along with a seismic retrofitting, the renovations added new student and faculty space, with members of the mechanical engineering department moving into their new offices throughout September. The basement floor now features keycard accessible collaboration rooms coordinated by the American Society of Mechanical Engineers, which will allow undergraduates to privately meet and share research.
This comes at a great time for the mechanical engineering department, as its number of graduates has grown dramatically. In 2010, 45 bachelor's degrees were given for mechanical engineering. This year, they expect to award 125 are expected to be awarded.
"When students are around the quad, surrounded by the beautiful old redbrick buildings with white columns, those students have an immediate emotional attachment to this campus, and that's very important to us," President Marc Johnson said. "That's one of the reasons we needed to keep Palmer's exterior the way it was in 1941. We've literally built a brand new building inside of an old one."
The added faculty space on the second floor has also allowed the mechanical engineering department to bring in new members and begin the process of adding programs to their areas of research.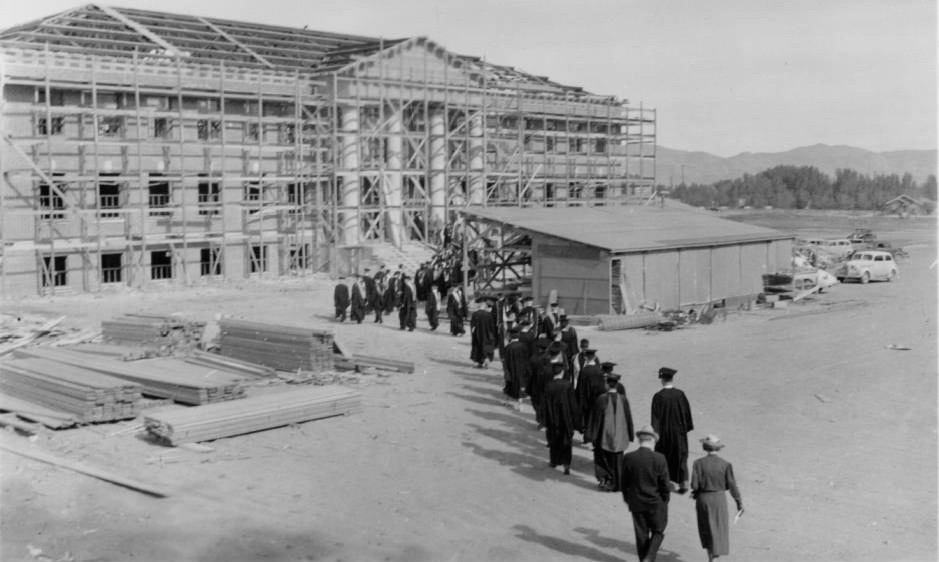 "For a long time the department had 10 or 11 faculty members," Greiner said. "Now we have 27 members, and with more faculty and more lab space we can expand our research enterprises. We've been given approval to start doing some hiring in aerospace engineering, so that'll be a new area for the department in the next few years, which means we'll probably start a new minor around that time, too."
The revamped manufacturing lab, moved to its new location on the basement floor, now includes easily accessible outdoor entrances for quick delivery of materials and technician offices are located within the lab itself for increased safety. Fifty-two graduate student/research staff cubicles (including 26 for high performance computing), a 40-student instructional lab equipped with computer data acquisition systems, and an advanced and robotic welding lab were also added.
"What has happened here at Palmer is truly transformational," Jason Geddes, vice chairmen of the Nevada System of Higher Education Board of Regents, said during the building's opening. "Somehow, someway more office space has been created for the growing faculty, and you may not be able to notice it with the overcast, but Palmer is a much brighter building for anybody who had classes in it before the renovations."
Much of Palmer's paneling uses the same wood from the building's original construction, and aesthetic choices have been made to make the interior look and feel like a 1940s train station. With the modern amenities, mixed with the classical design, the University is proud to open the building to its students and staff.
"We're just so excited," Greiner said. "It has been a fantastic process for us. So much of engineering research is done experimentally, and a lot is done using computational fluid dynamics or computational solid mechanics, and now we've modernized this building enough to be as powerful and as useful as we need it to be."
Highlights of the $14 million project:
• Replaced the entire HVAC system (heating and cooling).
• Replaced the entire lighting system and controls.
• Replaced the entire communication systems and provoke new service to campus 25KV.
• Installed new security system to meet University standards.
• New restroom facilities in each floor.
• Complete building structural retrofit.
• Meet ADA compliances for the entire building including elevators.
Palmer Engineering is one of 13 buildings in the University of Nevada, Reno Historic District, a 40-acre historic district that was listed on the National Register of Historic Places in 1987. It includes works by architects Stanford White and Frederick J. DeLongchamps.
Other recent renovations of historic buildings in the district include Lincoln Hall, built in 1896 and the Thompson Building, built in 1920.