An ambitious effort to explore solutions for safe, clean and efficient transportation and to establish a "Living Lab" in the northern Nevada communities of Reno, Sparks and Carson City is under way. Intelligent Mobility builds on the expertise of University of Nevada, Reno researchers in advanced-autonomous systems, computer sciences, synchronized mobility, robotics and civil engineering. Public transportation is the initial, primary focus.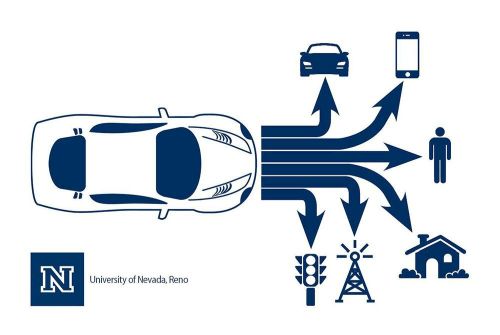 Image depicts how a vehicle can communicate with its environment; shown is an image of a car and with individual arrows pointing to another car, mobile phone, person, house, GPS and traffic signal.
The Living Lab will use Regional Transportation Commission of Washoe County's state-of-the-art electric buses manufactured by Proterra, a California-based leader in the design and manufacture of zero-emission, battery-electric buses. The driver-operated buses are being fully instrumented with a number of systems to sense, gather and integrate a range of data. These complex systems - already being tested on vehicles in the Reno-Sparks-Carson area - will collect data that will contribute to new ideas, technologies and systems.
Building on Track-Record in Autonomous Vehicles and Systems
University of Nevada, Reno researchers have long been at the leading edge of research in autonomous systems and vehicles. Consider the example of Professor Raul Rojas in the University's College of Science, who is internationally known for his work in autonomous vehicles and, in 2015, drove 1,500 miles without hands from the U.S. border at Nogales to Mexico City. It was the longest-ever autonomous drive in Mexico.
The initial research conducted through Intelligent Mobility will explore how vehicles sense their environment and communicate with other vehicles, infrastructure such as traffic signals and systems, and individual people through their mobile devices. This work builds primarily on the expertise and research track-record of three researchers in the University's College of Engineering:
Kostas Alexis, assistant professor, joined the University in 2015 from the world-renowned Autonomous Systems Lab of ETH Zurich in Switzerland, where he contributed to ground-breaking discoveries related to autonomous systems. Much of his research focuses on integrating perception and intelligent systems into robotic vehicles.
Richard Kelley, chief engineer with the University's Nevada Advanced Autonomous Systems Innovation Center, was selected to be part of the on-going NASA Ames Unmanned Aerial Systems Traffic Management project to find solutions in low-altitude airspace where autonomous aerial vehicles and other aircraft operate. His research focuses on intelligent robotics and advanced autonomous systems.
Hao Xu, assistant professor, focuses his research on intelligent transportation systems, traffic operation and control, evacuation transportation planning, and management and development of applications for transportation engineering.
Coalition of Partners Demonstrates Support

Joining the RTC and Proterra as project partners are the Governor's Office for Economic Development; City of Reno; City of Sparks; Carson City; Nevada Department of Transportation; Nevada Department of Motor Vehicles; Center for Alternative Fuels, Engines and Emissions based at West Virginia University; and Fraunhofer Institute for Transportation and Infrastructure Systems IVI in Germany, part of the Fraunhofer Organization, Europe's largest application-oriented research organization. Fraunhofer connects Intelligent Mobility to Living Lab developments being explored in Germany.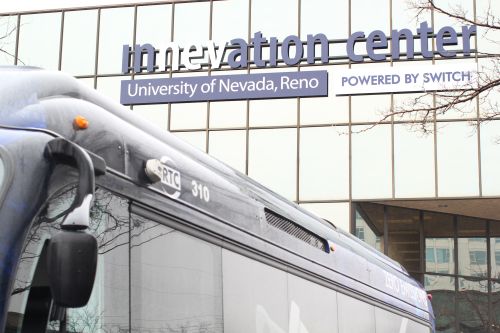 "This kind of collaboration is transformative," Mridul Gautam, the University's vice president of research and innovation, said of the broad-based coalition of partners. "Things are getting done in Nevada, and it's because organizations join together around a common goal."
"This marks another important initiative in Nevada's advanced mobility effort," Steve Hill, director of the Governor's Office of Economic Development, said. "The State of Nevada, through our research institutions, industry and startups, has been building an effort to operate Living Labs in Nevada's metro areas. The Living Lab Northern Nevada will be led by the University of Nevada, Reno and the Living Lab Southern Nevada will be led by the University of Nevada, Las Vegas - making this effort an important statewide initiative for our research universities and the State's Knowledge Fund."
"As a result of collaboration with Fraunhofer, this takes on global importance and elevates the work we are doing to an international stage while injecting a layer of experience that will greatly benefit applied research organizations in Nevada," Hill said.
The University's Nevada Center for Applied Research - also supported by GOED and the State's Knowledge Fund - serves as the single point of contact for Intelligent Mobility. Launched in 2016 to advance the incubation and growth of business in Nevada, NCAR makes the University's labs, equipment and expertise available to industry and entrepreneurs.
A Future View
Through Intelligent Mobility, researchers are working toward safe, synchronized, zero-emission mobility systems. And, by involving students in this work, they are contributing to the preparedness of the future workforce.
Alexis envisions the initiative resulting in advancements to improve driver performance, such as improved sensors to eliminate blind spots, improved support in degraded situations such as night-time driving or bad weather, and improved break-time response. And, he added, "They must be consistently reliable technologies you can bet your life on."
Gautam's view is that future technologies in transportation and mobility have the potential to be the most disruptive advancements of our lifetimes. Self-driving vehicles, electrified vehicles, automated transportation systems, on-demand transportation and real-time adaptive traffic controls systems are among the technologies already disrupting and transforming the automotive and transportation industry.