The 2017 Nevada Writers Hall of Fame took place Thursday, Nov. 16 inside the Milt Glick Ballroom at the University of Nevada, Reno. President and CEO of KNPB and Nevada Writers Hall of Fame Master of Ceremonies Kurt Mische set the tone for the evening as more than 150 guests celebrated the induction of Terri Farley and Donald Revell into the Nevada Writers Hall of Fame. In addition to the Hall of Fame induction, University English Professor Michael Branch was awarded the Silver Pen.
Induction into the Nevada Writers Hall of Fame acknowledges a lifetime achievement in writing. The Silver Pen award was added to the Hall of Fame program in 1996 as a way to encourage emerging and mid-career Nevada writers who show talent and promise. Of the 38 Silver Pen recipients since 1996, eight have gone on to be inducted into the Nevada Writers Hall of Fame including Farley and Revell.
"The challenge of selecting Hall of Fame inductees and Silver Pen recipients has been getting harder and harder," said Kathy Ray, dean of University Libraries and Teaching and Learning Technologies. "There are just so many great books out there written by Nevada authors, about Nevada, or that otherwise show a strong connection to our state."
The 2017 selection committee included: author Caleb Cage, Megan Edwards, author and executive editor of "Living Las Vegas," Assistant Dean of University Libraries Steven Harris, community volunteer Nita Jameson, Bobbi Lazzarone from the University Libraries Board of Directors, Brian Rouff with Imagine Marketing in Las Vegas and Lindsay Wilson and Mark Maynard from the English faculty at Truckee Meadows Community College.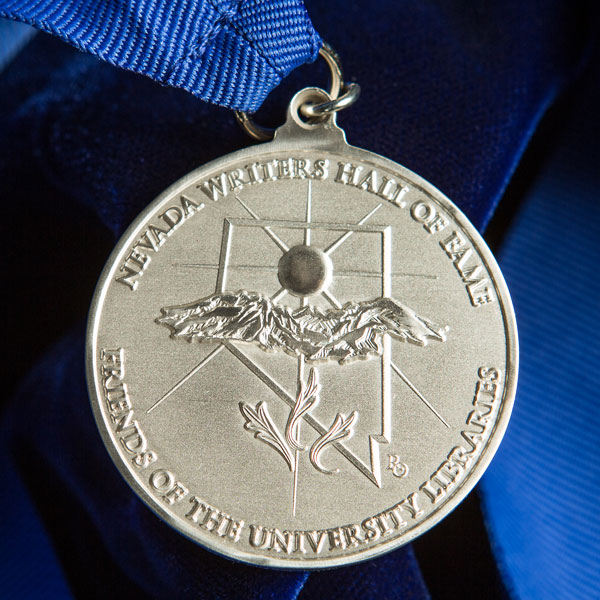 About the Nevada Writers Hall of Fame
The Nevada Writers Hall of Fame was conceived by former Friends of the University Libraries President Marilyn Melton in 1988. She envisioned two purposes: an annual event honoring Nevada's finest writers, and a stimulus to encourage excellence among emerging writers in the Silver State. Honorees are selected based on their body of work, critical recognition, and a strong connection to Nevada through the themes of their writing or residence in the state.
Nevada Writers Hall of Fame Inductees: Terri Farley and Donald Revell
Terri Farley
Terri Farley is the best-selling author of books about the contemporary and historic West. Her Phantom Stallion series for young readers and Seven Tears into the Sea have sold over two million copies in 27 countries. She has a Master's degree in journalism from the University of Nevada, Reno. Farley has taught middle and high school language arts and journalism in inner-city California and Reno. Farley is an advocate for the West's wild horses and works with young people learning to make their voices heard.
Terri Farley was introduced by Reno Gazette-Journal arts and literature reporter Susan Skorupa-Mullen.
Farley said she was honored to be inducted into the Nevada Writers Hall of Fame.
Donald Revell
Donald Revell is the author of 14 collections of poetry, most recently of Drought-Adapted Vine and Tantivy). He has also published six volumes of translations from French, including Apollinaire's Alcools, Rimbaud's A Season in Hell, Laforgue's Last Verses, and Verlaine's Songs without Words. He is a past winner of the PEN USA Translation Award and two-time winner of the PEN USA Award for Poetry. He has also won the Academy of American Poets' Lenore Marshall Prize and is a former Fellow of the Ingram Merrill and Guggenheim Foundations. Additionally, Revell has twice been awarded Fellowships from the National Endowment for the Arts. He is currently a Professor of English at the University of Nevada, Las Vegas and faculty affiliate of the Black Mountain Institute.
Revell was introduced by the City of Reno's Poet Laureate Lindsay Wilson.
In his acceptance remarks Revell said Nevada taught him distinctness. He also compared his love for Nevada to his love for his faith.
"In the Mojave, every blessed thing is distinct," Revell said. "Nothing occurs in a group. Things happen one by one. The universe is only comprised of ones."
He added, "Wildness is right there at the edge of every living thing - that's what we own. Wildness is local, particular, distinct. It requires attention. We pay attention because we have to. I love the Nevada landscape because the resurrection is a part of daily life; a tree sends roots into the air to find water that isn't there and somehow manages to survive and thrive."
In closing Revell said, "I probably don't belong in the Nevada Writers Hall of Fame, but I will sneak in anyway."
Silver Pen Award Recipient: Michael Branch
Michael Branch
2017 Silver Pen recipient Michael Branch was introduced by friend and University English Professor Cheryll Glotfelty.
"I've known Michael for 25 years," Glotfelty said. "He is very complex. Ponytail and cowboy boots. Handsome and hip, but don't let his laidback image fool you. The guy is a beast. He's written more than two hundred essays, too many articles to keep track of, and several books.
"His humor is effortless, and It's a lot of work to be funny. Perhaps that's why satire appeals to him!"
After Glotfelty's introduction, Branch took the stage after sharing a brief, but hilarious video trailer for his new book demonstrating his numerous attempts to waterski in the desert...with a heavy duty pick-up serving as the tow!
After accepting the Silver Pen Award, Branch read a humorous and pithy essay titled, "What's Drier than David Sedaris" from his book "Rants from the Hill."
"It is so hard to be a writer," Branch said. "To receive this award in the company of Cheryll, my family, Donald and Terri is truly special. It feels all in the family. I am grateful."
To learn more about the Nevada Writers Hall of Fame click here.