Inspired by his sister's challenges with learning, eBravium co-founder and University MBA student, Cody Grimes, set out to create a software program that combines screen time learning and academic performance. The result is eBravium - a software that gamifies smart devices by making access contingent upon correctly answering academic questions.
For his innovation, Grimes was awarded $50,000 Monday, March 27 in the Sixth Annual Sontag Entrepreneurship Competition, during a luncheon held at Harrah's Reno.
The Sontag Entrepreneurship Award is possible through a major gift to the University of Nevada, Reno's College of Business from University alumnus Rick Sontag, '66, in 2011. The endowment created by the gift funds the award.
"To see this process get validated by a group of individuals such as yourselves in very rewarding," Grimes said at the awards luncheon. "During the time you've all been sitting here, statistics tell us you've likely checked your phone about 10 times. Our research is informing some really exciting possibilities and we look forward to sharing those in the future."
Grimes, along with his father, Patrick Grimes, started working on eBravium in March 2014. In 2016 they received a grant from the National Science Foundation's Small Business Innovation Research program, which has allowed them to pilot the software.
Through the software's "learn-to-earn" philosophy, with a simple download from the app store, the product incentivizes children to earn smart phone use. According to eBravium's product description, the proprietary algorithm parachutes adaptive questions into the device at the optimal time of learning relative to the reward creating a new generation of artificial intelligence. eBravium's software is already protected by five patent applications.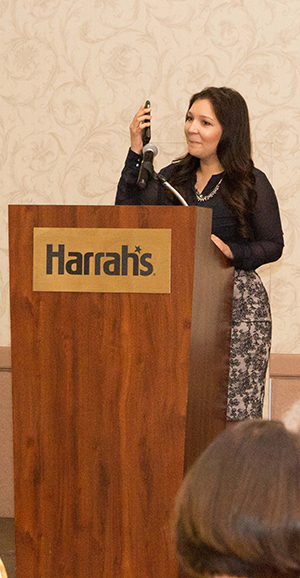 Liset Puentes, manager at the Ozmen Center for Entrepreneurship, holds up her phone with Rick Sontag on speakerphone. Sontag announced eBravium as this year's competition winner.
To win the $50,000 eBravium bested more than 27 Sontag Entrepreneurship Competition applicants and four additional finalists, which included:
• "Blue Radiate," a software designed to help public relations agencies and large corporations have larger, more effective impact through media,
• "Eat Rank.io," a food-sharing and review platform for specific dishes at restaurants,
• "New Paths," a facility for homeless youth in northern Nevada to live and receive social services, and
• "Salty Snail Studios," a mobile entertainment software startup.
"The Sontag competition offers student competitors the skills and mentoring needed to see their dreams become a reality while providing the winner with a tremendous financial advantage in starting their business," College of Business Dean Greg Mosier said. "The Sontag Entrepreneurship award is one of the largest university-based awards for a student business competition."
University Executive Vice President and Provost Kevin Carman said the Sontag competition is one avenue that has helped the University deepen its commitment to bring innovative ideas out into the community.
The competition, which received a record 50 intents to compete, is run through the Ozmen Center for Entrepreneurship, a program of the University's College of Business. Over the course of five months, students work with University faculty and community business members who offer mentorships throughout the competition. The competition consists of four open-topic weekend workshops, a detailed business plan, along with feedback and a revised business plan for finalists. Finalists are also required to pitch their plan to judges, which include University faculty and community members, who have long been involved with the Sontag competition.
Past Sontag participants open up about the competition
The Sontag Entrepreneurship Competition has produced a number of successful startup companies. Of note, many of the competition's runner-ups have also gone on to see success in their businesses and attribute their success to the intense process and mentorship they received through Sontag.
"We really don't want it to be just an academic exercise," Dean Mosier said. "We're hoping the people who choose to compete are serious about starting a business. Even if they don't win, we're hoping many of the companies that do develop these business plans will actually give it a try."