As the University of Nevada, Reno and the Nevada Wolf Pack celebrate its 96th Annual Homecoming this week, University Libraries is joining in the "Pack Throws Back" homecoming theme, with the launch of a new digital collection. Wolf Pack Athletics: A Visual History, is a new website filled with an homage of photos, videos and sound clips that celebrate Nevada athletes.
The new online collection was curated by Digital Initiatives using media from Special Collections, University Archives and Nevada Wolf Pack Media Services. It offers stories adding to the history of the Wolf Pack including its individual athletes and coaches, the teams, rivalries, and the fans who all contribute to the complete athletic experience at the University of Nevada, Reno.
"We really wanted to tell a vibrant, visual story of men's and women's athletics here at the University," Amy Hunsaker, digital initiatives librarian, said. "The digital images used in the website were entrusted to the library by the University's Athletics Department for preservation and safekeeping."
Visitors to the site will be able to explore interactive maps and watch video footage that dates back to the 1930s. Audio sound clips also accompany some of the images. The site covers all University sports from the first teams that were formed in the late 19th-century to contemporary teams and individual athletes.
Visit Wolf Pack Athletics: A Visual History to see the entire collection.
Football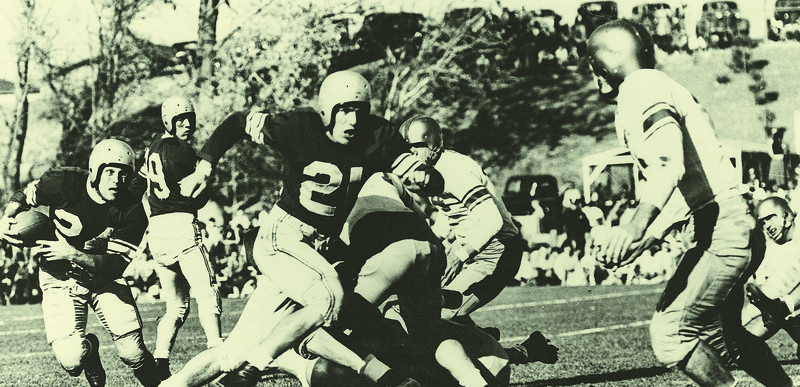 Quarterback Stan Heath, and backs Tommy Kalmanir (with ball) and Dick Trachok (blocking) were three of the mainstays of the Wolf Pack's nationally prominent teams in the late 1940s. The Wolf Pack appeared in two bowl games in two seasons, 1947-48 and ranked among the nation's top 15 teams. Heath was the first passer in NCAA history to throw for more than 2,000 yards and finished fifth in the 1948 Heisman Trophy balloting. Kalmanir and Trachok, best friends after having grown up in Pennsylvania, came out West following World War II to bring talent and speed to the Wolf Pack. Kalmanir, known as "Cricket" because of his small stature, later played in the NFL and won a league championship with the Rams in 1951. Trachok later became head football coach and athletic director at the University.
---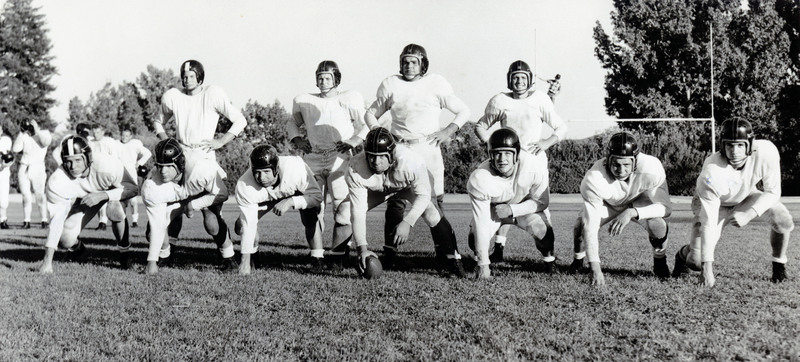 The 1952 Wolf Pack football team was one of the most significant teams in school history. Although the team finished with a 2-3 record, more importantly the team's existence marked the return of football to the campus following the 1951 season, in which the program was temporarily dropped due to finances.
---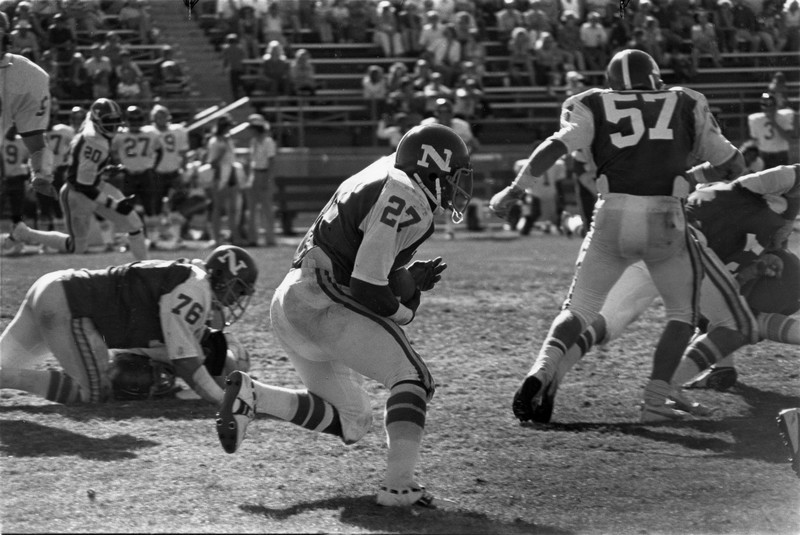 Frank Hawkins, also known as "The Hawk," was quite simply the greatest running back in Wolf Pack history. He finished his career with 5,333 yards rushing, the most in Wolf Pack history. His career yardage at that point was the third-most in NCAA history. Hawkins also set an NCAA record for 21 straight 100-yard rushing games.
---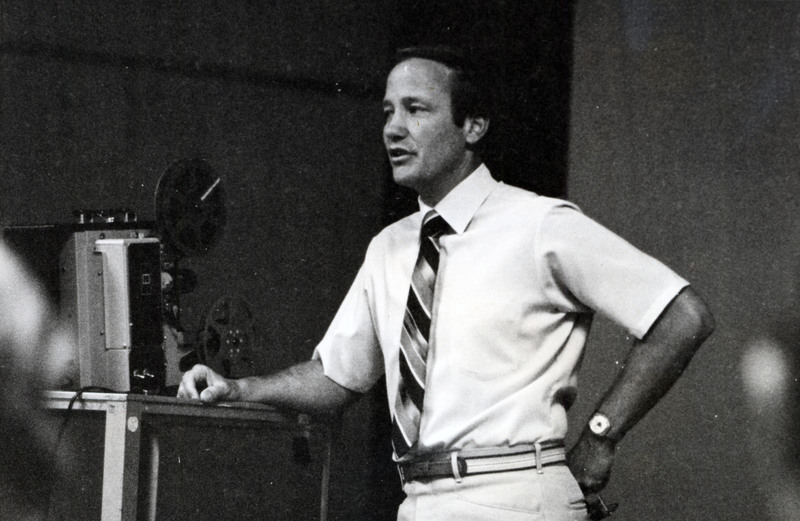 When he was named head football coach in December 1975, Chris Ault was only 29 years old. During three stints as a Wolf Pack head coach, he would amass an overall career record of 233-109-1 and would be selected to the College Football Hall of Fame.
---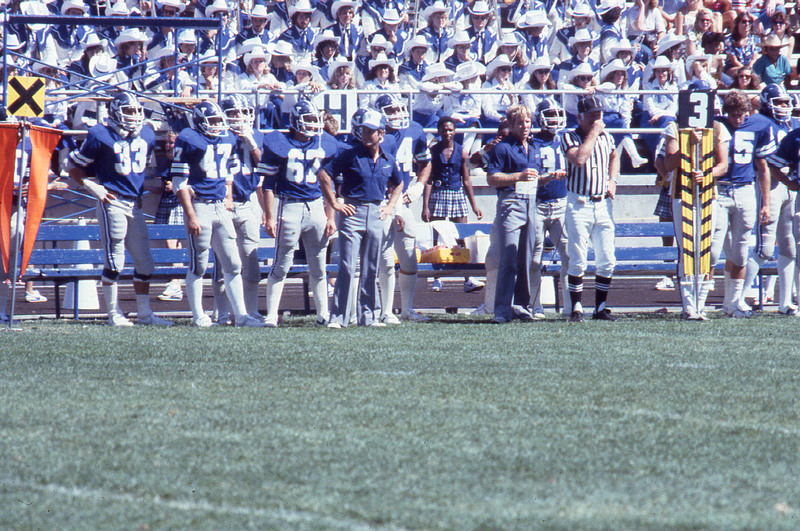 One of Coach Chris Ault's rallying cries for his players was to "defend Mackay Stadium." The Wolf Pack under Ault rarely lost at home, winning about 80 percent of all home games in 28 seasons under Ault. The playing field at Mackay is now named in Ault's honor.
---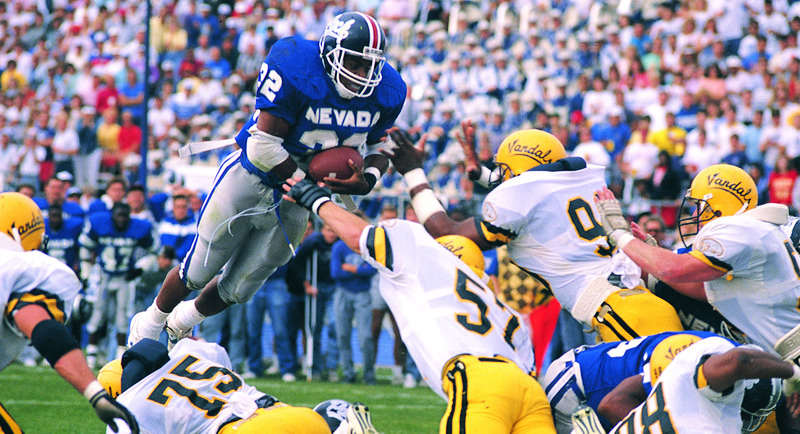 Charvez Foger was one of the greatest running backs in Wolf Pack history. A four-year starter, he amassed 4,484 yards in rushing (third all-time in school history) and 60 touchdowns (tied for first all-time in school history).
---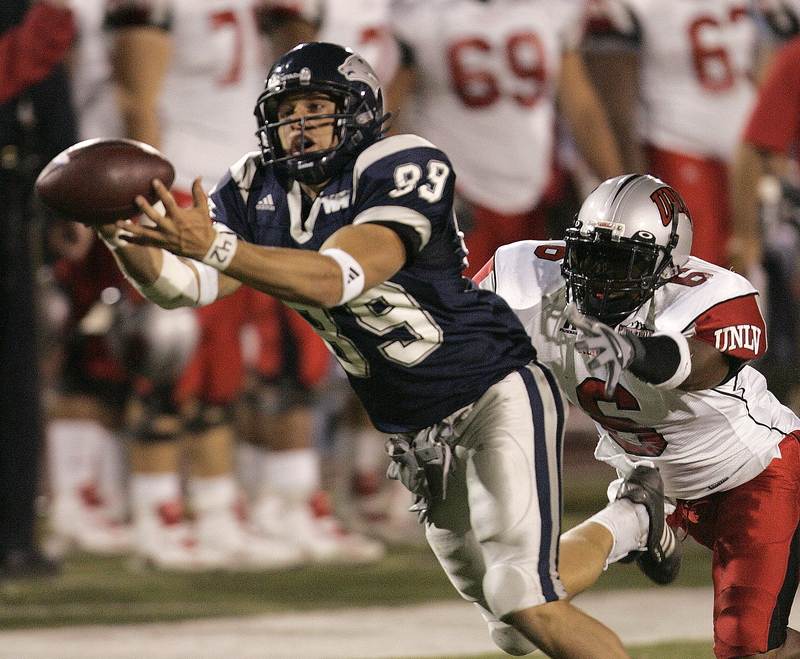 Mike McCoy was a sure-handed receiver from Colfax, Calif., who excelled in particularly big moments, in particularly big games, from 2005-2008. Against rival UNLV, he scored on a 90-yard score in 2007.
---
Basketball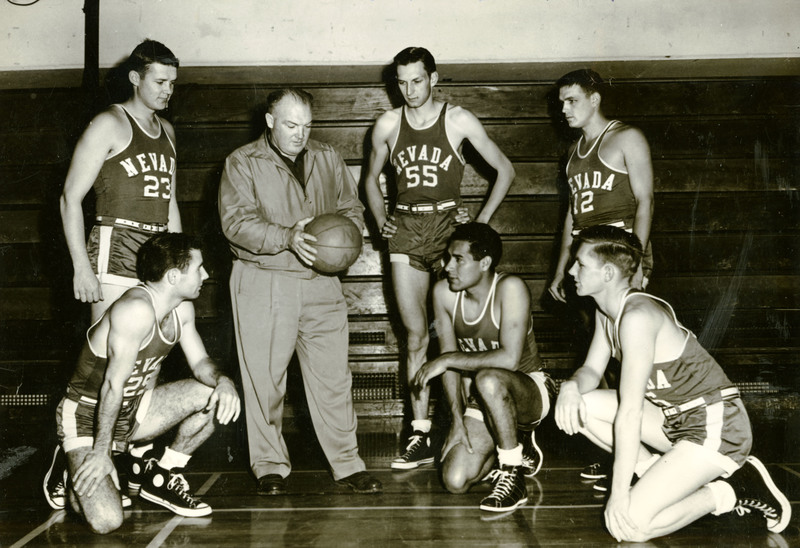 The legendary Glenn "Jake" Lawlor was the winningest Wolf Pack basketball coach ever. He compiled a 204-156 record as men's basketball coach from 1942-59, and also served as athletic director. Lawlor Events Center, the home of the Wolf Pack men's and women's basketball teams, is named in Lawlor's honor.
---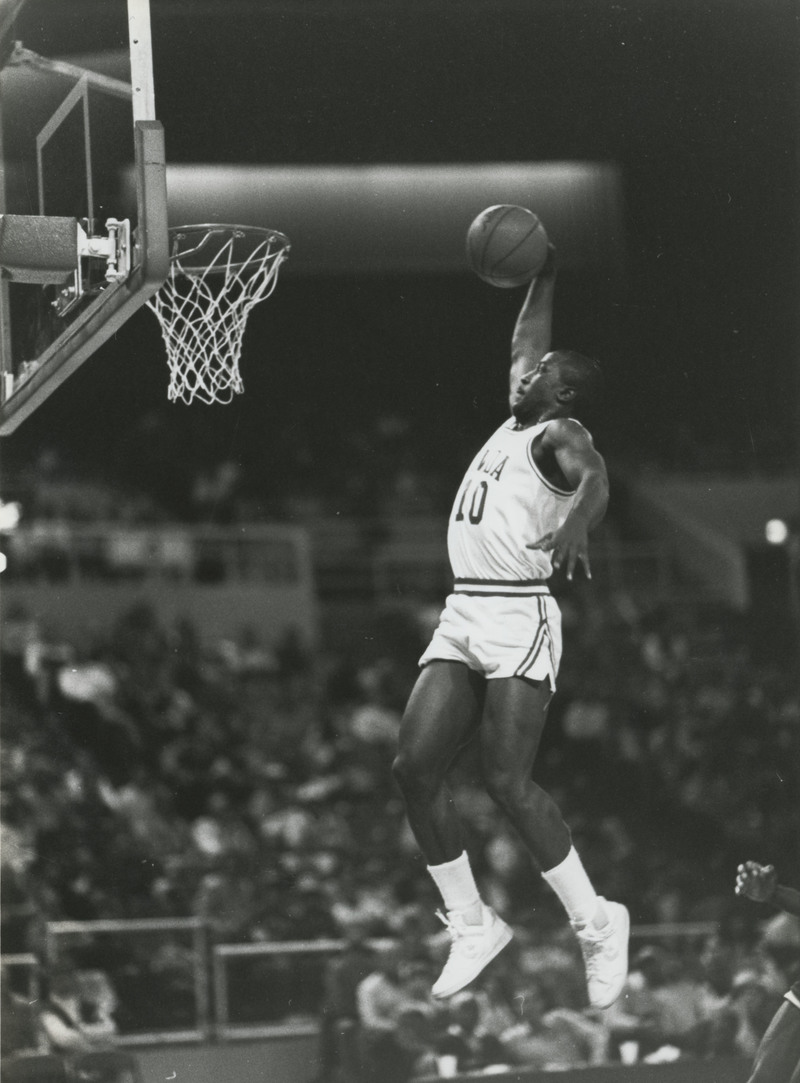 Wolf Pack guard Boris King led the 1986-87 Wolf Pack in scoring at 18.5 points per game.
---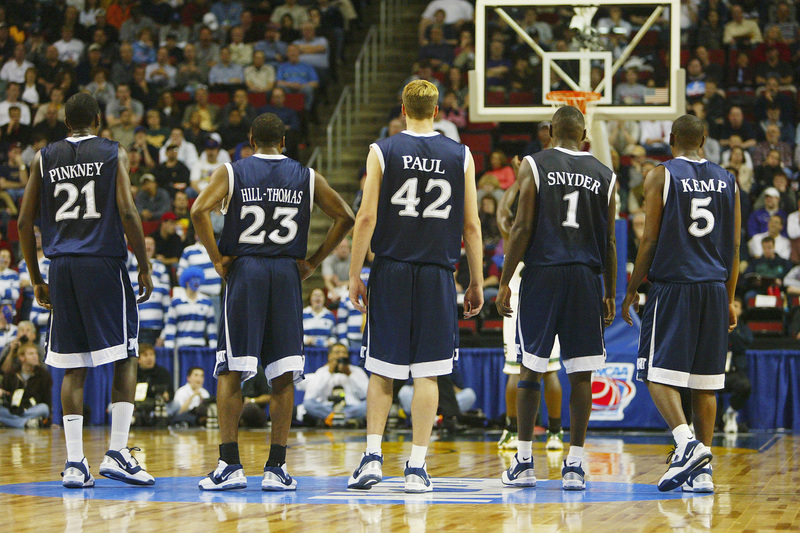 The 2004 Wolf Pack men's basketball team made an historic run through the 2004 NCAA Men's Basketball Tournament, upsetting Michigan State and Gonzaga to reach the school's first Sweet Sixteen ever. Pictured from left are Kevinn Pinkney, Garry Hill-Thomas, Sean Paul, future first-round NBA draft pick Kirk Snyder and Marcelus Kemp.
---
Baseball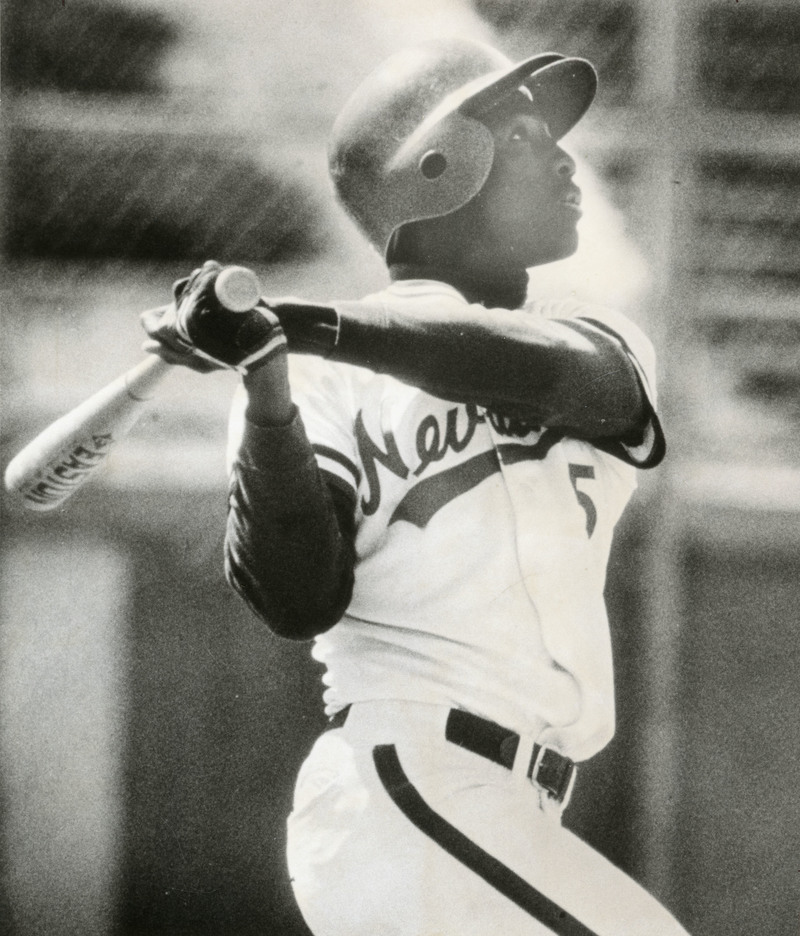 Wolf Pack Hall of Fame member Rob Richie is always in the conversation of the greatest baseball players to ever don a Wolf Pack uniform. The Hug High School product's .406 batting average in 1986 still ranks fifth in Pack history, and he remains the Pack's all-time leader in career triples, and ranks fourth in career hits. He later made the Major Leagues with the Detroit Tigers, retiring at a young age in order to devote more time to his family and his church.
---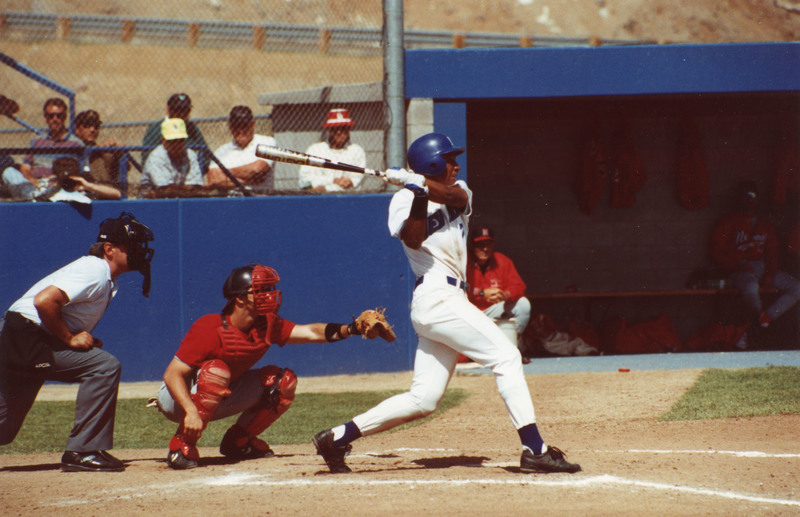 Though he is swinging a bat here, and eventually made the Major Leagues for a six-year career as an outfielder, Chris Singleton was a rarity during his days at Nevada - a two-sport star. Singleton was a leading Wolf Pack wide receiver and was a member of the 1990 football team that played for the Division I-AA National Championship. As a baseball player for two seasons at the University, Singleton batted over .300 and was a prime reason why the Wolf Pack went undefeated (27-0) at Peccole Park in 1992. Today, he is a well-respected baseball game analyst for ESPN Radio and studio analyst for ESPN's "Baseball Tonight."