The University of Nevada, Reno has recently approved new programs for students who are interested in pursuing a bachelor's degree in dance, doctorate degrees in mathematics, as well as statistics and data science, or an online master's degree in public health. Listed below are the new programs available at the University, with enrollment available within the year.
B.A. in Dance
The University's Department of Theatre and Dance will soon offer a bachelor's of arts degree in dance that will be available for enrollment in fall 2017. According to Cari Cunningham, associate professor of dance, the new program will offer students a rigorous balance of theory and practice. The department faculty will be training a new generation of dance artists through courses in dance technique, choreography, history and production.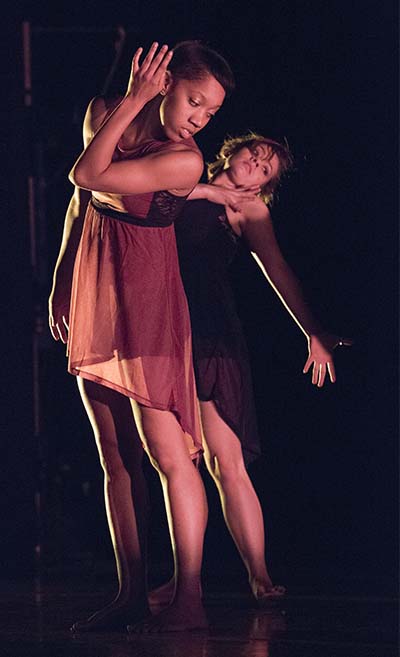 "The opportunity to create choreographic work and see it come to life on stage has always been very rewarding for students in our program, and this experience is built into the degree," Cunningham said. "It can also be very revelatory for students who have trained for a number of years in the physical practice of dance before coming to the University to see how varied the field of dance truly is and to explore the different career tracks one could pursue with a degree in dance."

Students who obtain a degree in dance have professional career opportunities that vary from performing to arts administration and teaching to industry. Cunningham also said that the skill set of a dance major is applicable to careers outside the field of dance. She said qualities such as creativity, interpersonal skills and collaboration; leadership abilities, flexibility, drive and passion; focus and networking skills transfer to other careers. The University literally prepares students to "think on their feet," she said.

Cunningham anticipates that a web page with dance degree requirements will be available online by summer 2017. Until then, she encourages students who are interested in the dance major to schedule an appointment to review the requirements at any time.
Ph.D. in Mathematics
The Department of Mathematics and Statistics now offers a doctoral program in mathematics to provide training in a variety of areas of modern pure and applied mathematics. Students who pursue this doctoral program will learn curriculum that includes a broad background in foundational areas, as well as specialized courses leading to the frontiers of relevant research areas. In this program, the applied emphasis includes related interdisciplinary topics.

Within this doctoral program, students will be able to attain and demonstrate the appropriate level of expertise in fundamental mathematics areas and in the individual's research field, demonstrate the ability to do independent and original research in mathematics on the level of a doctoral dissertation, and demonstrate the ability to communicate the results of the research, both orally and in writing.
Ph.D. in Statistics and Data Science
The Department of Mathematics and Statistics now offers a doctoral program in statistics and data science. This program provides training in the fundamental methods and concepts of modern statistics and the emerging statistical area of data science. This program emphasizes interdisciplinary collaborative research, which is essential to statistics and data science. Students in this degree program will build research and computational skills that will position them to be competitive in careers such as academic institutions, pharmaceutical companies, research institutions, corporations, government agencies and as private consultants.

Students pursuing the doctoral program will develop the advanced computational skills necessary to solve applied problems involving data, attain a deep understanding of the theory of statistics and data science to critically evaluate research done by others, demonstrate the ability to do independent research and to communicate the results of the research, both orally and in writing, and acquire the extensive knowledge and the skills necessary to successfully collaborate or consult in the professional setting.

To learn more about the program and the program requirements, visit the general catalog.
Online Master of Public Health
The University's School of Community Health Sciences now offers an online master's degree in public health. This online program will prepare graduates for an array of professional career paths within the dynamic public health industry. The online program does not require students to select a concentration, instead the program offers students a comprehensive education in topics ranging from health informatics to biostatistics and public health policy to epidemiology. Students who enroll in the online program will learn how to consider the broader sociological, environmental, physical health and economic factors that can influence a personal and community well-being.

To learn more about the online program, visit the online master of public health website.