Teruni Lamberg, University of Nevada, Reno associate professor of elementary mathematics education, spends her summers traveling across the Silver State. It's been three years since she launched the Nevada Mathematics Project, and during this time she's logged 20,766 miles across Nevada along with her project team. Her desire to make a difference not only drives her across the state but also fuels her passion to continue propelling mathematics education forward.
"As faculty in higher education, we have an obligation to serve our students and teachers," she said. "We have an interdisciplinary dream team of experts bringing cutting-edge research and knowledge to Nevada teachers, enriching their skillset and understanding to improve student learning statewide."
Since 2014, Lamberg and her team have developed and implemented a research-based, comprehensive professional development training program focusing on supporting teachers to fully apply the Nevada Academic Content Standards in mathematics based on the Common Core. The third year of this program incorporates training teachers in the Next Generation Science Standards as well. The statewide effort includes the University of Nevada, Reno; University of Nevada, Las Vegas; Northeastern Nevada Regional Professional Development Program; Western Regional Professional Development Program; Nevada Department of Education and every school district in Nevada, as-well-as some charter and private schools.
Turning heads with new perspectives
The Nevada Mathematics Project is receiving national and international attention. Top researchers from Northwestern University, University of Wisconsin-Madison, Central Connecticut State University, Arizona State University, Appalachian State University and various mathematical reviews are collaborating with Lamberg and her team to train teachers and conduct research.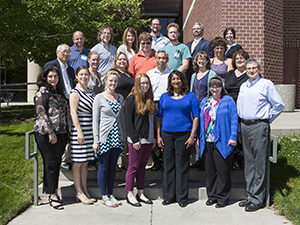 Researchers are interested in understanding effective ways to improve STEM education on a statewide level. This year, nanotechnology was integrated into the institutes as a context for teaching math and science standards. Craig Wall from RHK Technology, a company that makes scanning probe microscopes and controllers that are used in nanotechnology research, participates as an industry partner in the project, adding needed professional perspective.
Funded by the U.S Department of Education and the Nevada Department of Education, the project supports teachers to improve their teaching of STEM subjects to enhance student learning.
"I have always felt that each subject can be an advertisement for the value of the other," Edward Keppelmann, associate professor of mathematics at the University and Nevada Mathematics Project team member, said. "Kids don't see that when science teachers take out the 'hard' math in their courses they often miss some great insights, or when math teachers don't take the time to find some really engaging math problems that involve all kinds of science that they're missing out. Nanotechnology is such a great topic because it naturally touches math and all the sciences."
Matthew Hsu and Robert Chang, scientists at Northwestern University, helped Lamberg and her team realize the potential for integrating nanotechnology into the program. Hsu first met Lamberg at a conference and, when she learned of his efforts to more seamlessly integrate science with math, Lamberg jumped at the chance to have him on the team.
"The Nevada Mathematics Project provides a good working model that other states can emulate to practically integrate STEM education," Hsu said. "I learned so much from working with math faculty and teachers that this collaboration truly enriched the teaching of nano science. Knowing how math teachers process the nano concepts we, as scientists, try to get across helped me rethink how to redesign the science curriculum that would be easier to grasp for a wider spectrum of students."
Holistic approach brings improvement across the board
"Our goal with this isn't just to offer high quality professional development for teachers," Lamberg said. "It's to impact kids. In over three years, we calculated that more than 12,600 children in Nevada have benefited from this program."
Keppelmann agrees. The work the Nevada Mathematics Project does with teachers across the state is critical to the success of current students and to that of students for years to come.
"The best way to make a lasting impression on more kids is to transform their teachers," Keppelmann said. "I don't mean we have to totally change what they do. I mean we have to reinvigorate and harness their passions giving them the tools to hook the interests of their kids and teach them the skills they need to be confident problem solvers who work together."
In the workshops the project has held throughout the state, teachers learned every topic covered in the continuum of STEM education. This means kindergarten teachers reviewed eighth grade math, and eighth grade teachers were challenged to think about what kindergartners, and each grade leading up to theirs, needed to learn and master by the time they reached eighth grade. This holistic approach ensures there are no gaps in our kids' education.
Each of the four locations worked with 30 to 40 teachers, and it was up to the school districts to decide how they used the teachers and their newfound knowledge after training. The school districts and the regional professional development centers provided input into shaping the professional development based on their unique needs.
"I didn't expect to learn as much as I did about the world of nano," one Las Vegas teacher said. "I was challenged by the content and was able to make connections to my grade level standards throughout many content areas. I truly saw many opportunities throughout the week to build authentic integrated lessons to develop students who are college and career ready."
To learn more, visit the Nevada Mathematics Project website.